Today I'm taking back home my first Guest Post for the Sew Basic Series, appeared on TitiCrafty one month ago. It's all about fabrics and contains a Heat Pad Tutorial, perfect for any Beginner Sewist… enjoy it! If you like, today I'm online with the second Guest Post from the same Series, on TitiCrafty, and we're talking about Sewing Tools and Notion – both Usual and Unusual…
Is it getting cold, where you live? Then you need to create a Heat Pad spending no money and earning a new skill: sewing! Let's discover how …
Hi everybody! I'm MammaNene, an italian mom of a LilPotato aged 4-and-a-half and I usually blog at SergerPepper; my greatest passion in life is sewing (and refashions!): I feel is a frugal way of creating and wearing original clothes; in fact I am a DIYer in so many ways: I love to make soap, I grow my vegs (in summer), and I try to never eat something that comes out of a box. Every time somebody asks me about my sewing creation, they always say
"Oh, if only I could sew… it's so difficult to start sewing, I will never be able to!"
I don't really think it's complicated, maybe it can sound hard to start from scraps but, believe me, it's not! You can start sewing knowing some basic terms (say hey to Jann!)/technique that will help you learning faster and not to feel overwhelmed from this huge new world… and this is why I'm here! I've been sewing (more or less) from… all of my life. I remember me, my mum and my grandma cutting dresses for Barbies and other dolls, then my first timid stitches with my mother's Singer and a lot of evenings where mom was tracing Burda patterns on kitchen table and dad was on the rocking chairs unpicking basting with nail earwigs… Old time's gone!! But, let's come back to us! I'd like to start talking you about the first and most basic topic when you talk about sewing:
fabrics!
At the end of my ramblings, I'll present you a really simple yet satisfying project: a heatable rice pillow… all made by you! And consider that it can be a nice Last Minute Xmas gift!
Just a warning: one is hardly enough – labelled: highly addictive!
I'll start now defining some big categories on today's topic fabrics, just to understand basic features of each one and when to choose one or one other. If you want, you can simply skip this boring stuff but, maybe, you should better Pin it Now and Read Later for future reference!
woven/non woven/knits
when you talk about fabrics, you're probably referring to wovens, and it's related to the way a fabric is done: one of my first jobs, as I came out of school, was to work on a cashmere weaving, so I've seen a lot of woven fabrics! Making it simple, in order to have a woven fabric, you have to put a lot of yarns all side by side (they'll be our straight grain, running exactly in parallel with the selvedge) and then weave other yarns up and down all the first ones (the cross grain), creating the fabric structure.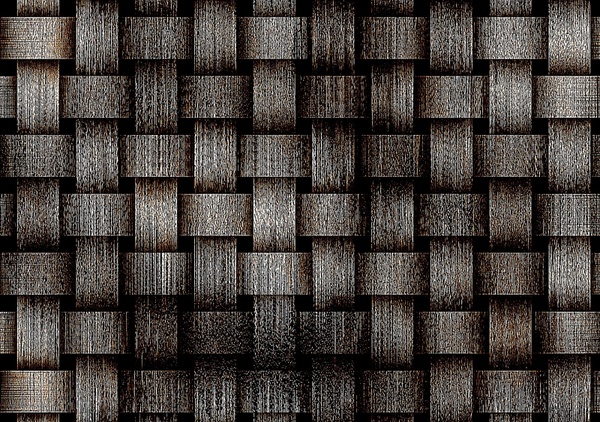 Depending on the way threads are weaving and the kind/color of each one, you can have different kinds of woven fabrics. With that in mind, you can now easily understand that you have to lay pattern pieces on the fabric considering the fabric structure that won't give her the same properties when cut vertically (straight grain), horizontally (cross grain) or, much more different, on diagonal.
This third direction is called bias and it's really useful to know that, if you cut a bias strip, your stable fabric will become something different: a slightly stretchy fabric (really useful to bind necklines, armlines, bibs…) If you would like to go deeper into that, read what Coleen @ Fashion Sewing Blog has to say about Grain Lines on Sewing Patterns
this kind of stuff became really popular lately, because using it you can fix a lot of fitting problems: due to its nature it always has a little stretch (sometimes a big one) and can hugs you and follow your shape without needing darts or princess seams.
It can be a little tricky to start sewing with knits (I'd suggest you for the first project to choose a woven one) but it's not that hard, don't be frightened from knits, they're a rewarding kind of fabric to work with. Basically, knits are made from one only yarn that creates loops, row by row, going inside and outside loops on the lower row.
under this category you can find all those fabrics that are neither woven (no straight grain/cross grain, then) nor knit, like fleece or felt, where long fibers are bonded together by heath, chemical, mechanical or solvent treatment. They are often weaker than wovens and knits but have a huge pro too: they don't fray! Plus, they are a little bit stretchy (and this is a pro, indeed!)
You can easily do appliques with this kind of textile, but they're really useful also as stiffener on bag making: if you can't find fusible fleece where you live you can do like me and refashion an old fleece sweater!
Other fabric's characteristics
A fabric always has a right side (the one you'll see on the outside of a dress) and a wrong side (the inside)
All the fabrics can also be classified:
by weight (light, medium or heavy, depending on the thickness);
by material (natural fabrics are made of wool, cotton, linen, silk, bamboo…, artificial fibers can be nylon, polyester and many more…);
for their elastic content (there are stable ones without lycra or similar and elasticized ones, containing various percentages of those elastic fibres).
Obviously, I don't pretend to resume all fabric's world in one only post, I only want to sow the seeds of something that you can decide to water and grow. If you'd like to know something more, you can read about sewing world, textile world or  learn some new term sewing related. Now, let's go creating!
Heat Pad DIY for Beginners
What you need:
cotton fabric scraps (a white one for the inside, and a nice one for the outside)
thread
sewing machine
scissors, pins
300/350g of rice or cherry pits
lavender and/or essential oils (optional but very pleasant!)
Warning: if you've never sewn with a machine, remember that you can add a step, between pinning and sewing:
Basting by Hand
If you decide to pin and sew, remember to put your pins away from the machine foot and never sew above them or you'll probably end with a broken needle or worst (the broken needle can blow up in your eyes direction, ask me how I know that!) …and remember: if something isn't clear, you really should ask me for help, you can find all my links at the end of this post or on my blog SergerPepper.com Let's start cutting the fabric pieces (it's really simple, all made of rectangles, but it's a beginners series, isn't it?) 1 cm Seam Allowances are included!
white fabric: cut a strip 60 cm long, 13 cm wide (either on cross grain or straight grain)
exterior fabric: cut a strip 68 cm long, 13 cm wide (either on cross grain or straight grain)
First of all, the heart of your pad! Fold in half the white fabric, Right Sides Facing (RSF from now) and sew along the long sides (leave the short one open!) Now press well seams (check my pressing tips here if you don't know how to do that!), then turn inside out and press one more time!
Congrats, You Made a Bag!
Mark 3 sewing line, 7,5 cm of distance each other.
While you're at the iron board, press toward inside the short side seam allowances.
Let's start filling: you need to put inside the bag you've just created a quarter (roughly, you don't need to weight it, just eyeball it!) of the rice/cherry pits (add lavender flowers now, if you like!); pin really near to the filling to keep it far from your sewing needle and then start stitching from side to side, going two stitches back and forth on start and stop points.
Repeat three more times: on the last portion, stitch the opening closed.
Let's create the removable (and then washable too) casing, now.
Fold the short sides two times on themselves using 1 cm of seam allowance; press, then stitch closed.
Now lay your fabric strip with the right side up and fold it like in the second photo, overlapping for a couple of cms the flaps; pin and stitch closed long sides.
I'm serger addicted (ok, this is my outing… and, as you may already know,  I'm Refashion Addicted too!!!), so I finish seam allowances with my overlocker…. you can simply add a zig zag that will help the fabric edges not to fray too much while you wash the heat pad cover!
Press everything well, turn inside out, press one last time and fill your heat pad casing with rice/cherry pits pad.
For warming your newly made Heat Pad, put it into the microwave 1 to 2 minutes, depending on your oven.
Start with 30 seconds (and eventually repeat) and please be careful not to burn your fingers! Remember that it will smell like risotto for the first 3-4 times, so if you're planning to give it away as a gift it's better to add lavender and complete 3-4 cycles of heating/let get cold before you give it! You can also store it on the freezer (but only if you have a no frost one, or it will get damp), if you need an alternative to the ice for your little one's domestic accidents!!!