Nowadays, there aren't a lot of reasons to get dressed up. However, when there is, you should make the most of it. Whether you are going to a prom or a ball, you need to look your best. 
An evening gown can be quite expensive. Therefore, if you are on a tight budget, or if you have a vision that you can't find anywhere else.
Then why don't you make your evening gown? That way you can create it, so it fits your body perfectly, and contains all the details that you want.
In this article, we have collected the 11 best evening gown sewing patterns that you need to try out for yourself. 
This evening gown will surely create an impression when you walk into the room.
This pattern is more suited for intermediate sewers since this pattern doesn't come with any instructions. With that being said, this is a fairly straightforward pattern to put together.
You begin by creating the corset top, and you will need to add boning to provide the corset with more structure.
This pattern comes with a deep sweetheart neckline, if you prefer a more modest neckline, you can alter this.
The skirt is quite simple to put together and creates a fishtail silhouette. Any type of stretch fabric will look beautiful and make you feel amazing. 
A lovely evening gown in the style of the early 1940s is created with a neckline embellished with jewels and a 6-panel panel skirt and flowing hem.
The smooth front and back bodice panels join the ruched side bodice parts. This helps to create an almost racerback look at the back bodice.
This is an evening gown, which many people will not have seen before. Thus, you know that when you walk into any event, no one will be wearing the same style of dress as you.
This pattern comes with computer-created and clear pattern pieces to follow, alongside straightforward instructions as well. 
This evening gown was designed by Badgley Mischka. It is designed to flatter hourglass, triangular, and square/rectangular body shapes.
Yet, this shouldn't stop anyone from making and wearing this dress. 
On the surface, this dress may look simple but contains a lot of features. The left side and right armhole contain gathers.
There is also a bateau neckline and back V neckline. Furthermore, there is a train and leg slit. Finally, the whole dress is lined as well. 
This is a loose-fitting dress, thus you don't have to worry about getting the perfect fit. However, there is a lot of work to create this stunning gown. 
Vogue is known for creating very elegant outfits, and this sewing pattern is no exception either. If you want all eyes to be on you then you need to give this pattern a go.
This gown consists of a close-fitting bodice, and a square neckline, which will show off your frame. There are also French darts, a gathered skirt, and an oversized bow to complete things. 
In addition to this, an underskirt is advised with this gown to create a much fuller look. However, you don't have to create an underskirt if you don't want one.
Overall, this evening gown sewing pattern is a bit more complex thus it is more suited to experienced sewers. 
With this sewing pattern, you will create an off-the-shoulder gown with a sweetheart neckline.
However, as mentioned before, you can easily adjust or completely alter the neckline for something you are comfortable with.
The skirt gathers at the waist to create a floaty appearance. Also, there are long sleeves that gather at each wrist.
This gown is quite simple to construct, thus anyone could give it a go. It is best to use a satin or lightweight fabric to create the desired floaty silhouette.
This dress is straight from the 1930s. The upper bias bodice portion, which laps at the front and continues low at the back, exhibits Directoire influences.
Over the left shoulder, a lengthy scarf is created and draped over.
The bodice is seamed at a raised line and has a gentle fullness in the front. The front of the skirt is straight, while the back is full.
Thus, this gown is the epitome of Hollywood fashion. It is best created with velvet, satin, or silk crêpe fabrics. 
This pattern comes with step-by-step instructions and a useful sewing guide. Hence, even beginners could try this sewing pattern, Although it is more suited to intermediate sewers. 
You have the choice with this pattern on whether you create a fuller skirt, or you can create a slim-fitting evening gown.
This dress is made into one piece and an additional skirt that can be tied on. Thus, you could easily change between the two looks.
A naked top bodice connects a slim two-piece skirt at the waist. The skirt can be created in two different lengths.
Then the skirt is added to the dress by ties that attach around the waistline in the rear. 
While this looks like a plain dress, you can easily customize it by the choice of materials or embellishments you use. 
This sewing pattern creates an impressive cold shoulder gown, with large puffy sleeves that gather at the wrist.
Although, you could leave the sleeves loose and have large draped sleeves. The pattern creates a fitted bodice, which then transitions into a long free flowing skirt. 
The bodice can also include a cut-out in the bodice as well. This cut-out is quite small, so it isn't very noticeable. However, you could make it bigger or smaller to suit your preferences. 
This is a beginner-friendly sewing pattern that can help you to create a professional-looking and stylish evening gown. 
If your back is your best feature, then this sewing pattern is perfect for you.
Anyone can complete this pattern thanks to simple instructions and diagrams which you can follow. In the end, you will have created a sleek and long evening gown with two fitted sleeves. 
To make this pattern look even better, then you should choose a sparkly pattern.
This way the light will reflect off it and make you look as if you are sparkling. A very simple pattern that is ideal for any kind of formal event that you have coming up soon. 
With this pattern, you can create a beautiful A-line dress, with a high slit on the left leg. In addition to this, there is one shoulder strap that helps to create a sophisticated look for any formal occasion.
The bodice should fit well to the wearer and the skirt gathers at the waist which should help to accentuate the wearer's curves.
The best material for this pattern includes velvet or any kind of plain material. You can also embellish this pattern with lace, or sequins to add more sparkle or your personal touch to the pattern. 
There are short but clear instructions to help you to put this pattern together in no time. Although, you do need basic sewing experience to be able to put this garment together. 
This stunning sleeveless gown has an open back with a sash tie and a deep cowl neckline.
The full-length skirt has a godet inlay in the center back. It fits snugly at the hips with a slight flare at the hem and no obvious train. 
This is an excellent choice for a wedding gown because the gadget can be slightly extended for a decent train.
Although the gown seems to be bias cut, it is not, making it slightly more approachable for novices.
This evening gown is ideal when you want to make more of a statement while keeping the dress simple at the same time. 
Conclusion 
If you have an event coming up, and you require your evening gown, then you could easily create your own from the patterns we have outlined above.
We have provided you with a wide selection of patterns, which can be completed from beginners to more experienced sewers.
If you have an idea of the evening gown you wish to wear, but cannot find it then you can simply make it instead. We hope this article has been hopeful and inspired you to make your evening gown. 
You now have 11 evening gown sewing patterns to try out for yourself.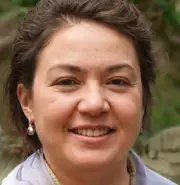 Latest posts by Liz Miller
(see all)