Are you looking for an interesting jacket sewing pattern that you can follow at home? Yes? Well, then you are going to need to find a pattern for a fun and captivating jacket. The question is, what patterns are out there, and which ones are the cream of the crop?
With hundreds of different styles and pattern options to choose from, it can be hard to know which option will work best for you. Luckily for you, we know a bit about patterns and making jackets at home. 
In this article, we have found several fantastic jacket sewing patterns that you should be able to use at home. Any of these patterns should work wonderfully well.
Pick a sewing pattern that has a stunning jacket design. You are sure to find something that suits you and fits the vibe you are going for. 
So, without further ado, let's dive right in and get started!
This is an advanced-level pattern, so if you have never done any sewing before, this may not be a good fit for you. The main fabrics we recommend using with this pattern are medium-weight fabrics. 
A few good options include some of the following: Worsted Wool, Velveteen, Gabardine, Wool, Flannel, or Tweed. For the lining, you should go with one of these fabrics: Silk Twill, Silk Crêpe, or Rayon Lining.
This particular pattern comes in sizes ranging from zero to eighteen. 
You can make this jacket in different ways depending on your preference. For example, full-length sleeves or cropped sleeves. You have got to love a pattern that can be altered to suit your size or style preferences!
This pattern is meant for an advanced beginner. So, if you have a rough idea of what you are doing, this pattern might be just what you need. 
The main fabrics we recommend for this jacket pattern are medium to heavy-weight fabrics. Some of the best options in our opinion are as follows: Duck Cloth, Denim, Corduroy, Twill, or Canvas. 
If you want to make a fun, flirty, and stylish jacket, you should try out this Rhett jacket pattern. You should be able to make this jacket in just a few hours, so if you need a quick project, this is likely a good choice. 
This jacket can be easily customized to suit your tastes. So, feel free to add any bits and bobs that you think will make this jacket a bit more unique and personalized for you. 
If you want to make a classic tailored blazer that has an inbuilt semi-fitted shape, this pattern is going to be perfect for you. 
We recommend using a medium or heavyweight fabric to make this jacket. For example, wool melton, wool flannel, crêpe, or tweed. On the list of fabrics you should not use for this pattern, any fabric that has a smooth surface should be avoided. 
Overall, this is a really good jacket pattern and one that will certainly end up looking fantastic. Just make sure that you have the right kind of heavy-weight fabric so that your jacket drapes properly. 
If you want to make this chic jacket at home, you are going to need a great pattern to go with it. This is an intermediate-level pattern, so if you are a beginner, this may be a little tough for you to make. 
This jacket is known for being quite boxy and having a hood. It is a great, simplistic jacket that looks great no matter what outfit you are putting together. 
Before you make this jacket, you need to know that this is a jacket without a front fastening. As such, you will need to pull it over your head. The sizes for this jacket vary between size six and size eighteen. 
If you want to make a practical homemade raincoat jacket, this pattern will be right up your street. This is a fully lined jacket with raglan sleeves and a series of details like a high neck and a hood.
Every element of this jacket is designed to protect you from the elements. In particular, the wind. 
This jacket comes in a variety of sizes ranging from size two to size sixteen. You can alter the style of this jacket to suit your preferences. For example, you could make your jacket longer or shorter, depending on what you prefer. 
If you want to make a stylish jacket that is equal parts flashy and practical, this pattern is going to be perfect for you. This is the ideal jacket for those of you that want something stylish to wear on a rainy day. 
This is an unlined jacket, so it stays nice and light. But, if you are an advanced seamstress, you can always add a lining to this jacket down the line.
This jacket is designed with a front zipper, so you can easily put this cypress cape jacket on and on with ease. 
You can make this jacket water-resistant if you like, just use a specific type of fabric. This is a relatively easy jacket to make, but we recommend that beginners steer clear.
There are complicated elements and techniques that might not fall within your skill level. Yet!
If you want to make this a delightful unstructured unisex jacket at home, you are going to need a good pattern. We found that this Paula Alice pattern was the best available option. This jacket is fully lined, so it will be smooth and comfortable to wear. 
This is a fantastic winter jacket. So make sure to just use a medium to heavyweight fabric when you are making this jacket. It is not super hard to make, so beginners should be able to make it even if they only have a basic understanding of sewing. 
This Jacques raincoat is essentially a classic raincoat pattern with a hood. It is designed with a zipper that is concealed by snap fasteners.
Jacques' raincoats are designed with a hood and large pockets which are perfect to carry all your essentials with you. 
This pattern is an intermediate-level project, so it might not be a good option for a beginner. You can also get this jacket in three lengths depending on your preference.
This is the perfect jacket for those of you that need a light yet waterproof jacket for outdoor activities. 
You have undoubtedly heard about bomber jackets. They are a popular jacket that you will often see in clothing stores. But if you have the right pattern. You can easily make this jacket at home.
You can use fabric with any pattern you like, so feel free to make your bomber jacket as flashing as you like. 
This is a fantastic pattern, it is easy to follow, and the attached article details all the steps you need to take to make the perfect bomber jacket. We recommend using scuba fabric for this jacket, but feel free to use anything that you prefer. 
Quilted jackets are perfect to wear when the weather has started to turn cool. They usually make awesome casual jackets that you can just throw in when it is a bit windy or chilly. 
But these jackets are so much more versatile than that. They are also comfortable enough to weather around the house. You have got to love a jacket that can be worn just about everywhere.
This is a relatively easy jacket to make, so even beginners who know the basics should be able to make this jacket without much trouble. 
Final Thoughts
We hope you have enjoyed reading this article and learning about these awesome jacket sewing patterns. There are hundreds of fun jacket styles that you can choose from, these are just a few options that we found had great patterns. 
These patterns are all really good and easy to use. Just take care that you get a pattern that is suited to your sewing level. Some of the options we have listed here are meant for advanced sewers, while others are beginner-friendly. 
But, as long as you know what you are doing, how to use your sewing machines, and have all the right materials, you should be able to make a fantastic jacket using any of these patterns. 
If you enjoyed reading this article, make sure to check out our site. We have a ton of interesting articles available. You are sure to find something that will pique your interest! 
Thanks for reading!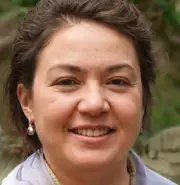 Latest posts by Liz Miller
(see all)