As humans, we are naturally drawn to something cute and cuddly. We want to love them, protect them, and snuggle up with them. This is why plushies are so popular for kids and even adults too!
If you are a sewing enthusiast, there is no need to spend money on a new plushie to give as a gift, or to keep for yourself.
You can make your own instead. There are so many cute sewing patterns to try out if you want to create a plushie.
We have gathered 14 of the cutest sewing patterns for you to try your hand at in this guide!
There is something oh so cute about frogs. Maybe it is the big eyes, their round, curved up bodies and smiley faces.
Now, you can make your own huggable frog in no time. With this sewing pattern, you will receive simple instructions, the pattern itself, and an instant download after purchase.
The pattern is easy to follow, but you may struggle with the small size of the plushie, which can make the process a little more fiddly and difficult.
However, you can add your own twist to it by adding wire armature, so that you can pose this frog's long limbs.
If you are looking for the perfect baby shower gift, then we have you covered with this amazing stuffed bunny sewing pattern.
It is easy to follow, and you will create a cute and lovable bunny, and some clothes to go with it.
The bunnies will be 11 inches in size when complete, and you will receive patterns for the bunny, a dress, pants, and a jumpsuit. With 72 photos and 11 pages, this pattern is really in-depth and helpful.
You only need some basic knowledge of machine sewing and simple hand stitches to complete this project for yourself!
We are obsessed with this adorable duckie. If you want to make a baby duck plush for yourself, then this pattern will fit the bill.
With step by step photos, a tutorial, and the full pattern, you can make this plush that is perfect for a nursery or as an Easter gift.
The pattern is well suited to confident beginners, but it does have a few curves that can take a bit of practice to get right. However, with the instructions and tutorial, you can create this duck for yourself.
The finished product is about 15 inches from head to toe, and 11 inches when sitting down. It also fits clothing patterns from the same seller, so it can be used as a dress up doll too.
Staying with the duck theme, we love this fluffy duck plush. It is actually one of the cutest things we have ever seen.
The sewing pattern is fully comprehensive, with step by step instructions, diagrams perfect for a novice and a more experienced sewist, with full sized pattern sheets.
What we like about this one is that it is not an instant download. This pattern will be mailed to you, so if you want a physical pattern- then try this one out for size.
Elephants are also super cute creatures. With this pattern, you can make an elephant memory bear for a loved one. Memory bears use fabric that have special meanings or that serve as memorials.
Choose a fabric that means something to the person receiving the bear, and create this huggable plush for them.
This sewing pattern comes with step by step photos, tutorials, and more. It is suitable for a confident beginner, but also fun for more intermediate sewists.
When complete, the plushie sits at around 11 inches, or 15 inches from head to toe.
You just cannot resist a cute teddy bear. Now, with this guide- you can make your own cuddly teddy bear too.
This pattern is a digital download, and you will receive the digital file with the pattern, ready for printing, written instructions, and online tutorials you can use.
What we like about this pattern is that there is an online tutorial for beginners, and a separate one for more experienced sewists, which is quicker and less in-depth than the first.
This sewing pattern creates a very cute octopus plush. You will get a PDF instant download of the plush sewing pattern, with a simple design, and several face options to choose from.
The pattern also comes with animal variations for more fun and projects to work on. For instance, you can also use it to make a bunny, panda, fox, alpaca, and kitty.
With complete instructions from start to finish, along with information about choosing fabrics and the tools you will need, it is a great pattern.
However, it is not recommended for beginners, but the instructions are detailed, so if you are a newbie looking for a challenge, you can give it a good go!
Felt plushies are extra cute in our eyes. There is just something about them. We love this felt baby dragon toy sewing pattern. When complete, it is only 3.5 inches tall, so it is a great gift for children or babies.
The pattern comes with easy to follow, step by step photos and instructions, song with a list of materials and equipment needed.
You will also get a stitch guide for the recommended stitches to use. The instructions are very clear, so a beginner can do this design with ease.
Mushrooms are becoming increasingly popular home decor features! If you love cute, stumpy mushrooms, then sew your own with this sewing pattern.
With this mini pattern, you can use virtually any fabric you like, and you just have to print out the pattern yourself.
You will receive step by step instructions and the pattern as a PDF. There is also a YouTube video tutorial to follow to make it simpler.
We have another memory bear sewing pattern for you to try. This one creates a simple 14 inch bear that can serve as a keepsake or memorial gift.
With this pattern, you will get the full size pattern, and instructions to make it simpler. It is great for beginners, as long as you have some basic sewing experience.
Another option is to create a comfort blanket for a baby. This is a really cute gift that will be loved by anyone who receives it.
This comfort blanket sewing pattern is a 2-in-1 pattern as you can make either a bunny or a bear, depending on your preference.
The pattern is designed for cotton or muslin fabrics, with seam allowance included, and you do not need a Serger to complete this project, but it can help.
With step by step instructions and photo guides to help you, it is a simple project that you can complete in no time.
If you are looking for a bit of a challenge, then you can sew your own cute doll. This pattern is great as a gift for a child, and you can sew clothes for the doll too.
This sewing pattern comes with fully illustrated instructions to help you create a unique doll for someone special.
The instructions will show you how to sew the doll itself, and various different doll clothes, along with how to make the doll's hair and how to embroider the eyes and mouth (Can you embroider with a sewing machine? Find out here).
This pattern is 18 pages long, so it is a little complex, but you get so much with it. When complete, the doll is 13 inches tall, but it can be custom made to suit any child.
We have another frog sewing pattern for you. This one is even cuter than the other one, with short, bunched up legs, and a big round body rather than gangly arms.
This frog is perfect for hugging, and you can make it with your own digital sewing pattern.
The download includes the frog pattern itself, printing instructions, cutting layouts, sewing tips, and a step by step written tutorial to help you along the way. You can also use the photographs included as a guide.
Love cats? Want to make a cute and cuddly felt cat? This sewing pattern is for a felt napping cat, which can be the perfect companion for a cat lover in your life.
The finished result is only about 4 inches wide, and the PDF pattern comes with a stitch guide, full scale pattern pieces, easy to follow instructions and a guide to help you every step of the way.
Final Thoughts
To summarize, there are so many different cute sewing patterns out there. Whether you prefer elephant plushies, frogs, memory bears, or more- there is something for every sewing enthusiast to try.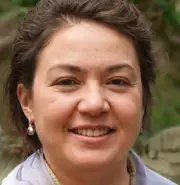 Latest posts by Liz Miller
(see all)