Singer has been a popular brand when it comes to sewing machines for many years, and the Singer Start 1304, has been grabbing more people's attention.
On the outside, the Singer Start 1304, looks like a simple and lightweight machine, which is perfect for anyone who is new to sewing and getting to grips with sewing machines.
As the name suggests, this is a starter sewing machine, hence it has limited but the most basic and essential stitches that you need.
This machine might be small, but it is still powerful, while being lightweight for you to be able to carry it around with you. This is great if you want to sign up for a sewing class or group.
In this review, you will learn everything you need to know about this machine, and whether you should consider purchasing a Singer Start 1304 for yourself.
Singer Start 1304 Features Overview
The Singer Start 1304 is a very lightweight sewing machine, as it only weighs 11.5 pounds.
In addition to this, it is a fairly small sewing machine as well compared to other machines on the market. For those of you that wish to know, this machine's dimensions are 13 x 7 x 11.5 inches.
Overall, it contains just 6 types of stitches, which is one of the smallest amounts you can come across.
However, this is perfect for anyone that is completely new to sewing or sees this as more of a hobby. Furthermore, this sewing machine comes with 3 presser feet, and a 4-step buttonhole.
The sewing speed is around 350 to 400 stitches per minute, so you can get your crafts completed in no time.
What Do You Receive With Your Singer Start 1304?
When you purchase your Singer Start 1304, inside your box, you will receive the following items alongside your sewing machine. This will help you to learn how to sew and use this machine easily.
Inside your box, you will receive the following:
1 x Singer Start 1304 sewing machine.
Foot pedal and power cord.
Quick start manual and guide.
3 presser feet.
3 bobbins.
Spool felt pins.
1 x pack of needles.
Needle plate screwdriver.
Darning plate.
Lint brush and seam ripper.
It is important to note that some customers didn't all receive an instruction manual with their sewing machine.
While a manual is stated to be included, if you don't happen to have one or if you happen to misplace your manual, then you can download the manual online.
If you do require more help, the Singer has also put together multiple YouTube videos which you can follow along. This will help you to set up your sewing machine correctly.
Additionally, as you can see, this sewing machine doesn't come with a dust cover. As a result, you will need to purchase one yourself and ensure that you get one that fits over correctly.
The 3 Different Presser Feet Included
A presser foot is a foot that holds the material or fabric in position as you sew. A presser foot is typically made of metal. Snap-on feet that are simple to remove and swap out are included and used on the Singer 1304 presser.
The Singer 1304 comes with just three presser feet:
Zipper Foot – This foot as the name implies helps you to insert zippers.
All Purpose Foot – The all-purpose foot is the pressure foot that you will get the most use out of. You will use it on almost every project for all your stitches.
Buttonhole Foot – The buttonhole foot helps you to create a 4 step manual buttonhole.
While only three presser feet are included in the box, you could always purchase additional presser feet if there are particular ones you need. Such as a button sewing foot or a blind hem foot.
Stitches On A Singer Start 1304
On a Singer Start 1304, there are a total of 6 built in stitches for you to use. These include:
Straight stitch
Blind hem stitch
Zigzag stitch
Scallop stitch
Satin stitch
Buttonhole stitch
With this being said, there are in fact three straight stitches built into this machine, and two zigzag stitch variants as well.
Thus, you do have a bit of choice on the stitches you can use, but you are limited to the ones that are on the machine. In addition to this, you cannot change the width or length of these stitches either.
Alongside that the needle on your sewing machine will always be placed in the center, and it will not move to the left or right, for the different stitches as you see in other sewing machines.
This needle placement can limit your options when you are straight stitching.
Setting Up And Threading Your Machine
On the sewing machine's top, winding the bobbin is a relatively simple process. It's also quite simple to thread the higher thread.
Simply keep in mind to thread using the presser foot to avoid tension problems.
For each of these jobs, there are printed drawings on the machine's top, which makes it straightforward and simple to remember.
There are also two vertical spool pins on this machine, which means you can use the twin needle sewing function. Thus, if you are going to use this option, you must remember to thread both needles correctly.
The less simple part is now installing the bobbin. The "front-load" bobbin is a characteristic of the Singer Start 1304.
Every time, you have to take out the accessories' compartment in order to access the bobbin case. When it comes time to reinstall the bobbin casing, you must keep in mind its orientation.
In order to help you recall the orientation of the bobbin in relation to the orientation of the casing, we wished the Singer 1304 featured directions printed on the base of the machine
In contrast, the top of the workspace is where you place the bobbin on most Brother sewing machines.
Installing them is simpler for beginners, and you don't need to manually draw up the bobbin thread if you use a quick-set bobbin. When you start stitching, the machine accomplishes that on its own.
These top-drop bobbins frequently feature clear coverings as well. This is a great tool for determining whether you have enough thread before beginning a project.
It's annoying to have to stop sewing in the middle of a project to wind and insert a new bobbin.
Verdict
As a result, the Singer Start 1304 isn't the simplest to set up when it comes to the bobbin, when compared to Brother sewing machines.
This is due to having no images that help remind the user on which way they need to reinsert the bobbin into.
With this being said, as long as you wind your bobbin up correctly, then you shouldn't have to worry about installing a new bobbin for quite a while in your Singer Start 1304.
Also, once you get used to the machine, you will automatically remember which way the bobbin is supposed to go.
There are lots of videos out there that can help you if you are struggling to wind the bobbin or thread your Singer Start 1304.
Using Your Singer Start 1304
Using this machine is simple after it has been set up. All you have to do is put the correct presser foot in place and choose a stitch with the dial.
As you start sewing, you must use the reverse handle on the machine's right side to secure your stitches at the start and end.
The Singer 1304 is a mechanical sewing machine, so in order to sew, you must press the foot pedal.
Its lack of sensitivity is a benefit for beginners with heavy feet. The machine can make quite a noise when it is in use, but this is completely normal.
The foot pedal itself is very lightweight, but it can move around, so you need to ensure you place it somewhere where it won't move around on the floor.
Verdict
Using the Starter Singer 1304 is really simple. Once everything is set up, you will be sewing in no time. The foot pedal is easy to use, but you do need to press on it hard to make it work.
Creating Buttonholes With Your Singer Start 1304
There are 4 manual steps for creating buttonholes. The creation of 4-step buttonholes can be more difficult.
Yet, with a little effort, you can become an expert and master it. You must measure and mark your own buttonhole.
A 4-step buttonhole requires that you manually sew the buttonhole in 4 separate parts, as opposed to just choosing a buttonhole stitch and instructing your machine to begin sewing.
Begin with the buttonhole stitch, which is labeled as 1 on the machine. Then proceed on to stitches 2, 3, and then return to stitch #4, which utilizes the same zigzag stitch as stitch #2.
Verdict
Since the Singer Start 1304 doesn't determine the size of the buttonhole you need, so you must mark this yourself, this can make creating a buttonhole more time-consuming.
Also, since it consists of four steps, this can make the whole process more difficult for beginners who aren't used to creating button hotels.
As a result, creating a buttonhole using the Singer Start 1304 takes a bit more practice to get it right, compared to other sewing machines.
How Many Needles Does The Singer Start 1304 Use?
With the Singer Start 1304 you can use two needles, as mentioned above. This allows you to easily sew parallel lines on your projects with ease.
Now having a twin needles feature, is considered a very high-end feature of a sewing machine, which is a nice surprise to find on this starter machine.
With this being said, Singer assumes you will want to give parallel sewing a go, but you will need to provide your own twin needles. Although, dual needles aren't very expensive, and you should be able to purchase one very easily.
Verdict
While you may sew normally using one needle, there is an option to purchase and install a dual needle to create parallel lines.
This is a very sought after feature, which is often only seen in very high-end sewing machines.
Is The Singer Start 1304 Noisy?
Since, the Singer Start 1304 doesn't have an incredibly fast stitching speed per minute, this helps to reduce the amount of noise the machine produces.
You should feel at ease sewing in your apartment or in your home with a member of your family sleeping in the next room.
You could even listen to music while you are stitching, and you will be able to hear the music clearly.
Since this sewing machine is so lightweight, we expected it to move as we reached top speeds, and yet it doesn't. This also limits the amount of noise your sewing machine creates as well.
Verdict
Overall, the Singer Start 1304, is a very quiet machine, making very little noise or movement even when being used at its top speeds.
Which Materials Can You Sew With?
Since this is such a lightweight machine, we wouldn't suggest that you sew too many heavy-duty materials. It works well for hemming basic jeans and is suitable when stitching two layers of denim together.
Although, you do need a heavy-duty machine if you intend to consistently deal with multiple layers of thick fabrics. You run the danger of ruining the standard engine in this little sewing machine if you use it for lots of heavy-duty projects.
If you do choose to occasionally sew heavy-duty items on this machine, then be sure to employ a heavy-duty sewing needle that is a size 90/14 or above.
Verdict
The Singer Start 1304 isn't suitable for heavy-duty sewing, as it could ruin the motor on the machine. Apart from that, you can sew pretty much anything on this machine with ease.
Using The Free Arm On The Singer Start 1304
A smaller workspace is left behind after the small accessories' container located at the front of the machine is removed. You may sew small, cylindrical things like shirt cuffs and pants hems using this free arm.
Most small sewing machines typically feature built-in free arms, although the average sewer is unlikely to even be aware of their purpose.
Therefore, keep this useful characteristic in mind the next time you have to sew something little and rounded.
Verdict
A free arm is always a useful thing to have, when it comes to sewing smaller or round items. Hence, this free arm is a wonderful feature of this starter sewing machine.
Other Features Of The Singer Start 1304 To Be Aware Of
There are a lot of other important features of the Singer Start 1304 that you need to be aware of and keep in mind.
Speed
The Singer Start 1304 can sew at a maximum speed of 350 to 400 stitches per minute. This speed isn't very fast.
However, for starters beginning to use a foot pedal, it's ideal not to have your sewing machine take off at fast speed as you're getting used to it. You don't want kids stitching too rapidly and hurting themselves.
Thread Cutter
A built-in thread cutter is also located on the left side of the machine, so you won't need to have your sewing scissors close by when stitching.
This is a convenient aspect of this inexpensive sewing machine.
Light
A light is located above the work surface to assist you to see your stitching.
Although it shines brightly on your project, the way it is pointed creates a shadow on the machine's back. Even so, the area directly above the workplace has adequate lighting.
Darning Plate
Just on the base of your sewing machine, the feed dogs can be covered with a darning plate.
The tiny metal teeth known as feed dogs assist in moving the cloth between the front and the back of the machine.
The darning plate must be manually attached when you want to cover the teeth, such as during free-motion quilting.
Verdict
The Singer Start 1304 may not be the fastest sewing machine, but it is a good speed for anyone getting used to the foot pedal.
Also, a bright light helps to effectively light up for your work area, so you can see what you are doing. The thread cutter is a really handy feature to have when you don't want to keep your scissors close by.
All of these additional features, makes the Singer Start 1304 a really easy and straightforward machine to use.
Why Should You Use A Small Sewing Machine?
Sewing machines are available in a range of sizes, from industrial machines installed on tables that occupy half your garage to portable versions that slip into your pocket.
One of the smallest models that you can find is the Singer Start 1304.
Even though we've claimed it's perfect for novices, there are two main reasons why anyone might give this machine a shot.
Portable
The mobility of a tiny sewing machine is undoubtedly one of its main benefits.
Even though the Singer Start 1304 weighs roughly the same as a typical cat, moving it about is much simpler than moving your cat.
It makes the ideal addition to a sewing class. It lacks anything that isn't necessary and just offers the features you could require for a range of crafts.
A hard case or at the very least a dust cover would make it much better. Yet, at this price, you could purchase your own and still come out ahead.
Simple To Use
A little sewing machine requires being straightforward in order to continue being small and light. This entails a minimal feature set, simple controls, and a small selection of accessories.
Not everything will be handled by your Singer Start 1304, but it will be enough. All of this results in a user-friendly machine that will keep you coming back.
Issues And Troubleshooting The Singer Start 1304
There are a couple of common issues that many customers have had when they first use this machine.
We have gone through all of these common issues and found possible solutions that can solve them.
Upper Thread
When some people first started stitching, the upper thread occasionally flew out of the needle. This usually happens when you cut your thread too short.
Therefore, as long as you maintain a long upper thread when you begin sewing, you can prevent this issue from occurring.
To avoid this problem when constructing a buttonhole, you can alternatively hold the end of your top thread in your hand and begin sewing carefully.
Tension
If your top thread is too loose or your bobbin thread is bunching up, be careful to adjust the tension. This can be done using the dial on the right, which is next to your thread guides on the workspace.
Also, if it's difficult to remove your sewing product from the machine, wiggle the wheel on the right side of the machine to loosen everything up.
Jamming
When the bobbin case is incorrectly installed into the front-load compartment, the machine may initially continue to jam.
Before installing the bobbin case, you must ensure that you hear the bobbin click, which is a sign that it is in place correctly.
Additionally, if the bobbin rolls to one side or feels loose, then this is another sign it's not been installed correctly.
After verifying the bobbin, gently rethread the top thread, making sure to hit all the thread guides and threading with the presser foot up. If the problem persists, examine the bobbin.
Finally, make sure to examine your needle's quality as well. Even a crooked needle can be problematic and be the reason your machine is jamming.
Pros And Cons Of The Singer Start 1304
As you can see above, there is a lot to like about the Singer Start 1304, but this machine isn't perfect.
To help make your life easier, we have compiled all the pros and cons, so you can easily determine whether this sewing machine is going to be a good fit for you.
Pros Of Using The Singer Start 1304
The following are some of the pros to using the Singer Start 1304.
Lightweight – A main benefit of this machine is that it is very lightweight, this makes it easy to transport, or carry around.
Simple – There is no denying that due to the limited stitches, this machine is really simple to use, which makes it easy for beginners to navigate.
Quiet – The Singer Start 1304 makes very little noise, which is ideal if you are living in an apartment or wish to sew at night.
Stitches – A lot of customers have praised the stitch quality that this machine produces. Even though there are only a limited number of stitches, they always look beautiful on any project.
Dual Needle – There is the possibility to install a twin needle and use the dual spool pins to create identical and decorative stitches, or to be used as seam reinforcement.
Cons Of Using The Singer Start 1304
The Singer Start 1304 isn't perfect and there are a few cons to be aware of when it comes to using this machine.
Limited Stitches – While this could be seen as a good thing, by only having 6 built in stitches you are limited, if you wish to have plenty of versatility.
Bobbin Installation – The Singer Start 1304 uses a front load bobbin, which for some people can be difficult to use. Since there are no images, it can be awkward for beginners, ensuring they have installed the bobbin correctly.
Reverse Lever – Some customers have found that the reverse lever is in an awkward place, by being over on the right-hand side of the machine. Instead, they would have preferred the lever to be over the work area.
Upper Thread – It is common for some sewers to keep losing the upper thread on this machine as they cut it too short.
Final Thoughts
Anyone that is new to sewing, will really benefit from this machine. The Singer Start 1304 is, as the name suggests, a great starting point for any new or infrequent sweater.
It only consists of a handful of stitches, but it is easy to use and very durable and lightweight.
While this sewing machine may not be perfect, these disadvantages aren't enough for you to not give this product a go. It is quite affordable for a Singer product. In addition, the issues that are common with this machine are quite ways to fix as well.
We hope you have found this review helpful. Hopefully, you now have a better idea on whether the Singer Start 1304 is suited for you!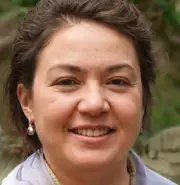 Latest posts by Liz Miller
(see all)