From those just beginning to learn to sew, or if you have been doing it for years, the sewing machine you use can often make or break your projects.
Ensuring the sewing machine that you are using is of great quality can allow your creativity to flow.  
If you are looking to upgrade your old sewing machine, or are on the market for a new sewing machine to support your hobby, then you have come to the right place!
Below are 10 of the best affordable sewing machine that is high quality, designed with some cool features, and is sure to support you in creating some incredible designs.
Or simply sew up that hole in your work trousers.  
Whatever you need a sewing machine for, we have the best. Let's get into it!
Sewing Machines For Beginners 
You don't absolutely need to start off with a powerful machine that will leave you feeling bewildered and overwhelmed if you're brand-new to sewing.
With eight built-in stitches to pick from and a straightforward mechanical operation, the Singer M2105 is perfect for beginners.  
The machine performs well on a wide range of different materials and projects and is comfortable, durable, and steady to use, demonstrating that you don't need to spend a fortune to achieve trustworthy results.
This lightweight machine is perfect for travel due to its full metal frame.
You can easily store all of your sewing and quilting projects within the sewing area to ensure everything remains together and secure.
As an added plus, the machine is supplied with a variety of presser foot and tools as standard, making it great for experimenting with a variety of different styles from the very beginning for those who haven't quite found their sewing rhythm yet (see also "Best Sewing Books For Beginners"). 
Pros
Easy to use: This sewing machine is perfect for beginners as it is straight forward to set up and use each feature. 
Lightweight: Made with a full metal frame, it is lightweight and portable for sewers on the go.
Versatile: Range of pressure feet and accessories to let you experiment.
Cons
Size: This machine is small and lightweight which may not be suitable for all users.
If you want to concentrate on manufacturing your own clothes, getting an overlocker might be a terrific method to improve your creations and produce consistently high-quality results. 
This ingenious machine creates the same high-quality finish as garments purchased from a store by cutting your seams and enclosing them with a loop stitch.
Even for individuals who have never used an overlocker before, the idea doesn't seem too intimidating with entry-level versions like the Janome 6234XL.
This is perfect for beginners as it comes with a free DVD guide to ensure you know how to set it up and use each feature correctly (see also "Beginner's Guide To Sewing Doll Clothes"). 
Pros
Easy to use: This machine is perfect for beginners looking to get a professional finish on their projects. 
DVD Guide: Learn how to use this sewing machine quickly with the DVD guide included. 
Price: Get features of more expensive machines at a much cheaper price. 
Cons
Adjustable Pressure: You can adjust the pressure of the foot pedal which is great, but is an unmarked screw.
If you are a dedicated sewer who needs a machine they can count on, then the Singer Heavy Duty 4423 Sewing Machine is a must-have.
With a sturdy metal interior frame, a stainless steel bedplate, an extra-high sewing speed of 1,100 stitches per minute, and a powerful engine that can handle everything you throw at it, the Singer 4423 is built to roll with the punches.
This model is designed to glide through all materials from intense leather, and heavy denim, to luxurious silks. It has a range of add-on accessories to support you as your skills progress. 
Overall, the heavy-duty Singer 4423 is a real workhorse. For a heavy-duty sewing machine, it's reasonably priced and stitches with amazing accuracy!
Pros
Versatility: Sew a range of thin and thick fabrics including quilts, denim, and vinyl. 
Accuracy: Sew knowing that your designs are going to come out precise and how you want them. 
Features: 11 Stitches, three needle positions, 4 basic presser feet settings, this sewing machine is extremely versatile for a range of projects. 
Cons
Price: This sewing machine is more expensive than others but it comes with a lot of features.
Weight: This machine is heavy in weight compared to others making it difficult to carry around when on the go. 
This Brother sewing machine is your best option if you're a novice sewer with aspirations to tackle more challenging sewing projects in the future.
To get you started on your sewing journey, it comes with 10 different presser foot and numerous bobbins.
The presser feet are easily changed and it is known to be super easy to thread. Thanks to its drop-in bobbin, you can easily thread your machine and get to work.
Beginners will particularly value the adjustable pace because it allows you to learn without moving too quickly. The start/stop button is also useful for abruptly stopping in case of an error.
With 70 built-in stitches, including the essentials every sewer needs, we discovered that it sewed through a range of fabrics with little to no error; however, sewing satin materials was a little more challenging.
The thread holder may appear short at first glance, but our product testers point out that it has an adjustable height. 
Pros
Features: 70 built-in stitches, 10 foot pressure settings, needle position, and automatic threader are all programmed into this computerized sewing machine. 
Storage. This machine comes with a small storage space for excess fabric, needles, and bobbins underneath the front of the sewing machine. 
Twin Needle: Sew using a twin needle to make two parallel lines of stitches for a professional finish (see also "Twin Needle To Stitch Knits: Your Complete Guide"). 
Cons
Slower: Compared to other sewing machines this machine is around 100spm slower. 
Durability: While it is a great upgrade, it may not last you for as long as you expected. 
Sewing Machines For Kids 
Giving your children their own child-safe device is a terrific way to unleash their creativity without overloading them with adult technology.
Additionally, they are less likely to damage your standard sewing machine, saving you money in the long run by avoiding expensive hassles.
This kid-friendly sewing machine uses a no-thread approach to attach pieces of cloth together, giving them practice stitching without the danger of tangles and knots.
With 5 free projects to work on, kids can let their minds run wild and create something incredible (see also "Best Singer Kids' Sewing Machines"). 
Pros
Kid-Friendly: This small machine is the perfect size and level for kids to learn to sew and to get creative.
No- Thread: There is no need to battle with a needle and thread as this machine does it automatically. All you have to do is turn it on. 
Fabric Provided: To get your little one started, this machine comes with 5 projects for them to work on straight away.
Cons
Durability: Made from plastic and inexpensive materials, this machine may not last your child years.
Noise: When in use this machine can be loud and noisey.
When looking for the perfect gift for your little one, this Janome Fastlane Basic Sewing Machine is perfect.
Not only is it super fun to look at with its bright pink and yellow design, it is designed with small hands in mind. 
This lightweight sewing machine is targeted toward kids with its easy-to-use features.
Although ease of use is the main focus, the machine also provides a good selection of more professional capabilities that facilitate the transition to utilizing a full-sized, better-equipped machine in the future.
The machine features a free arm capability for stitching things like sleeves and cuffs, as well as ten practical automatic stitch settings.
The Janome Fastlane Basic Sewing Machine makes it easy for kids to learn the essential skills of sewing. You just have to give them a hand setting things up! 
Children from 7 years of age and upwards can master their skills and gain independence in their projects. In just a few easy steps they can create something magical, all on their own. 
Pros
Price: This sewing machine is inexpensive and extremely high quality. 
Kid-Friendly: Kids and beginners can learn everything they need to get started about sewing on this easy to use machine. 
Drop In Bobbin: Don't waste hours trying to set up your bobbin, this machine makes it quick and simple. 
Cons
Automatic: Once the machine is plugged in and the foot pad is touched, the machine will automatically go. This can be a safety hazard for kids. 
One Speed: Kids and beginners may find this one speed setting too advanced. 
Is the color of your child's new sewing machine less important to you now that they're slightly older and extremely careful, and you'd prefer a model with features that are more similar to those of the full-sized model but are a little more manageable for small hands?
Then, thanks to KPCB Tech, we believe you might have a better experience with something like this unusually shaped showing machine made just for kids!
This small device already has a variety of specially scaled necessities, saving you the trouble of having to purchase them separately. You'll find bobbins, extra needles, pins, and a thimble in the kit.
It also comes with a small range of fabrics, allowing your kids to get started on some cute projects straight away!
Just ensure to teach them the proper safety of using a sewing machine as the safety guard does not completely cover the needle. 
Along with a complete handbook and tutorial DVD that clearly and easily guides your child through threading, using, and caring for the machine, the machine also has a built-in thread cutter, an LED light for good vision while you work, and a built-in thread cutter.
It is also a kid-friendly model that is quite lightweight.
Pros
Accesories: Forget having to purchase accessories separately with this sewing machine as it comes with bobbins, extra needles, and a thimble.
DVD Guide: Simply watch the DVD guide to understand how to set up and use your sewing machine in record time. 
LED Light: Work right into the night as the LED Light helps keep things visible without hurting your eyes. 
Cons
Safety Guard: While helpful, the safety guard does cover the entire needle meaning beginners or little ones need to be extra careful when sewing. 
Size: If you are older than around 10 years old this machine may be too small for your hands. 
Mini Sewing Machines 
If you're inquisitive about sewing but aren't quite ready to plunge into overlocking or stitching heavyweight materials yet, this handy small starting machine with an entry-level price tag has 12 built-in stitches that include a variety of straight stitches, zig-zag, ornamental, and buttonhole.
Everything you need to start sewing right away is included, including a 42-piece set of pre-threaded bobbins and spools, scissors, a variety of needles, and a tape measure.
Along with the primary sewing foot, it also has three additional sewing feet so you can make buttonholes, invisible zips, and zips.
This mini sewing machine is small and compact to accommodate traveling and working away from home (see also "Can I Travel With My Sewing Machine?"). The extension table ensures you have the support and space to create larger projects. 
Although it doesn't come with a lot of presser feet, you can remove it and replace it with any other foot that you buy separately.
You may use batteries or the supplied power adapter to operate this sewing machine, which is compact, portable, and simple to operate.
If you're on the go and in an area without electricity, this feature will come in handy!
Pros 
Features: Has a 12 stitches, overlocking stitch, and a buttonhole stitch features which is great for beginners. 
Lightweight: Due to being a mini sewing machine it is extremely lightweight and portable. 
Battery Powered. Use this mini sewing machine anywhere, anytime so long as it has batteries. 
Cons
Durability: This mini sewing machine may not last as long as other brands and may need replacing a lot sooner. 
Although it isn't the lightest machine in this comparison, the most durable machine in this roundup is filled with useful features to make a dependable addition to your sewing area.
It is a rather versatile tiny sewing machine for learning how to sew and developing your skills because it has 14 stitches and a 4-step buttonhole.
It contains a drop-loading bobbin, as well as a useful accessory package that includes a zipper foot, buttonhole foot, and zig-zag foot as well as needles and an extra bobbin.
If you find that your sewing machines often break on you before their time, then the 3-year guarantee that comes with the Brother LS14S Metal Chassis Sewing Machine allows you to create designs to your heart's content knowing that it is made to last.
And if anything goes wrong, it can easily be fixed or replaced!
Pros 
Features: 14 Stitches, 4 step-buttonhole, drop-loading bobbin, 3 foot pressures are all features within this small yet powerful mini sewing machine. 
Beginner Friendly: Beginners can easily learn to sew with this machine.
Portable: It is small in size, lightweight, and has a great accessory pack for storing all of your favorite projects and accessories. 
Cons
Thick Fabrics: This machine does not have the power to sew through hard fabrics such as Denim and Leather (see also "Sewing Denim Like A Pro: Our Best Tips And Tricks"). 
Stitch Speed: Beginners may find the stitch speed on this machine too quick but with practice, it will become easier to use. 
Despite having significantly more functions than the Janome Basic sewing machine, the NEX portable sewing machine is priced similarly.
If you don't mind a sewing machine with a different brand, the NEX sewing machine offers a lot of features in a little package.
An overlocking stitch and a buttonhole stitch are both included in the 12 stitches.
Even though there is only one presser foot included, it can be removed and replaced with the majority of other standard presser feet.
The NEX Portable Sewing Machine offers more stability when in use and even comes with an incredible reverse stitch function.
Your project possibilities are endless with this small yet mighty sewing machine. 
Pros
Quality: While this machine is inexpensive, it is made of high quality materials that are made to last. 
Lightweight: As the name suggests, this sewing machine is lightweight and easy to transport around as you sew on the go. 
Price: This sewing machine is inexpensive making it an excellent choice for beginners.
Cons
Needle Threading: This sewing machine is not designed with an automatic needle threader meaning it has to be done by hand which can be challenging. 
Thick Fabric: When sewing thicker fabrics, be prepared for a slower stith.
Things To Consider 
Before you rush to buy the fanciest and prettiest sewing machine you can find, there are some factors to consider.
Sewing machines are expected to last longer than one project at a time, so you want to ensure you select the right one for you. 
Below are the factors to consider when purchasing the sewing machine: 
Types Of Machines
Recently the invention of the computerized sewing machine has taken tailors by storm. They offer a lot more in terms of functionality and accuracy, however, they also come with a rather hefty price tag.
A mechanical sewing machine is a traditional machine where you have to sew with the foot pedal, and manually change the stitch setting, length, and width using dials located on the side of the machine.  
For those who have been sewing for quite some time, you may be more comfortable with a mechanical sewing machine as it allows you to be in control.
You will also know become more fluent with the machine as you have to make all of the changes yourself. 
Using a computerized machine, you can frequently sew with buttons and choose your stitch parameters using an LCD screen.
Even editing and saving stitch designs are possible on some computerized machines.
Whether you select a computerized machine or a mechanical machine is a personal choice.
Often, young children are taught how to sew on a mechanical machine and later progress onto a computerized machine.
Although, it is all about working with a machine that makes you comfortable and enhances your abilities. 
Other types of sewing machines are: 
Electronic Sewing Machines
These types of sewing machines are your standard sewing machines that have a DC motor built in. This helps with needle penetration at lower speeds. 
Embroidery Machine
An embroidery machine is used to embroider motifs, pictures, and large or small text; it can be connected to a computer via USB or computer link, or the embroidery design can be loaded using memory cards or USB sticks; once loaded, all you need to do is place the fabric into an embroidery hoop and press the start button.
Some embroidery machines come with pre-loaded embroidery designs.
Coverstitch Sewing Machine
These sewing machines are commonly used to prevent a raw edge from fraying while building the seam at the same time.
Overlocking and this process are sometimes mistaken, although they require completely different machinery, and neither can perform the other.
They are useful if you want to make garments, but because they don't have built-in blades, they won't cut the fabric.
Industrial Sewing Machine
Overlockers, coverstitch, walking feet, needle feed, lockstitch, chainstitch, buttonholers, bonadex elasticaters, blind hem, flatlock, button sewer, and post machines are the most popular industrial sewing machines.
All of these machines have extremely restricted applications, but they do their intended functions swiftly and effectively.
They were built to be used seven days a week, twenty-four hours a day, with no maintenance. 
Full Size Vs Mini Sewing Machines 
As you can see from the list of sewing machines above, there are 2 sizes of sewing machines; full size or mini.
Both sizes of sewing machines come with their own range of advantages and disadvantages.
The main advantage of a mini sewing machine is its lightweight and portability. You can easily use your mini sewing machine when out on the road. 
However, a full-size sewing machine often comes with more features and has a lot more room for projects. 
Full-size sewing machines often come with a larger price tag but they are exceptional for those who use their machine for more than just hemming a pair of trousers every now and again.
You are gifted with a wide range of features and the ability to execute large designs without worrying about an extension table. 
Mini sewing machines also come as hand sewing machines. These are great for quick jobs and often come at an inexpensive price.
Perfect if you enjoy having your sewing machine on you at all times in case of an emergency. 
Above is a range of both full-size and mini sewing machines for you to choose from.
Whether you only have a small amount of space or have a large project in mind, there is something for your every need. 
Stitches And Buttonholes 
Different sewing machines come with different stitch settings. You have to consider what you need before making a purchase. 
Do you merely need to sew anything straight? There would be no need to purchase a pricey machine with more than 100 stitches.
A sewing machine with an automatic one-step buttonhole stitch is also unnecessary if you never want to sew on buttons.
However, if you determine that you require more than a simple straight stitch then you may have to do some more research.
Most sewing machines come with at least 12 stitches and a buttonhole stitch making the selection rather simple. 
Automatic Needle Threader 
The cheapest sewing machines lack this capability, however for an extra $10 you can occasionally get a machine with an automatic needle threader.
This kind of needle threader wraps the thread around a tiny lever and hook. The thread enters the needle's eye with a quick flip of the lever.
If you struggle with unsteady hands or poor close eyesight, this function is helpful. (If you have weak vision, also look for an LED light!)
When purchasing a sewing machine for your young child, ensure that it comes with an automatic needle threading function.
This will save you and your child from numerous meltdowns and moments of frustration. 
Drop Feed
The principle is the same whether free machine quilting, darning, or embroidery; the only difference is the sewing project.
Some machines allow the user to decrease the feed dogs or teeth, allowing them to freely move the fabric in any direction and at any reasonable speed. 
You'll need a free-motion sewing machine foot for the best outcomes.
This foot bounces up and down on the fabric, holding the cloth steady while the needle is piercing it and allowing the sewer to move the fabric when the foot is up.
By using this foot, you may increase thread tension and lessen the risk of needle breakage.
This is a difficult concept for many beginners to grasp, which is why a good quality sewing machine is necessary.
The drop feed on a machine will prevent you from changing the thread mutliple times, meaning you can work seamlessly and see your finished product quicker!
Included Presser Feet 
As you sew your designs, the pressure feet holds the fabric in place allowing you to get the stitch you desire.
Every sewing machine comes with a standard zigzag foot that lets you make both a straight and zigzag thread. It suffices for the majority of sewing projects.
However, having extra sewing foot can help you manage some tasks better.
For adding buttons to clothing, buttonhole and button-sewing feet are useful, while zippers can be more easily sewn using zipper feet.
Your sewing possibilities can also be increased by adding additional presser feet, such as a quilting foot, walking foot, overcasting foot, blind hem foot, or even a narrow hem foot.
Now, if the sewing machine you purchase does not come with the pressure feet you require, there is no need to purchase an entirely new sewing machine.
You can buy additional pressure feet which will fit most sewing machines. 
Just ensure to read the dimensions so that it is compatible with your machine. 
Frequently Asked Questions 
Are There American Made Sewing Machines?
Yes. Singer Corporations is an American manufacturer of sewing machine since 1851. 
What Sewing Machines Do Professionals Use?
Professionals use the Juki TL-2010Q. This is a mid-priced sewing machine that comes with great features and is made to last for years (see also "Our Favorite Made In USA Sewing Machines"). 
Final Thoughts 
Whether you are new to sewing, want to encourage your child to follow their passion, or are in need of an upgrade, finding a new sewing machine does not have to cost you your entire paycheck. 
Above are 10 of the best sewing machines for an affordable price that are great quality and will allow you to be creative and innovative. 
These sewing machines are excellent for all types of projects and most can even be taken with you as you travel!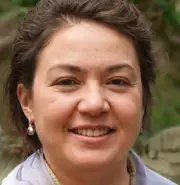 Latest posts by Liz Miller
(see all)