We all know how cumbersome a sewing machine can be.
If you are traveling from place to place, then having a bulky sewing machine will certainly not help your sewing arm once you sit down at the plate. So, are there any portable sewing machines out there?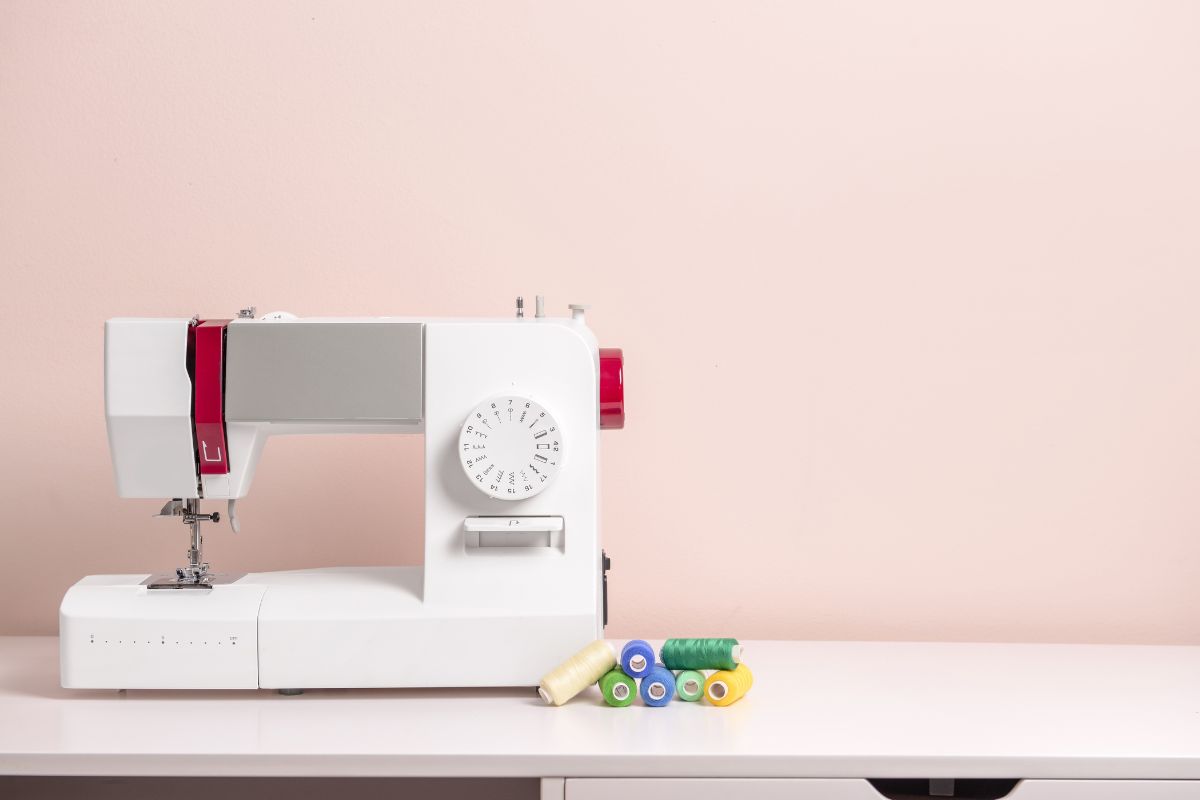 Yes, there are plenty of kits out there that you can get. You can even get a handheld sewing machine, some of which we will list below.
This is the perfect device for a quick stitch fix or to get around a particularly difficult seam of clothing.
So what are the best portable sewing machines out there? How much do they cost and are they worth buying?
Well, we're going to go into all the details, talking about why you might prefer a portable stitching device, stitching techniques, and the best travel-friendly machines on the market.
Why Use A Portable Sewing Machine?
There are many reasons why you might want a smaller sewing machine, one of the main ones being that you can carry it around easier.
If you have a sewing business that takes you here, there, and everywhere, then having a sewing machine that you can carry around in your handbag is ideal.
It might be a little cumbersome, but these machines are very lightweight and will not drag your arm down.
Having a smaller sewing machine will also help you to do smaller sewing jobs, which is great if don't want the hassle of setting up your larger sewing machine.
Handheld sewing machines have even more utility.
You can sew around particularly difficult edges, as the dexterity of the handheld sewing machine is vastly superior to the bulkier tabletop models.
It will also fit right in your pocket, making it the most portable sewing option.
What Types Of Sewing Machine Size Is There?
There are 3 main types of sewing machine sizes that we will cover in this article. They all offer radically different features, which will all depend on what kind of sewing job you want to do.
Firstly, there are full-sized sewing machines. You can pretty much sew anything with these machines, whether it is patching up a quilt or repairing a ripped seam on your favorite jacket.
They have more thread settings and with some of the digital models, you can even download your own patterns.
This is the best machine to have if you want the full range of options. The smaller machines come with a much more scaled-down capability and you won't be able to do as much.
Secondly, there are small-size machines.
These are great if portability is your main concern, but we would not suggest that you have this as your sole machine, as you will be severely limited when it comes to stitching options.
You'll only get a handful of stitches from a machine of this size.
Finally, there's the handheld machine, which gives you quick and easy repair jobs. These are used by people like costume designers to fix clothing very quickly when they are on set.
But again, as with the smaller models, you will be limited regarding the types of materials you will be able to work with.
What Do I Need To Think About When Purchasing A Smaller Sewing Machine?
There are a few considerations that you'll need to think about when you are buying a handheld or portable machine. Here are just a few of them:
1. How Much Does It Weigh?
The weight will be very important, as you'll need to know how much you carry in one hand. The last thing you'll want is your sewing machine bursting through the seams in the bottom of your bag.
2. How Big Is It?
This will be important if you already have a carrying device to transport your sewing machine around in. You'll want to make sure that it will fit in with enough room to retrieve it when you need to.
However, if you do not have a carry bag, then we would recommend that you get a specially-designed carry tote that is built for holding a sewing machine.
A rolling tote bag will help to support a much larger sewing machine too (see also "Our 6 Favorite Rolling Sewing Machine Totes").
3. Does It Have A Handle?
It should go without saying that a handle will be a very useful feature for a portable sewing machine.
You'll want to make sure that it has a handle that will enable you to easily carry your sewing machine.
Making sure that the handle is thick enough to hold the weight of your whole sewing machine.
Some of these devices have a molded handle in the top of the machine, whereas other have foldable handles that you can contract as and when you need to.
4. Stitching
Some of the smaller sewing machines only come with a straight stitching option, although other comes with reverse stitching, which will certainly come in handy if you really want to bind two pieces of fabric together firmly.
You might also want a machine that can do more complicated stitches including zigzag stitching, blind hem stitching, and satin stitching.
5. Does It Come With Pressing Feet?
This foot holds the fabric in place while you are sewing, which is very important for maintaining that stability and control when you are working with more complicated projects.
You can get feet for buttonholes, zippers or overcasting. You can add these feet to your sewing machine as you see fit.
6. Can It Sew Buttonholes?
You can get many different options for sewing buttonholes with a smaller sewer. You can either have a one-step buttonhole function or you can get something with the ability to sew 4 buttons at a time.
7. Does It Come With An Automatic Needle Threader?
This is a needle and hook system that comes with a lot of full-size sewing machines, allowing you to effectively get your thread through your needle with very little effort.
These devices are very handy if you are getting started on your sewing journey.
Best Portable Sewing Machines
We'll be covering the smaller sewing machines and handheld sewing machines in this section. You'll need to bear in mind the level of sewing that you'll be doing, as both will be limited in what you can stitch:
1. Brother XM2701 Lightweight Portable Sewing Machine
This is a great machine that is not only very affordable but suitable for beginners.
This is very unusual for smaller sewing machines in that it comes with an automatic needle threader, which is great for beginners too.
This sewing machine also comes at a pretty nifty speed, reaching up to 800 spm, which is amazing for a machine of this size. You can complete the most difficult sewing jobs in no time at all!
It also comes with automatic bobbin settings, which means that you won't have to go to the trouble of lifting up the bobbin by hand.
This also comes with handy instructions that will help you to thread the needle, as well as an automatic needle threader, which is great for those just starting out.
2. Kuckee Portable Sewing Machine
This is a handheld sewing machine, coming with a durable and very stylish design that will be perfect for anyone looking to have a sewing machine that you can carry around in your pocket.
This is great for helping you repair several materials. If you have a tear in your curtains (see also "How To Sew Curtain"), then this will be a great device to use. This is also great for repairing rips in cotton and denim.
The best thing about this type of sewing machine is the price. You can buy it for just over $10, which is amazing.
If you are serious about your sewing, then we would recommend you don't have this as your sole sewing device, but rather as a reserve for when you need to fix a repair in very little time.
3. Singer Start 1304 Sewing Machine
If you have some sewing experience already behind you, then we would certainly point you in the direction of this machine.
This comes with more expensive features than the first sewing machine on this list, with an easy setup and foldable carry handle in the body.
If you are mainly doing to be involved with straight stitching, then this is the perfect one for you.
It comes with a limited set of stitches, but you can be sure that it will cover most basic sewing jobs with maximum precision and neatness.
This is a great sewing machine for younger teenagers to use.
If you have someone that you know who is getting into sewing, then buying them a machine like this will be the ideal birthday gift (see also "What Is The Term For Someone Who Sews?"). It is light enough for them to carry from their bedroom to the kitchen without much effort.
4. New Home Janome Basic Sewing Machine
This next sewing machine is another perfect choice for a younger sewer, coming in a lightweight 5-pound design with an eye-catching color scheme.
This sewing machine comes from one of the most respected brand names in the sewing game, with thousands of positive reviews.
If you want a product that you can rely on, then we would definitely suggest that you pick up this model.
The great thing about these smaller units is that they don't take up that much space in your home either.
You can easily store this one in a small space in your wardrobe, ideal if you like to keep your sewing space nice and tidy.
This comes with 4 basic stitches, allowing you to set the width and the length of your thread. It runs at a very slow speed, which will allow you to get around those tricky corners.
This will become activated once you have pressed the foot switch down, which is great if you want to get your machine up and running in a hurry.
This sewing machine comes pre-loaded with some amazing colors, over 10 in total. This is a great machine to use if you want to add some flair to your basic stitching designs.
5. Magic Stitch Handheld Sewing Machine
This is a battery-powered handheld stitcher, which is great for when you are stitching while out and about.
This does result in any trailing leads or having to hunt around a coffee shop for that all-important power point.
This is designed for both beginners and experts to use and it is great for helping you learn the ropes of stitching.
If you are running a professional sewing business, then we would certainly recommend having this as a supplementary stitcher to your main one.
You can also stitch and repair your clothes while you are wearing them with this model.
If you are out and about and you need to fix a rip in your top, then whip out your hand stitcher and get it repaired before you go to your big event.
This is also a very durable handheld stitcher. You can drop or knock this anywhere and due to the compact size of it, it will not break easily or lose any parts.
6. Nex Portable Sewing Machine
This next stitcher is one level above some of the sewing machines that we have listed, coming with a lot of features such as a buttonholer and overlocking stitcher that is perfect for most DIY fabric projects.
You can either use a powerpack or batteries to operate this one, which is very important if you are going to be using it in a place where a power point is not that easy to find.
This comes with a very stable base and a reverse stitch function, which is great if you want to double up on your stitching to create super-tight seams.
Conclusion
Getting the right portable or pocket-sized sewer will certainly need thinking over, especially if you are going to be attempting more complicated patterns.
You won't want to pay a lot of money for a smaller sewing machine that is not fit for purpose!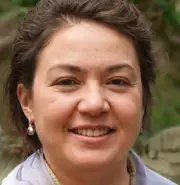 Latest posts by Liz Miller
(see all)