Sometimes if you live in a busy household, people might always be using your stuff.
Whether it is towels, socks or even underwear, people just grab whatever is to hand. So how can you stop someone doing this? Well, why not a monogram?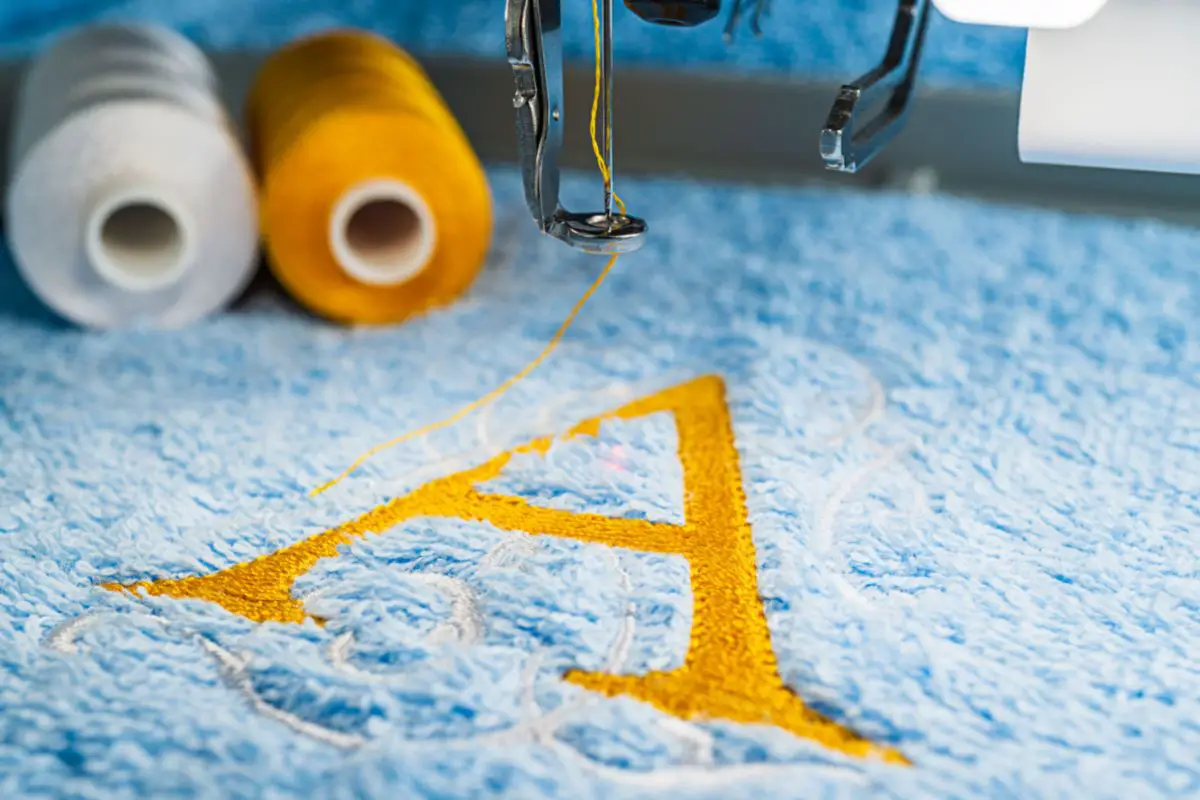 A monogram is a personalized insignia that is sewn into your fabric. Make no mistake, there will be no mistakes, as these initials do not rub off.
You can be sure that will be able to tell your stuff apart from everyone else's, no matter how hard they try to deny it.
But how can you monogram your stuff in a clear way?
Well, we have all the tips you need for monogramming, along with some of the best machines for monogramming that we could find on the market. So, what are you waiting for?
What Exactly Is A Monogram?
A monogram is a type of insignia that is stitched into your clothing. Often you will find it on the breast pocket of blazers at those swanky country clubs.
This tells people who you are and tells the world that you are wealthy enough to have a piece of clothing personalized.
These usually come in the form of the three initials of your name. However, these are usually specially designed before, traditionally with the letters linking, almost like a personalized logo.
You can get monograms on a wide range of clothing, often the ones that you carry close to you or value more than others.
Things such as study bags or travel bags (see also "How To Make A Bingo Bag"), attaché cases, briefcases, handkerchiefs, shirts, blazers and even pajamas.
These monograms can be designed on embroidery applications, which really save you time and effort.
The best thing to do is lay out the initials of a piece of paper and then decide what the best shape will be for your lettering.
If you have a middle initial like 'J', then you might want to make it stand out against the others by making it a lot larger.
This way you can be sure that the design of your monogram will be a lot more even and pleasing to the eye.
You can also experiment with different fonts to get the result that you want.
A nice elegant cursive will certainly give the impression that you are sophisticated and look great underneath a patch or family crest.
But using an embroidery program will give you a more realistic idea of what your monogram is going to look like once it is stitched into your clothing.
If you are drawing it out on a piece of paper, then the chances are it will not look the same when stitched, as you are looking for a totally different medium.
What Kind Of Monograms Are There?
One of the main monograms that you can get are wedding monograms. These can either be done by the bride and groom themselves or they can be made as a wedding gift for someone's big day.
You can buy someone his and hers towels and monogram them accordingly.
There is no better way to celebrate someone's nuptials that by sewing their new joint name on a set of plush bathroom bowels or a dinner set.
One neat idea is having their new middle initial to be the dominant letter, with the first-name of the bride and groom on either side.
For example, Glenn and Elin Wade would be 'GWE', with the 'W' as the dominant letter.
You can also choose to monogram this set with the new surname.
Putting a single letter in the corner of pajamas is a very tasteful gift to get for a wedding day, especially if those pajamas are made from pure silk.
If you are going for a single person monogrammed gift, then you can always use their initials in any sort of combination.
If they have one surname, then you can always stack one letter on top of the other and blend them for a nuanced effect.
Umtimately there is no set monogram etiquette, although you might want to ask the individual or couple in question how they want their initials to appear on their items, as they might be particular about whose name they would rather use.
Are There Special Sewing Machines For Monogramming?
There are certain machines that have dedicated features that are aimed at monogramming your clothing.
They come with certain types of stitching or they have monogramming fonts, which will help you capture your perfect logo.
You can get digital sewing machines that will be able to import logos from your computer straight to your needle, however, these machines are usually very expensive.
The standard sewing machine usually doesn't come with any more that 2 or 3 monogram fonts.
Then there are embroidery machines, which are more geared towards monogramming. There are also machines that do both embroidery and regular sewing, which are called combination machines.
However, you can just get an embroidery-only machine, which is dedicated to monogramming.
There are also machines that offer you free-motion monogramming, which will allow you to design whatever logo that you want using your hands alone.
However, using this type of machine will take a little bit of practice and should only be reserved for the skilled sewer.
Best Non-Embroidery Monogram Sewing Machines
This first set of sewing machines are not classed as embroidery machines, but they can sew monograms, even though it will be in a limited capacity, especially when it comes to fonts.
1. Quantum Stylist 9960 Computerized Portable Sewing Machine
This first sewing machine is digital and comes with 5 different embroidery fonts, which is great if you want to monogram something pretty basic.
This is a great machine that will allow you to stitch onto a whole host of different materials, including quilts, blankets, clothing and craft projects.
This device comes with a stitching setting that you can activate at the touch of a button, along with a built-in needle threader.
Even though you can't upload your own fonts and there are only 5 to choose from, there are still another 600 stitching options for you to choose from.
So, if you are only dabbling in monogramming, then this is the ideal sewing machine for you.
If you want to monogram free-hand, then this machine will give you that option. Although, as we have mentioned above, this technique does require a little more finesse and expertise.
Overall, this is a very affordable machine for people who are only going to be seldom monogramming. We would certainly recommend it for people who are going to be doing a broad range of stitching.
2. Brother HC1850 Quilting Machine
Next up, we have a sewing machine that does not embroidery and only comes with 1 monogram font setting.
This font is very basic, and you cannot change it from its quarter-inch size. This will definitely not be a machine for anyone who wants to get that dominant middle initial.
We would recommend this one for adding a label to your child's clothing so that it doesn't get lost or misplaced when they are at school.
You can also add their initials to their bedding just to make them feel extra special.
However, if you consider yourself a sewing expert that is willing to go with free-motion monogramming, then this is a great machine for you to use, with smooth operation and great stitching choices.
This also comes with an easy to see LCD screen, which will help those that have eyesight issues actually see what they're sewing, as well as give you more control over those trickier details.
This will also allow you to change the length and width of your stitches.
This machine also comes with anti-jamming technology, which means that you will never get your thread caught and then have to rethread the whole machine.
It also comes with an automatic drop thread and needle threader.
3. Brother XR9950prw Project Runway Sewing Machine
This is a machine that is not too dissimilar to the one that we have listed above.
It gives you around 110 stitching options, which is great for anyone who wants to sew everything from quilts to clothing to cushion covers.
This machine comes with a standard font, which is not very flexible, but if you are a free-motion sewer, then you can always switch to this option and create some extremely elegant and unique monograms.
This will allow you to add the smallest letters to any fabric project that you are sewing. This is pretty limiting.
Again, we would recommend this for basic personalized clothing that you might not want to go missing or get taken by someone else.
4. Janome 4120QDC Computerized Sewing Machine
This next machine comes with a build in alphabet, with the option to change between the different styling of your letters.
If you want more than the basic lettering on your towels of clothing, then we would strongly recommend this one.
This will also allow you to toggle between upper and lower case letters, meaning you can try that complicated large middle initial design.
You can also switch between the European lettering style to Russian styling, which is great if you want to create something utterly unique.
This sewing machine has a higher foot presser that will enable you to sew thicker threads, which is great if you are working with something a little chunkier (see also "Our 5 Favorite Self-Threading Sewing Machines").
It also comes with a lot of room on the plate, allowing you to sew with a lot more freedom.
This is a great sewing machine for use with small lettering, which is exactly what you'll need for more detailed projects such as monogramming.
This also comes with a great memory function that will allow you to save some of your stitching patterns.
You might not be able to edit many sewing projects with this machine, but it will give you the fundamentals for your basic monograms and stitching projects.
Best Embroidery Machines That Can Also Sew
Now we are moving onto a set of sewing machines that can sew but are primarily monogram makers.
The best thing about these types of machines is that you can download so many fonts onto it, that it makes it an amazing option for you sewing.
When you are buying one of these machines, then you'll need to consider the size of the monogram that you want to embroider.
Each embroidery machine comes with a loop size that only goes so large, so you'll have to find the right size that will accommodate your loop design.
For example, if you are wanting a monogram that comes in a 6-inch size and have an embroidery machine that comes with a smaller loop, then you might have to split every design.
This is not a difficult process, but it is very time-consuming. If you have a larger loop, then you will be able to achieve this in one session.
This will go double if you are running your own embroidery business, where you'll have to make sure that you are meeting every order on time without sacrificing the quality of your work.
If you get the right size of looper, then you will be able to churn out more designs at a quicker speed.
1. Brother SE600 or SE625 Sewing And Embroidery Machine For 4×4 Monograms
This first machine is the smallest and most affordable of the embroidery machines.
This will also allow you to download whatever font that you like straight to your USB, which you can then plug in an upload straight to your sewing machine.
This machine comes with 6 different types of font, each one measuring small, medium and large.
This will allow you to form the classic large middle initial pattern, which is great if you are looking for that classic monogram logo.
As a nice added touch, you can even add a border around your lettering, which is great if you want to make your monogram even more legible.
This embroidery machine comes with over 200 designs, which is amazing if you are going to want to attempt any and every style of quilting and font-making.
You will also be able to edit the patterns on your screen, which is great if you are learning and making the odd mistake or two.
This also comes with a true color touch screen, which is perfect for getting a realistic yet magnified look at your pattern.
Detail is very important when it comes to monogramming and having a feature like this is a fantastic asset.
You can also upgrade the size of the hoop on this embroidery machine, which is great if you are going to want to attempt those larger patterns.
2. EverSewn Sparrow X Sewing And Embroidery Machine
Now we have a machine that utilizes cutting edge technology to give you a vastly superior sewing experience.
This comes with high-speed WiFi which allows you to design your monogram on a tablet or laptop, transferring it straight to your sewing machine. Pretty cool, huh?
You can also edit your design, either on your laptop or on the sewing machine itself. This machine will embroider all by itself once the designs have been inputted.
So you can go and make yourself a cup of tea while the machine does all the work for you!
However, we would recommend that you keep an eye on this machine, as you will have to get very hands-on when you change threads.
But you'll be happy to know that this machine supports all of the embroidery formats including .pes, .xxx and .dst.
3. Husqvarna Viking Designer Jade 35 Sewing And Embroidery Machine
This machine is another one that uses computer technology so that you can create an infinite number of your own monogrammed designs.
This comes with its own embroidery software that will be easy to use and allow you to download thousands of monogram designs and fonts.
This will save you the hassle of having to download additional programs. You can download the fonts straight to the machine or you can upload them using your own USB stick.
This comes with an automatic thread cutter and a built-in needle threader that makes sewing a lot quicker and easier.
It comes with over 120 built-in stitches, which is perfect if you are new to embroidery and you want that little helping hand getting started.
This also comes with a hefty 8-inches of sewing space on the plate, which is great if you are looking for plenty of room to work with larger designs.
What Is The Difference Between Sewing And Embroidery?
It is worth noting the difference between these two different types of machines, as it will help you during the buying process.
We have mentioned above that some machines are capable of both, although you will be limited by these combination machines.
Sewing Machines
Sewing is the art of stitching pieces of material together.
It is more of a structural practice and does not really have to be that artistic in terms of threads and textures (although you can get some very nice sewing threads that add a little flare to your garments).
You can also sew a patch onto your clothing or repair a tear. This is because the thread is usually thicker when you are sewing, which prevents it from tearing again or succumbing to moisture damage.
Sewing can be practiced by hand and many people still do this, however, for high-intensity repairs or trying to stitch a lot of garments in one go, then we would definitely opt for a sewing machine, which works at a lot higher speeds.
If you own a small business that manufactures clothes, then you won't want to be without a sewing machine.
In a sewing business, time is money, so you'll want to make sure that you can churn out as many garments as you can to meet customer demand and make a profit.
Sewing requires a little less skill than embroidery, as you can be working with mainly straight lines with the occasional tricky corner.
Embroidery is a lot more detailed and will require that extra level of skill that sewing doesn't really need.
Embroidery Machines
Embroidery is a lot more technical than sewing, in that it is important that if you are stitching a monogram, it will be important that it is legible and that the stitches do not fray.
The whole point of this type of sewing is decoration. Once you have finished sewing, you might then want to embroider on the top of it to give it that personal flourish.
There are plenty of different types of embroidery thread, some of them shiny, some of them metallic.
Embroidery is not a structural art and will not hold clothing together. If you want to add some flowers to the trim on your pajamas or a colorful zig-zag pattern on your towels, then embroidery is the one for you.
Again, there is a rich history of embroidery being done by hand, but these days it is a lot more common to use sewing machines.
This is a way of getting your designs embroidered a lot quicker, which is very important if you have a business where you have to churn out many garments in one sitting (Can you embroider with a sewing machine? Find out here).
Embroidery can be used to conceal or rather detract from damage done to an item. You can draw attention away from a rip in a sleeve or stitch your own logo onto a patch.
When it comes to repairs, there's no reason that you can't get creative.
Frequently Asked Questions
What Are The Tools I Need To Buy When I First Start Sewing?
This will all depend on what type of sewing you are going to be embarking on. If you have a sewing machine, then you'll be omitting a whole lot of items such as a needle.
Here are some other items you'll be looking for:
Chalk Paper
Sewing Threads
Measuring Tape
Washable Chalk
Unpicker
Fabric Scissors
Snipper
Tracing Wheel
Washable Fabric Marker
You might have to also get replaceable parts for your sewing machine, as they are prone to breaking.
Does A Sewing Machine With WiFi Improve My Sewing?
You will still need to have the basic sewing capabilities, although you can be sure that it will help you when you are first getting started with sewing.
Having an LCD screen will help you with more intricate designs and improve your hand-eye coordination.
What Kind Of Fabrics Are Best For Sewing?
You can pretty much sew any type of material, although some will pose more challenges than others.
For example, if a material is soft – such as denim, silk or cotton – then it will be easy to cut and sew together.
However, knitted materials have a cross-stitched design and will be difficult to stitch over.
Conclusion
We hope this guide to monogramming has helped you understand the distinction between the two.
Buying the right machine is very important, because you won't be able to embroider much using a sewing machine and vice versa.
Remember that monogramming is an art unto itself and will require some considerable skill and experience.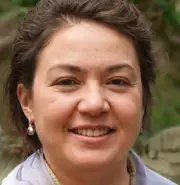 Latest posts by Liz Miller
(see all)