Do you have an equine lover in your life? Want to give them the perfect gift to show them that you care?
Sewing a cute horse plushie is a great choice! It's personal, homemade, and will surely be loved forever.
If you want to sew a horse plushie, for yourself, or for someone else, then you will need a sewing pattern to help you get started.
We have gathered some of the best available sewing patterns, with a range of difficulty levels, so you are sure to find one that suits your needs!
15 Horse Sewing Patterns To Try
Love all things horses? Try some of these horse sewing patterns to make a huggable plushie that all equine lovers will enjoy.
The Floppy Cold Plush sewing pattern is one of our favorites. This beautiful pattern is very detailed, and creates a soft, cuddly, perfectly sized horse!
You will receive templates and instructions with this digital download. It's great for beginner sewists and intermediate ones.
If you are looking for a simplistic sewing pattern, then this horse toy pattern will fit your needs. It is a digital download, and has two patterns in one, so you can make a unicorn too if you would like to!
With a fuzzy mane, perky ears, this cute foal will be adored by horse lovers. This pattern comes with easy to follow instructions, material requirements, and a simple layout guide.
Why not try making a hobby horse? This pattern helps you do just that! You will receive two PDF files, one for the hobby horse, and one for creating halters and leads for the horse!
This pattern is for intermediate sewists, and you don't need an embroidery machine to finish off the finer details like the eyes and nostrils!
It comes with illustrated instructions, the pattern, and more materials for a comprehensive guide.
If you want to make a simple stuffed animal perfect for a child or gift, then this pony pattern is perfect.
The pattern includes two different sizes, with detailed photos and instructions to help you make progress.
With cute tufts of material for the hair and tail, and lovely detailed saddles and bridles, this design is one of our favorites.
If you like trying out vintage sewing patterns, then why not try this 1970s Plush Pinto Horse corduroy sewing pattern.
This pattern offers complete instructions to make your own endearing equine, and includes a list of material requirements. You can also alter the pattern to make a Pinto, Bay, or white horse! It's up to you.
If you are looking for more of a rag dog design, then this sitting horse softie is a great choice. With long legs, you can perch this horse anywhere you would like.
The pattern itself comes with step by step instructions, tips for the best results, full size pattern pieces, and photos to accompany you on each step.
It is really simple to make, and a beginner could even get this done in no time!
Like using felt fabrics? Try this horse and unicorn sewing pattern. You can make your own stuffed horse in no time.
The pattern comes with instructions to make an 8 inch horse, or stuffed smaller 5.5 inch horse. This pattern is designed to be hand sewn, so if you are looking for a fun project, this one is an excellent option.
If you liked the Floppy Colt Plush above, then why not make a filly to go with it? This is another digital download, but it creates a more feminine, lovable horse!
Do you like vintage patterns? Try this beauty from the 1980s! You can make a denim pony or horse that sits around 7 inches.
This stunning steed is made of denim with a twine mane, button eyes and a stable blanket.
With step by step instructions, full sized pattern pieces, you don't have to worry about enlarging it to get the job done.
We LOVE this pattern, it is inspired by the popular Dreamworks movie Spirit featuring a brave equine. If you, or your kids love this movie, then you should try this sewing pattern.
The plush will stand at around 12 inches tall, but this pattern is not suitable for beginners, so keep that in mind. However, it comes with the full instructions to help you.
This pattern from Stable Mates helps you create a horse or unicorn of your liking.
These delightful plushies stand at around 12 inches tall, and you'll get a helpful pattern that will guide you through the whole process.
They are complete with tack, so you can create a saddle and bridle for your horse, and there are instructions to sew a star or blaze on the horse to make its markings unique and personalized.
Love fat, cuddly plushies? Try out this chunky horse sewing pattern. This pattern could be used to create a doorstop, as the horse is so fat!
It's still oh-so cute, and comes with a PDF pattern in 4 different sizes, step by step instructions, and a list of tools and materials.
This pattern is popular among quilting enthusiasts, and has been used by many over the years.
You will get an 8 page PDF file, including instructions, illustrations, photographs, shopping supplies and everything you need to create your own stuffed horse!
Learn how to make this cute carousel horse with a candy colored mane and buttoned on legs with this sewing pattern.
You will get a full color PDF download, filled with handy instructions to create your own.
We have another vintage horse sewing pattern, but this one is from the 1940s. It's very nostalgic and old-fashioned, but it looks great once completed!
This pattern comes with full instructions, pictures, and a sheet for the cutting pieces.
Summary
There are so many horse sewing patterns out there. With any of the patterns we've recommended, you can create a fun, cute, and cuddly horse plushie that all can enjoy.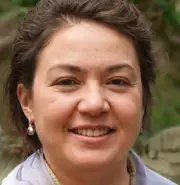 Latest posts by Liz Miller
(see all)