Sewing is an exceptional hobby. It can pass the time, and serve as a skill to work on and develop.
Not to mention that you can make homemade gifts instead of buying them, which makes them even more special!
As a sewing enthusiast, you may be used to making clothes, sewing bags, creating baby bibs, pillow cases and accessories.
You may be looking for something different to make, or you want to try your hand at sewing some cute plushies.
Dogs are mankind's best friends, so why not try a dog themed sewing pattern?
Here, we have 14 of the best dog sewing patterns that you can use to make adorable dog plush toys, dog coats, and collars!
If you want to try making a dog plushie, then this sausage dog pattern is a great place to start. You can use any fabric that you like, to make a patterned, floral dog plush.
Weiner dogs are one of the most popular breeds due to their small stature, short legs and sweet demeanors, so you can give this plushie to the weiner dog lover in your life!
The finished product is only about 9 inches long, and it is actually a very simple sewing pattern suitable for beginners.
You will get a PDF file instantly, along with a material requirements list, instructions, and more to make it easier.
You can also sell the items made from this pattern as long as you give credit to the pattern designer!
We also love this standing puppy dog plushie. With this sewing pattern, you can make this adorable, smiling puppy dog that would be the perfect gift for a loved one or a child.
When finished, the plushie is around 8 1/2 inches tall, and can be made with your chosen materials, so you can customize it.
With this pattern, you will get 16 pages of PDF, including the full size pattern, a list of material requirements, step by step instructions with photographs, and a guide of how to use the pattern for the best results.
Perhaps you do not want to make a plushie, but you still have a canine companion in your life. Why not make them their very own jumper?
With this sewing pattern, you can make a custom dog jumper for your pet!
This is a basic jumper pattern, but you may need some more advanced sewing skills for the best results.
You can use a range of different fabrics and patterns that best suit your doggie, but make sure that they are comfortable and breathable so that they do not irritate your dog's skin.
With this pattern, you will receive a PDF pattern and step by step instructions to make it simpler. You will just need your pet's measurements, and you can alter the pattern to make a jumper that fits. 
A great way to commemorate a person or a loved one is by using their clothing or fabric to create a lovable plush toy. This sewing pattern features a dog, and can be used as a memory stuffed animal. 
Create a heartfelt gift with this cute little doggie. It is approximately 16 inches from head to toe, and is simple to make.
With step by step instructions, an instantly downloadable pattern, and a video tutorial- you can breeze through this sewing project. 
If you have your own dog, then you can also make a collar for them. This gives them much more of a personal touch. With this PDF pattern, you can make a collar for your pet in no time. 
The collar itself is adjustable, quick and easy to make, and comes with a tutorial to make the process simpler. The pattern includes sizes XS, S, M, and L so it will suit dogs of all sizes. 
Chihuahuas are also super cute and cuddly. You can try making this chihuahua plushie for yourself! When finished, you will have a 9 inch tall puppy to play with.
The pattern itself comes with simple step by step instructions with lots of illustrations to help you, along with a full size pattern that does not need resizing at all- you just have to print it. 
We also love this cute lying down puppy PDF sewing pattern. It only takes a few basic sewing skills, and can be made in just two hours.
This lovable dog pattern also includes three sizes for the finished product; 10 inches, 12 inches, and 15 inches. 
The pattern comes full size, so there is no resizing or drafting required, and is available with full instructions to help you throughout the whole process.
With a few supplies, black beads for the eyes, felt, fabric, and cluster fiber fill, you can make this puppy for yourself. 
If you are looking for a simple design that can serve as a gift for a child or a baby, then you can try this basic puppy sewing pattern.
The dog itself resembles a cute cocker spaniel, with a cheery face, big eyes, and a round smile.
This puppy pattern is sitting down, but the legs are stitched in so there are no difficult sewing joints required.
The finished product will be 14.5 inches tall, and you will receive 6 pages of descriptive instructions, and 8 pages of pattern pieces to work with. 
Perhaps you want something a little different, then you can experiment with this dog doorstop sewing pattern. It is designed to look like a Scottie dog, but you can use whatever fabric matches your tastes.
The project itself is perfect for beginners, but intermediate and advanced sewists will still have a lot of fun with this design.
You will receive a simple template with detailed diagrams and instructions, so why not try this pattern today?
Golden Retrievers are one of our favorite dog breeds. With this sewing pattern, you can make your very own Golden! This is a vintage pattern from the 1970s, but it still looks spectacular.
When finished, this Golden Retriever will be 12 inches tall, but it depends on the type of fabric that you use.
With this pattern, you will get a full size pattern to instantly download, along with instructions to put the pattern together and make it yourself. 
This pattern is more for experienced sewists who have made stuffed animals before, as it can be difficult at parts.
We also recommend that you use good quality faux fake fur, felt for the ears liners and nose, and fiberfill to stuff the dog. 
Frenchies are becoming increasingly popular pets. If you can't have a real Frenchie, then you can sew your own! This cartoon style Frenchie is a fun plush, with big eyes and a cute smile. 
When complete, it is only around 7 inches tall, but there are 27 pages of pattern to go over!
You will get easy step by step instructions to help you, and the full size pattern so that you don't need to resize it or enlarge it.
This pattern is relatively simple, but you will need to know how to do a ladder stitch and a backstitch, so bear that in mind.  
Fed up of your dog getting muddy on walks? Make them an all-in-one jumpsuit to keep their fur clean and dry.
Ensure that you use a comfortable fabric that is soft on your dog's fur, and they will love this cozy jumpsuit!
His pattern comes with illustrated step by step sewing instructions, but also has a how-to video tutorial to use.
There are also instructions on how to alter the pattern to fit larger or smaller dog breeds. 
Looking for something a little more advanced? Try this standing dog plush sewing pattern. With text instructions, illustrations, tips, and a guide, you can make this 10 inch cutie by yourself. 
The pattern includes instructions for the body, heads, ears, and tail, but you will need to know the basics of sewing and how to thread sculpt.
For the best results, you will need to use faux fur, milk, fleece, or velour, so this design is best suited to more experienced sewists. 
Finally, we have a really advanced sewing pattern. This design creates a realistic dog that could be the real thing. This would be great as a memorial gift, or as a cuddly toy.
This pattern comes with detailed instructions and illustrations to make a large 19 inch stuffed Irish Wolfhound. However, you can also find other dog breeds for this dog pattern from this seller too.
Final Thoughts
To summarize, if you love dogs as much as we do, then you can make a stuffed dog plushie, dog collar, dog jumper, or even a dog jumpsuit with some of these patterns.
If you are a beginner, or a more advanced sewist, there is a dog pattern for you!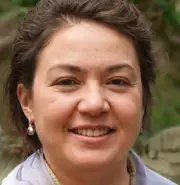 Latest posts by Liz Miller
(see all)