One of things people love to sew is baby clothes and accessories. They're super cute, they don't take up a lot of material, and they're very practical too – but what are the best baby sewing patterns for you to try yourself? 
Here, we are going to be listing some of the very best baby sewing patterns. These range from clothing to bibs to perhaps even a few soft toys! Check them out below and find the sewing patterns that best suit your preferences! 
Babies go through a lot of clothing but if there is one thing parents can't get enough of, its baby bibs.
Bibs get messy very easily and it's super easy to lose them – they can fall out of strollers, thrown aside by your baby, or even taken by the cat straight from the laundry! 
This free pattern will show you how to make your own baby bibs out of spare materials. This means that you can keep making adorable bibs for your baby so you are never caught short! It's super easy to do so just follow the guide above! 
Babies love new toys but buying new toy after toy can get expensive over time. This pattern will show you how to sew an adorable soft bunny toy for your little one to love. 
The pattern is super easy to follow (even for beginners) and it's a great idea to give your baby a toy that is handmade with love so they can keep it forever as a memento.
So, if you want to make them something personal and sweet, this free pattern for a soft funny toy is perfect! 
Babies lose their booties all the time – sometimes, they manage to lose just the one, leaving you with an odd boot and a single cold baby foot! 
This is why a lot of parents turn to sewing their own baby booties. It's much easier than constantly buying new pairs. Plus, if your baby manages to lose just the one, you can make another bootie to replace it! 
This easy baby booties pattern is a quick and easy way to make a pair of little booties for your little one. It's a super handy pattern to have in your baby sewing pattern arsenal! 
When it comes to baby clothes, the baby romper is king. 
It's a handy all-in-one playsuit that your babies can wear comfortably, and move around with ease. It stops any shirts from riding up while they play or sleep, and can be worn underneath extra layers to keep them warm in the colder seasons. 
Because of this, parents can't get enough of baby rompers. 
You can make your own following this easy pattern and guide. All you need to do is get some super cute material to use. Use patterned material or go plain so you have a few extra baby rompers to fall back on.
This way, you will have plenty of rompers at hand if your baby has an accident and needs a clean change of clothes. 
Shorts are another popular clothing option for babies for many reasons. They are easy for your baby to move around in, keep them nice and cool in warmer weather, and allow parents easy access for diaper changes. 
They're also pretty easy to sew yourself if you have the material, elastic, and the right pattern. This guide here will show you how to make your own baby shorts out of whatever material you have lying around. 
We aren't done with baby clothing just yet. Another type of baby clothing sewists love to create are summer dresses. They are easy to make once you have the right pattern and you can add plenty of embroidery, ruffles, ribbons and more. 
Not only are baby dresses super cute, they are also practical – they can keep your baby nice and cool during hot weather and make it easy to change your little one's diaper. 
If you want to make summer dresses for babies, then this pattern is a great one to follow.
It will show you how to make the bodice and skirt, and how to combine the two together, so you make a baby summer dress that looks like it was bought straight from a store! 
Shopping for baby leggings can be difficult. Different materials will have different stretching capabilities so some will easily fit over a diaper while others may not. This can be super frustrating for parents – so a lot choose to just make their own! 
This free pattern will show you how to make a professional pair of baby leggings that fit your baby. It also comes with a guide to help you find the right fabric to stretch and fit your baby and their diaper with ease. 
Of course, you have to sign up here to access the pattern itself – but trust us, the pattern is worth it! Once you have it, you will be able to make plenty of baby leggings to fit your baby, keeping them warm in the colder seasons even as they continue to grow! 
Not all baby sewing patterns are for the baby itself – some of them are designed to be used by the parents! 
For example, take this pattern for a diaper bag. It's large and sturdy so you can pack up everything your baby will need while you head out for trips or just to run errands.
It can be swung over the shoulder and it also features two extra front pockets for your keys, wallet, phone, etc. 
So, if you want to be thrifty and make your own diaper bag, this pattern is definitely one you will want to try! 
This sewing pattern can help you create a soft baby rattle that is suitable for all ages to play with. The design is adorable so your baby is sure to love this little toy that is gentle to touch and fun to shake! 
It's also great for beginner sewists so if you are looking for something easy to make for your baby or to give as a personalized baby shower gift, this pattern could be the answer you are looking for! 
Another fun baby toy for you to sew together is a stacking ring toy. Most stacking toys sold commercially are made from plastic and not only is that not very eco-friendly, but they can be tough and hard for your baby to play with. 
By sewing together your own homemade soft stacking ring toy, your baby can play with something soft and gentle. This pattern also includes a super cute bunny head topper that is sure to capture your little one's attention. 
So, follow the pattern, choose lots of different crazy fabrics, and make a cute and safe stacking ring toy for your baby! 
A lot of parents argue that you can't go wrong with a baby sleeping bag. Not only are they a safer alternative to blankets, they are practical and help your baby settle down into their nighttime routine. 
If you love sewing then why not try sewing a baby sleeping bag instead of just buying one from a store?
This will help you have a lot of money and you can personalize the sleeping bag with embroidery to help match the theme of the nursery and better reflect your baby's personality. 
This easy sewing pattern will guide you through making your own baby sleeping bag step by step. So, it's easy and supportive so you will end up with the perfect baby sleeping bag! 
Final Thoughts
And that's it! Those were the 11 best baby sewing patterns for you to try out! 
There are tons of different patterns out there to help you make amazing baby clothing and accessories. Check out the list above, pick out your favorites, and give them a try! 
Good luck and happy sewing! 
Frequently Asked Questions 
Is It Hard To Sew Baby Clothes?
Baby clothing is considered to be one of the easiest projects for sewists. 
This is because most patterns for baby clothing are easy and not very complex, mistakes can be covered with ruffles or embroidery, and they don't take up a lot of material because they are so small! 
So, if you want to try to sew your own baby clothes, give it a try! 
Which Fabric Is The Best For Making Clothes For Babies? 
Cotton is widely considered to be one of the best materials for baby clothes and accessories. 
It's very gentle and breathable so it is unlikely to cause any irritation on a baby's skin. It's also pretty breathable and comfortable for babies to wear as they wriggle and move around. Cotton is also pretty durable so it's long-lasting and less likely to rip or tear, ruining your hard work! 
So, when choosing what material to use to make your baby clothing (and other things), you should definitely consider cotton!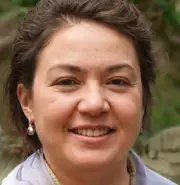 Latest posts by Liz Miller
(see all)