If you are a sewist, or sewing enthusiast, then you may always be looking for new patterns to try out and to keep you busy! Whether you are new to sewing, or looking for a challenge, trying out a new pattern can help you build your skills and confidence. 
Sewing can be a hobby, but it can also be a great side hustle. Perhaps you need new patterns to find inspiration for your next design, or you want to give the perfect handmade gift to a friend or family member. 
Either way, finding new patterns can be difficult as there are so many available. One of the best ways to show someone you care is with a hand-sewn plush. Everyone loves plush toys and cuddly animals- so why not make your own?
With this list, you can find 14 animal sewing patterns to try, from elephants to dogs and lions- there is something for all animal lovers! 
Elephants are one of our favorite animals. They are so cute, wise, and are gentle giants. If you want to give an elephant plushie to a loved one, then this pattern is a great place to start. With this pattern, you will get the PDF pattern as an instant download.
What we like about this pattern is that you get three options when it comes to choosing a trunk style, from curly, to low, or raised – all three versions of the pattern come with full-sized templates and diagrams to help you make it yourself.
You can also pick your own fabric to create a patchwork elephant. This elephant pattern will be a lovely addition to a nursery or a child's room, and works well as a baby shower gift. 
The pattern itself is easy to follow, and is generously proportioned. The finished product will be about 10 inches high, you just need to print out the digital pattern and tape it together to have full sized instructions. 
With this pattern, you are also permitted to sell items made from the pattern, as long as you give credit to the designer! So, if you have a sewing side hustle, you can add this elephant plushie to your list of products. 
Another great nursery toy is this cute and cuddly dinosaur! With this sewing pattern, you can add spiky scales down the back of the dinosaur, or leave it plain and smooth.
It is up to you! With a welcoming face and cute smile, children will love having this plushie once made. 
This pattern creates a Dinky Dinosaur that is approximately 13.5 inches long and 6 inches tall. The pattern is also a digital download, but you will receive a full color PDF ready for printing, so you can follow the instructions easily. 
The Dinky Dinosaur is easy, quick, and fun to make, so it is perfect for the beginner sewist, or more intermediate sewing enthusiasts. You can also customize it in many ways to add your own personal touch to the stuffed animal once finished! 
If you are looking for something more advanced, and more of a challenge, then you can try this large scrappy hare sewing pattern. You can use scraps of old fabric up, and create a cuddly hare that will look great in a country home. 
This sewing pattern is a PDF download for Hendricks the Scrappy Hare. You can use scraps of fabric, or memory fabric, or even add a bag of sand to use it as a doorstop!
This scrappy hare stands at 18 inches tall to the top of the head and 28 inches tall to the tips of the ears, so it is a larger project. 
Do keep in mind that this pattern is for personal and private use only, so you cannot resell the product once made.
You could also make a plush cow or bull with this sewing pattern. You get detailed step by step instructions, photos to guide you, full sized pattern pieces, tips and tricks for the best results, and you can customize your bovine however you please!
You can also visit the creator's website to find tutorials to make this cute cow a dress, ear tag, or bandana! All you need to do to make this cow is print the PDF digital download, and start sewing! 
This bovine sewing pattern is great for a confident beginner or an intermediate sewist. It is easier than it looks to make, and the creator has illustrated the instructions to help you every step of the way! 
Once complete, you will have a 12 inch blissful bovine from rump to the head, and 20 inch bovine from hoof to head. It is about 10 inches wide, making it a great little sewing project to pass the time! 
If you are looking for something a little simpler, then try this Canada Goose Sewing Pattern. It is perfect for beginners and experienced sewists, with a step by step photo tutorial, pattern and instructions that are easy to follow. 
You can use linen, cotton, teddy, mink, muslin, or sherpa- it's up to you. This creates a very sweet goose toy that would be great as a baby gift. 
Who doesn't love dogs? Why not make your own lying down puppy dog? This sewing pattern is a PDF, and is perfect for those with basic sewing skills.
It will only take a couple of hours to make, but you can change the pattern to be made in three different sizes, depending on what kind of project you want. 
We absolutely love this pattern, and it is a bestseller! This pattern creates a humpback whale soft toy that is about 26 inches long when finished. Instantly download and print off the pattern, and you can make your own! 
You will receive a full size pattern, so there is no scaling required, along with detailed, easy to follow step by step instructions with images too. You will also receive a recommended material list to make it easier. 
You can also find the pattern on the seller's shop as a printed version if you don't have your own printer. 
Kids love lion toys. With this pattern, you can make your own Larry The Lion stuffed animal. This sewing pattern is better for medium or intermediate sewists, and you can use the paws for embroidering initials to make it more personalized. 
You will receive a full sized pattern, simple layout guide, list of requirements, color photographs to help you, and step by step instructions and tutorials. 
You could also try making Mary The Hippo with this sewing pattern. This comes with full size sewing pattern pieces and simple instructions- making it perfect for beginners and experts alike.
However, you will need toy filling to stuff Mary The Hippo, as she needs to be quite round and robust, but she is super fun to make.
If you have a cheeky monkey in your life, then you can make them this cute hugging monkey. With this sewing pattern, you will create a monkey with long arms and tape at the hands to wrap them around you! 
The finished size is about 19 inches tall, and you will receive a step by step tutorial with clear photos that are easy to follow, as long as you have basic sewing skills. 
We love this wolf pattern. Her face is turned to the side, for an adorable and huggable look.
Keep in mind that this pattern is more for the advanced sewists, as there are a lot of pieces to make, and you have to have the legs lying to the side which can be tricky. 
But, with this pattern, the instructions, layout guide, and material list, you can make this cute wolf in no time at all. 
Memory bears are a great gift. Why not use some sentimental fabric to create a memorial bear for someone you love? This pattern is vintage, and creates an 18 inch bear. With the pattern, material list and in depth instructions- you can make your own! 
Alpacas are oh so cute. Make your own alpaca or llama with this simple toy pattern. The instructions will show you the whole process with step by step instructions. You do need to know how to do a ladder stitch and back stitch- so keep that in mind. 
We gave you a lion sewing pattern earlier in the list, but this one is a little more realistic and complicated. It is five jointed when completed, and can be made with any short pile fabric.
With the step by step instructions, you can make Charlie for yourself. 
Final Thoughts
With any of these sewing patterns, you can create the best cuddly animals that all can enjoy. From simple patterns for beginners, to more intermediate patterns for seasoned sewists, there is an animal pattern for everyone. Happy sewing!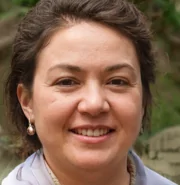 Latest posts by Liz Miller
(see all)