Sewing is a lot of fun but sewing the same thing over and over again can cause things to get a little bit boring. A lot of sewists love to make things for other people but what sewing patterns should you follow if you want to sew something for a young girl? 
Here, we have pulled together the X best girls sewing patterns. These range from clothes to accessories and beyond, so there are plenty of project ideas here for you to check out and choose from.
Some of these can even be done with the little girl's help (depending on their age and skill with a needle and threat). 
So, check out the options below! 
The first go-to girls sewing pattern is for a gorgeous boho styled dress. 
Bo-ho style clothes are perfect for sewing projects as they are rustic and supposed to look natural and homemade. They're also a great way to use bold colors and patterns, so you can use some pretty funky fabrics in this project. 
The dress itself will be light and easy for your little girl to move around in. It's perfect beach-wear and for hot summer days. 
Unfortunately, the dress is best suited for very young girls and toddlers. (pattern includes sizes between 0 to 5 years).
This does mean that older girls will have to find a different pattern to make a dress fit for them – but don't worry! Check out the entries further down our list for just that! 
Ne8t up, we have a sewing pattern for an asymmetrical smock dress. 
Smock dresses are ideal play clothes for young girls as they are breathable, loose and easy to move around in.
So, if you want to make some affordable playclothes for your little girl so she can have fun without worrying about ruining her clothes – this pattern is a perfect option for you. 
It's also a very easy pattern to use and great for beginner sewists.
The sizes available go up to 12 years of age so all young girls can use this pattern to make themselves a throw-on summer dress that is great for beachwear, outdoor play, decorating, crafts, and even cooking! 
Not all girls wear dresses and some may prefer a loose skirt to wear during hot summer days. So, you may prefer this pattern to make some beautiful clothing for your girl. 
Skirts are super easy to sew together and so, this pattern is an ideal starter pattern for beginners. If your young girl is eager to learn how to sew, this could be a great project for her to try out – she can make her very own skirt and wear it! 
The pattern includes sizes for babies aged 3 months all the way up to girls aged 12. This means that this is a pattern you can return to as your little girl grows up.
No more outgrowing her clothes – just take the pattern and sew her a new tiered skirt in no time! 
The pattern also allows you to adjust the length so you can make anything from a long, ankle-length skirt to something shorter and easier to move around in.
There's also options for pockets (yes, pockets!) and built-in shorts so your girl can feel as comfortable as possible in her new skirt. 
Let's take a look at some toy sewing patterns now that are perfect for young girls. 
Dolls are the go-to toy for a lot of girls and so, you can use this sewing pattern to make an adorable hand sewn rag doll for your child to play with. Alternatively, they can be used for decoration in her bedroom or playroom. 
The great thing about this pattern is not only does it use up little pieces of scrap fabric you may have lying around, but you can make them personal to your young girl.
Make the dolls look like her and her friends, or base them off characters from her favorite book or tv show. This will make them more personal to her and something she will treasure for years to come. 
Another great soft toy sewing pattern your little girl will love is this sewing pattern for a soft toy elephant. 
Not only is this toy pattern super easy and adorable, but it's pretty versatile too. You can use any kind of fabric you have at hand to make this soft toy, ranging in color, pattern, and even texture.
You can use anything from soft fur-like textiles to quilted patches. The patch-like effect is super effective, and a great way to use up scrap pieces of material you want to get rid of! 
The pattern also comes with versions for different sizes and different trunk placement, so you can make a few unique elephant toys just from this single pattern! Why not make a few extra to give away at baby showers  or birthday presents? 
The choice is yours! 
Next up, we have a sewing pattern for every little girl's favorite hair accessory – a hair bow! 
Bows can be pretty tricky to tie into the exact shape, but this sewing pattern will show you how to make the perfect bow in three different sizes.
You can use any color or patterned fabric, and the pattern shows you how to attach the bow to clips and headbands. By the end of it, you will have an adorable hair bow for your little girl.
Even if your girl isn't a fan of hair accessories, you can still use this pattern to make cute little bows to attach to other sewing projects for her like dresses or toys. So, it's a handy pattern to have in your arsenal! 
As your kids grow older, they will want their own personal bag so they can carry around their own belongings. This sewing pattern is a great way to introduce your girl to their own purse. 
You can use any kind of fabric that best matches their interests or style, and add a long strap so they can carry it with ease. This way, they are sure to love it and carry it around with them everywhere.
The first purse is inevitable so flex your sewing skills and follow this pattern to make a purse suitable for a young girl! 
The great thing about this pattern is its versatility. You can also use it for teenage girls as the purse is large enough to fit smartphones, credit cards, makeup, small toys, or a coin purse. So, it's a pattern you can easily return to as your little girl grows up! 
Most t-shirt patterns are unisex so if you are looking for a pattern that is a touch more feminine, then check out this sewing pattern. 
It's super easy, so it's perfect for beginner sewists, but it features ruffled T-shirt sleeves. This makes the overall design more feminine while staying cool and practical.
It can match with anything – jeans, skirts, even leggings, to make a comfortable but stylish outfit. 
So, if you know your little girl loves this style, this pattern could be perfect for you to try out! 
The age range of this pattern is between 2 and 6 years of age, so it's great for young girls who are just starting to build their own sense of style.
Although the pattern is a little more difficult for beginners, it's still easy to follow and a great one to try out if you want to expand your sewing skills and try something new! 
Final Thoughts
So, those were 8 of the best girls sewing patterns out there for you to try out yourself.
As you can see, there are lots of different projects you can try out. You can choose from various clothing projects to accessories and even a few toys! 
So, check out the options above, pick out the projects that speak the most to you, and give them a try! Good luck and happy sewing! 
Frequently Asked Questions 
What Is The Easiest Piece Of Clothing To Sew?
Most sewists agree that one of the easiest pieces of clothing for beginners to try sewing are skirts. 
Skirts only need a few lines of stitches to function and some elastic around the waist. Because of this, a lot of beginner sewists start out sewing skirts as their first piece of clothing before moving onto more difficult projects like t-shirts, aprons, and more. 
What Is The Best Fabric For Sewing Clothes? 
When sewing clothes, there are lots of great fabrics and textiles you can include in your work. 
The most common fabric used in sewing clothing projects is cotton. This is because cotton is a light, breathable fabric that is gentle on the skin and easy to move around in.
This makes it an ideal fabric for clothes designed for babies, children, and even adults. 
If you want to try working with other fabrics, then try using linen, crepe, poplin, or even denim. Using these materials will help you improve your sewing skills and you can create more types of clothes for different purposes.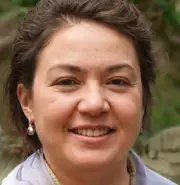 Latest posts by Liz Miller
(see all)