There is so much you can do when it comes to sewing. Thus, when it's getting closer to Christmastime, why not use your sewing skills to make some Christmas ornaments, decorations, or gifts?
It doesn't matter whether you are a beginner or have been sewing for years, there will be a sewing pattern that you can follow.
Often these patterns are well explained and come with diagrams that can help you as you sew.
In this article, we have gathered the 11 best Christmas sewing patterns that you need to try out yourself.
Your home always looks a lot more festive once you hang your stockings on either the staircase banister or over your fireplace.
This year why don't you sew and create your stockings? You could easily customize these stockings to include the initials of all your family members.
For this pattern, you will need a sewing machine to be able to join all the pieces together properly.
Depending on whether you're making numerous pairs of stockings, skipping the heel or toe segments, or making the cuffs from the same material as the main body of your stocking. You might require more or less of the fabric you are using.
Everyone will love waking up and seeing what Santa has put in their handmade stocking.
Create your own gingerbread house, which you can use as a simple Christmas decoration.
You can put a standard square tissue box and the tissues can be pulled through the chimney. Or you can utilize the top of the house to hold traditional Christmas candies.
You'll treasure this gingerbread house year after year as decor and a fantastic family keepsake.
To allow you to design your own home, this template also provides alternate components (doors, windows, trees, etc.).
You can sew this item totally by hand, or you can use both machine and hand sewing. This home is a lot of fun to build, and your family will love it.
During the Christmas season, hang your homemade wreath on your door to greet guests.
Grab some felt and fancy embroidery floss, then spend a few cozy evenings making Laura Howard's DIY felt Christmas wreath. It even comes with a glittery partridge and pear on the wreath.
All your guests or passersby will love looking at your creation. The steps are well explained and there are lots of images to help you create this wreath along the way.
Create your own Wonder Cracker, a unique, reusable fabric cracker that separates in a snap. It is a more affordable and cost-effective option than the conventional paper cracker.
The 18-page A4 guide includes thorough directions and photos that explain how to sew the cracker from fabric, harden it with buckram to give it structure and add that crucial snap.
With the option to add a different snap each time, the cracker can be used repeatedly.
The template also offers helpful tips for making several crackers as well as suggested fabric options.
This reusable advent calendar is simple to make and always looks lovely. Your Christmas countdown calendar will remain in excellent condition thanks to the unique pocket edges.
Also, the pockets are quite deep, so you can add any treats that you wish for your little ones to discover each day.
This is a really fun sewing pattern to try for yourself. All the steps are well explained and there are detailed images that help to support the written instructions.
You can customize this advent calendar in any way that you like. From using different fabrics, using felt numbers, or drawing the numbers on.
This advent calendar will last for years, and save you money on those throw-away chocolate calendars.
Create this beautiful and festive wall-hanging star decoration. You can bring a bit of cheer to any room with this simple yet highly effective decoration.
It is up to you what colors and materials you decide to create the stars out of. Yet, the 3D effect works well.
This is a really simple sewing pattern, which you can complete within an afternoon. Hang this decoration on any wall either in a child's bedroom or in your living room.
There are detailed pictures that show you exactly how to complete each step. Thus, this is perfect for anyone new to sewing.
This simple sewing pattern will help you to make a Santa sack to store all your gifts in for the big day.
A Santa sack is also really useful when you have a gift that you want to give, but it is a bit of an awkward shape, and you don't think you can wrap it.
This sewing pattern makes quite a large Santa sack, but you can alter the dimensions to make it bigger or smaller, depending on what you want to place inside.
Thus, grab your favorite festive-themed material and a bow and give this straightforward pattern a go.
Whoever is cooking the traditional Christmas dinner this year needs to be dressed for the occasion. They deserve their festive-inspired apron to wear as they are basting the meat or roasting the potatoes.
Find the most festive fabric that you can or a simple red fabric to make this Christmas apron.
You can easily follow these step-by-step instructions to create your apron. It is up to you whether you add a buttonhole or you can simply tie the straps together to keep the apron in place.
These 14-inch table mats can be laid out as a table runner, or you can use them as a table setting so that no hot food touches your table.
It is up to you how simple or complicated you make these table mats. You can vary which materials you use and the order in which the colors/materials are used.
On the outside, this pattern may look a bit complicated, since there are so many pieces. However, the instructions are quite simple and easy.
These table mats will take you a matter of minutes to put together. The instructions even tell what tension you will need for certain stitches.
Everyone will enjoy eating off a homemade table mat.
While this pattern uses a pair of old trousers, you could easily use any leftover material that you have on hand instead. However, you must have a rectangular piece of material to work with.
Bias binding is used on both long and short edges to create a much more polished finish.
However, to make this table runner look a bit more festive, snowflakes are painted on using fabric paint and then small buttons are sewn on.
Yet, this is the part where your imagination can help. You could stitch on other festive objects like baubles or Christmas trees.
You can easily make this table runner unique to you. However, the results will always look professional and all your guests will be impressed with what you have made.
This is a double potholder, which can easily hang on your oven and be used as a towel.
You can purchase a special fabric that can make your potholder even more heat-resistant. Although, as long as you use thick materials you can get away with this.
You do need to cut out quite a few pieces for this pattern. Thus, we advise you to make sure that you have enough material.
However, once everything is cut out, this potholder won't take you very long to put together.
You could add some heat transfer vinyl for a special touch to the potholders if you think they are looking plain. However, you have complete creative freedom with a pattern. You can give this as a gift or use it yourself around the festive period.
Conclusion
To get into the festive spirit why not try making one of the above sewing patterns? All of these patterns will bring a bit of festive cheer into your home.
There is so much you can create from aprons, crackers, table runners, and wreaths. All the patterns can be customized so that they are more personal to you and your family.
It doesn't matter whether you are new to sewing or have been doing it for years. The sewing patterns above have clear steps. They often come with detailed images to help you along the way.
We help you enjoy this article. We have provided you with the 11 best Christmas sewing patterns that you need to try out yourself.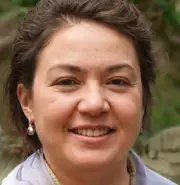 Latest posts by Liz Miller
(see all)