If you want to cultivate a dapper and vintage style, flat caps are a wonderful addition to your wardrobe. Originating from Britain, flat caps are a stylish yet efficient way of keeping your head warm during the winter.
Coming in a wide range of materials, such as cotton, tweed, leather, wool, and linen, these flat caps are perfect for making yourself. It's relatively simple to make a DIY flat cap hat.
By following these simple steps, you can make a fantastic flat cap!
How To Make A Flat Cap Hat
Equipment
For this easy activity, you will need just a few pieces of equipment:
Fabric: as mentioned, flat caps can be made from a wide assortment of materials. This includes wool, cotton, leather, or PU. Essentially, you can use pretty much whatever materials you want, though you should bear in mind that some materials will be easier to work with than others.
Flat cap pattern: to ensure that you make the different elements of the flat cap in the correct shape, you should use a pattern. Alternatively, you can make your own. 
A pair of scissors or fabric cutter: If you've got a strong pair of scissors that are good for cutting fabric, you won't need to buy a specialized fabric cutter.
Cutting mat: this is an essential piece of equipment for seamstresses. 
An iron: an iron on low heat will be essential for adding interfacing paper.
Interfacing paper: interfacing paper is a tool that is used to stiffen parts of the fabric. For this method, it is used to achieve the stiffened structure of the flat cap. 
A sewing machine/ hand sewing materials: depending on your preference for machine or hand sewing, you will need items associated with these styles.
Pins: pins are perfect for sewists. 
Lining fabric: this is the inner material of your flat cap. Silk works particularly well, especially if you want to give your flat cap a sophisticated feel. Of course, you should feel free to use cheaper materials for your flat cap if you prefer. Most people will opt for black lining fabrics. 
A sweatband: ideal for absorbing sweat, this band will also provide a better fit. 
Instructions
To make your flat cap, all you have to do is:
Firstly, you will need to obtain or make a flat cap pattern. This will help you to make the various elements of a flat cap in the perfect shape and size, including the brim, top, and side. 
Lay the various segments of the pattern against whatever fabric you've chosen. Against a cutting mat, cut out the shapes of the pattern using a pair of scissors or a fabric cutter. Be careful during this step, as you will be using a sharp blade.
Next, you need to fuse the interfacing of the sides. Namely, you must attach the side and upper sections of the cap. To do this, you will need to use interfacing paper and an iron, which should be on low heat. You should bear in mind that some materials will deal better with this heat than others. To protect the material, you may want to add a few layers of paper so that the heat will have a reduced impact.
With a seam allowance of 1/2″, place the upper piece and sides together and stitch them by flipping the right side. You can either use a sewing machine or you can do this by hand. Take your time with this step, especially if you are an inexperienced sewist.
Place the outer upper and side together so that the same sides are matching. Using the same seam allowance, stitch these pieces together. To make this step easier, you may want to pin them together before you sew the segments. 
Now, you need to move onto the brim of the hat, which is one of its most distinctive features. If there are two different brim segments in the pattern that you used, stitch them together with a 1/2″ seam allowance. Pin the curves to keep them in place. Finally, use the topstitching technique to finish off the brim of the cap.
Pin the brim of the cap to ensure that it is in the correct position. Then, stitch the brim to the remainder of the hat and remove the pins.
Add the lining of the cap by sewing it to the inner sections.
Sew a sweatband into the lining of the hat. When attaching the sweatband, try to keep the stitch incredibly close to the edge. 
Begin wearing your fantastic flat cap. Experiment with different styles to find which one works best for you!
How To Wear A Flat Cap
If you want to keep your flat cap looking smart and stylish, here are some top tips for wearing this amazing accessory:
Make sure that the cap fits your head properly. It will look rather odd if it is too small or larger. It's important to consider the size of your head when making this piece of headwear.
Flat caps work wonderfully with vintage clothing and formal attire, so be sure to pair them with these styles.
Don't wear the flat cap backward. 
If you are wearing a patterned flat cap, remember to match it to your outfit. You shouldn't pair it with a clashing pattern.
Frequently Asked Questions
What Are The Differences Between Newsboy Caps And Flat Caps?
Though these hats look quite similar, newsboy caps tend to have a rounder shape than flat caps. They appear to be puffier and baggier than flat caps, which, as the name suggests, are rather flat.
What Is The Point Of A Flat Cap?
A flat cap will keep your head cool in sunny weather and warm when the weather is chilly. Not to mention, it looks super stylish!
Final Thoughts
Flat caps have an old-fashioned and vintage vibe, which makes them work particularly well with dapper formal outfits, including sensational suits. With the help of these instructions, you can make a flat cap that suits you perfectly!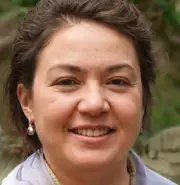 Latest posts by Liz Miller
(see all)