Whether you are looking to use a beach robe for the sunshine and sea, or to use after swimming, they are very useful if you plan to be outside in the water.
A posh beach robe isn't difficult to make, meaning they are a simple project for both beginners and seasoned pros. Not only that, you can make one for yourself, as well as other family members.
In this simple step-by-step guide you will learn how to make a posh beach robe that has a kimono style that flatters everyone. So, sit back and enjoy this wonderful sewing tutorial that is suitable for all skill levels. 
Why Make A Beach Robe?
A beach robe is perfect for when you need to cover up or be cozy. It can be made using a lightweight cotton or towel fabric, depending on when you plan to wear it.
A beach cover-up doesn't need to be made out of thick towel material. Instead, it is often a lightweight fabric that gives you an option to wear it over your swimwear. This means you can go back and forth from A to B without showing everyone all that skin.
A toweling robe is useful if you plan to be out in cold water. It acts as a towel that cuddles your body and soaks up all that water. It is also great for children to use at the beach. 
Step-By-Step: How To Make A Posh Beach Robe 
Here is an easy peasy tutorial on how to make a posh beach robe that will look great as you lounge by the sea.
You Will Need
Two to three yards of light cotton fabric
Thread that matches in color
Step 1
Firstly you will need to know your own measurements. Measure the whole way around what your hip and bust measurements are. The one that has the largest number will be your final waist measurement.
If you want it looser, then add a few inches on. However, if you would prefer a tighter fit, then leave it as is. 
Step 2
Next is all about the length. You can go as long or as short as you would like, however you will find that a standard robe will finish just below or above the knee.
Measure from your shoulder all the way down to how long you would like the robe to be, and then make a note of it.
Step 3
Finally, it is all about the sleeves. Using your shoulder as the starting point, bring the tape measure down your arm to where you would like it to finish. You can do a full length, short length, or a three quarter length sleeve.
Step 4
To determine the length of fabric that you need, you will have to do some math. Using the number you noted when it came to the robe length, multiply it by two. 
So if the length came to 48 inches, you would then divide this by two. The answer is 24 so use 2.4 meters of fabric. As with all bigger projects, always make sure you have more to hand, just in case!
Step 5
Fold the fabric in half with the right sides facing each other. The inner side of the beach robe should be on the outside. Turn the fabric so the folded edge of the fabric is at the top. 
Pin the sides together through every layer.
Step 6
From the top of the folded fabric, take your length measurement and cut straight across the material you do not need.
Always remember to account for the hemline which is half an inch. 
Step 7
On one side of the fabric, starting at the top end of the fabric where the fold is, measure the length to which your arms are measured at. Make a note of where it reaches. Do the same on the other side of the fabric. 
Step 8
Now you will need to note your waist measurement. Using the waist measurement, divide it into half. From where the mark is for the sleeve, measure how much you need for half your waist. 
Draw a line so you know exactly where it is and for how long on the fabric. You should have an L shape from where both the waist and the sleeve meet. 
Do the same with the other arm. 
Step 9
This stage is where things get more real! Cut the bottom L shapes away through all layers of the robe.
Do this under the other arm too.
Step 10
Now pin the sleeves and the outer layer of the robe to keep it all in place for the next step. 
Step 11
Cut a full line down the front and center of the robe. You will then want to sew the robe with a quarter inch seam allowance.
Make sure not to sew the arm holes otherwise you will need to unpick them! Turn the robe so it is the right way around. 
Step 12
Fold the first and second panel (the opening of the robe) to create half inch seam lines. Sew these so it creates a neat edge. 
Step 13
You will now want to hem the bottom of the robe and the sleeves for a neater finish. Use a half an inch seam allowance when sewing. 
The robe is finished and can be used!
Step 14
This optional step is for if you would like to add a matching belt to tie the front panels together securely. 
Cut fabric to three inches by 60 inches. Sew together using a half inch seam allowance.
Final Thoughts
Going to the beach is great, but it isn't always fun getting fully dressed or having to walk around in swimwear all day. One way to avoid this is by wearing a beach robe.
This posh beach robe tutorial is great for both beginners and those with experience in sewing (see also "Mod Dress Sewing For Beginners"). 
We hope you have enjoyed this posh beach robe tutorial!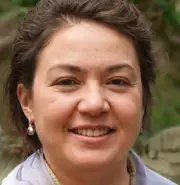 Latest posts by Liz Miller
(see all)