Lace is a beautifully light fabric that becomes increasingly popular again. You can find it in lingerie, underwear, dresses, skirts and other light garments.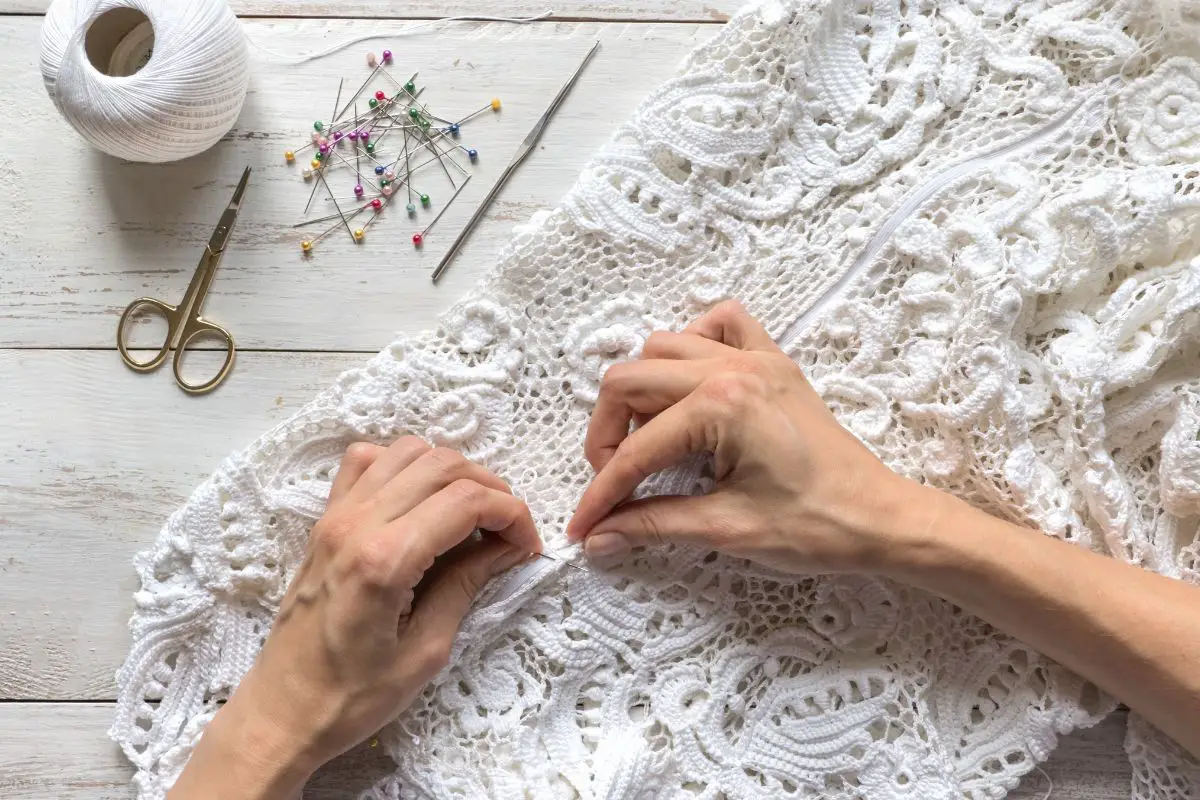 Most lace materials are combined with other fabrics, such as sheer fabric. Both these light materials are very delicate which makes them difficult to sew.
In this practical guide, we take a closer look at sheer lace and how to sew this lightweight material.
What Is Sheer Lace?
Sheer lace is a layered fabric that uses lightweight sheer fabric as a base material and lace decorations as the top layer.
Sheer fabrics are usually cotton, nylon, rayon or silk. These floaty fabrics can be combined with opaque fabrics, such as lace.
Lace is a very delicate material that is made with thread or yarn in an open pattern design (see also "Make A Yarn Pom Pom At Home"). It can be made either by hand or by machine.
What Is Sheer Fabric Used For?
Thanks to its lightness, sheer fabric and sheer lace are ideal for tights, lingerie, dance wear, formal costumes and wedding dressing.
Sheer lace is perfect for hot weather as it doesn't feel bulky or warm.
How To Sew Sheer Lace Fabric
As sheer lace is a combination fabric of classic lace and sheer materials, sewing sheer lace requires extra care and attention.
The lightweight quality of both fabrics means that they get easily damaged and the material isn't very forgiving when it comes to sewing errors.
Here is a step-by-step guide on how to sew sheer fabric and lace fabric together (see also "Easy Sheer Plaid Top Sewing Guide").
Choose Your Fabric
The right sheer fabric depends on your sewing project. For example, if you have a design that requires interfacing, then you can use a classic sheer fabric as interfacing.
Most lightweight fabrics are a suitable base layer for lace. You will just have to pick the right color and transparency.
Some sheer fabrics are surprisingly opaque and you can easily see through them. If you want to avoid the see-through effect, then just underline the pattern pieces with skin-colored sheer.
Underlining simply means sewing all the different fabric layers together during your garment construction.
If you notice the armhole, neckline or other areas of the fabric are too see-through, then you can line the entire piece of clothing with a suitable sheer fabric.
Prepare Your Work Surface
Once you have chosen your fabric, you will need to prepare your work surface for the cutting stage.
You can either use a large cutting board or any other hard, durable material as your main workstation.
In order for the fabric to avoid slipping, you can place an old sheet of fabric, flannel or muslin underneath your cutting project.
Cut And Pin Your Fabric
Next, you will need to cut your sheer fabric pieces to the right size. We recommend that you start cutting a full-size pattern piece first. This allows you to work with a single fabric layer.
This makes it easier to handle and cut the piece into smaller fabric pieces. Plus, the entire fabric won't slide as easily as less material.
Only cut one piece at a time from the large material piece. You can then keep a good overview of what pieces you already cut and what you still need.
Cutting out your sheer lace pieces can take some time but it's worth the time as very thin material, such as lace, can easily rip when handled in the wrong way.
Once you cut all your pattern pieces, you will need to pin them to your work surface. Be careful with pinning as the fabric quickly shows any pinholes.
We recommend just inserting pins into the seam allowances. This won't show any pinholes in your final garment.
Sew Your Sheer Lace Fabric
Before you start sewing, make sure to check that you have a new, sharp needle in your sewing machine.
The best needle sizes for sewing sheer lace are 60/8, 65/9 and 70/10. The specific size depends on the thickness of your sheer fabric and lace.
It's a good idea to try out a few different threads on swatches before you start on your main project. Threads, such as polyester, silk and cotton are ideal for sewing sheer lace.
Sheer fabric can be very slippery and you may find that it moves a lot. If you notice your sheer fabric moving around, then put some tissue paper between the presser foot and the fabric.
Make sure that it's not too thick, so you can easily tear it away after you are done sewing.
It's important that you start stitching a small square of self-fabric. This stops the fabric from moving into the hole of the needle plate.
You can cut the square of fabric away once you are done with your stitching work.
What To Avoid When Sewing Sheer Lace
Ensure that you don't back stitch at the end and beginning of the seams. Instead, you should turn your stitch length to zero for a few stitches and then finally knot the threads.
Sheer fabric is extremely light, so it's essential that you don't use hems, bulky seams or heavy threads.
It's best to use French seams for all types of sheer fabric, including sheer lace. These beautiful seams are narrow and suitably light for your floating fabric.
Also make sure that you use a lot of time for your project to avoid any damage, tears or rips.
What Stitch Should You Use For Sheer Fabric?
The best stitch for sewing sheer fabric requires a need size of 8, 9 or 10. This is ideal for lightweight and sheer materials.
It's also a good idea to use extra-fine polyester threat with a stitch length between 15 and 20 stitches per inch.
Final Thoughts
Sheer lace can be incredibly hard to sew as it's so delicate. If you don't feel confident starting on your project immediately, then you can also try out a few fabric samples first.
This will give you a feeling for both your sheer fabric and lace, and how to sew both of these materials together.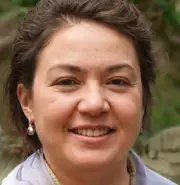 Latest posts by Liz Miller
(see all)