Backpacks are the unsung heroes of modern life. Without these ingenious but ultimately very simple objects, we would find it much more difficult to bring our things along with us.
Backpacks are vital for those of us with busy jobs, or even for kids with busy school schedules and loads of books to lug around.
One of the best things about backpacks apart from making it easier to carry our stuff is that they can also be a great way to express ourselves.
And one of the best ways to express yourself with a backpack is to create a backpack of your own by sewing one together!
The only problem is, sewing together a backpack can be easier said than done, unless you have the right patterns.
Join us down below, because we are going to take a look at some of our absolute favorite backpack sewing patterns that you can try out today (see also "Sewing Patterns for Men's Shorts")!
Sometimes we simply need a backpack with more capacity than average. Sometimes not only do we have to carry around a big laptop, but also numerous books and other items.
If you are in such a situation, or you know someone in such a situation, then this is the backpack pattern for you.
This pattern is perfect for creating a backpack for a student on a busy course, as it has a massive amount of storage space, so you can easily pile it up with things.
The straps that hold the bag atop your shoulders are extra padded, so you don't have to worry about your shoulders becoming strained by extra weight.
The numerous pockets of the bag also make it easy to stay on top of the organization of your stuff, and the inner linings of each pocket help to keep your things safe from the elements as you carry them from place to place.
If depth is a concern for you when it comes to finding the perfect backpack, then this is the one for you. This backpack is incredibly tall, offering plenty of space to drop in countless items.
This is perfect for carrying around clothes on small trips and journeys.
The simple latch hook at the back of the bag is also very beautiful and completes the classic look of the bag.
We were really impressed by how natural and effortless the finished product ended up looking in the long run.
This pattern is great if you want a bag that complements a casual street-look outfit (see also "Easy Asymmetrical Bag Pattern Tutorial").
Sometimes smaller is better when it comes to school backpacks, and this pattern allows you to create the perfect school backpack as it results in a backpack with a small profile that is not too showy (see also "Best Patterns For School Uniforms").
The smaller size of this bag ensures that the bag is also not too heavy for young shoulders, yet still offers enough space to carry around textbooks, lunches, and bottles.
This pattern is great for using with countless different materials to create different unique looks.
This bag is truly pockets galore, so if you need plenty of space to store numerous things and keep them all organized in their right spaces, then this is the pattern you want to follow.
Not only are there plenty of unique pockets to make your organization much simpler, but the pockets themselves are also very large, allowing you to really cram with all of the things you need.
Despite having so much storage capacity, the bag still retains a very small profile, ensuring it looks totally subtle when you wear it.
The small profile of the bag also means that it is able to distribute weight so that the bag never strains the shoulders.
The straps of the bag are also fully padded, allowing for greater comfort for your shoulders over long periods of time.
This is easily one of our favorite backpack patterns on this list because it features some of the most storage capacity while also containing a massive number of unique pockets, allowing you to store numerous distinct items and keep them all organized.
The design of the backpack is incredibly simple thanks to the fact that it uses simple block color materials and maximizes its space.
This backpack can not only be carried on the shoulders but also has fantastic and sturdy handles sewn into the top, to make it easy to carry the bag by hand from place to place.
This makes it excellent for people that need to be able to move around at a moment's notice.
This pattern will show you how to create a very compact bag that makes full use of every inch of its space, and that also lets you use whatever materials you like to achieve the perfect design!
To Wrap Up
Sewing your own backpack can be a great way to express yourself and your creativity with an item you will need to use every day. Why not try out one of the sewing patterns we touched on above (see also "Creative And Easy Sock Sewing Patterns")?
Frequently Asked Questions
Can You Sew Your Own Backpack?
Provided you have some skill with sewing, it is more than possible to create your own backpack!
What Is The Hardest Thing To Sew?
One of the hardest materials to sew into is leather as it is rather firm.
Is Sewing Good For Your Brain?
Absolutely. Sewing involves creativity, which causes the brain to create new cells.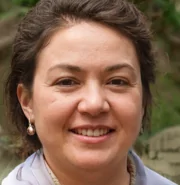 Latest posts by Liz Miller
(see all)