Using sewing patterns for school uniforms are a great way to save some money whilst also offering the chance for you to improve your sewing and/ or knitting skills.
But where do you even begin to look when it comes to finding the best patterns that are appropriate to use as part of a child's school uniform?
With this in mind, we are going to be looking at some particularly noteworthy patterns that you can find online right now.
These patterns range from pants to shirts to shorts and more that can considered school uniform or dress code friendly pieces for kids. 
Do keep in mind that what is considered suitable for a uniform or as part of a dress code can vary from school to school, so be sure to check what your child's particular school rules are before you pick a pattern.
Let's get started. 
For boys between the ages of eight and ten years old, the pants created from this pattern are a great choice for school. 
This is a relatively easy piece to make in terms of the sewing element, but they are also a highly practical choice with slight tapering at the bottom, an elastic waistband belt (which is always useful thanks to how quickly kids can grow) and pockets. 
It is recommended that light to medium weight fabric is used for this pattern, such as suiting cotton or suiting wool.
This pattern is best suited for those with intermediate sewing and knitting skills, offering a top option as well as a tiered dress option with your choice of either long or short sleeves (see also "Sewing Patterns for Men's Shorts").
The sleeves themselves has a stylish gather at the shoulder, which offers a bit of a feminine flare. 
This is also a great choice for everyday wear as well as for a school uniform, as you can create the pattern in solids for school uniform attire or in a range of prints to make some cute shirt and dresses for your little one's wardrobe. 
Nothing says smart casual like a pair of classic chinos, and that is exactly what you get with this next pattern!
This pattern is a highly versatile one, with sizes ranging from as young as three months to as old as twelve years.
You also get some choice in terms of the other elements of the pattern, with two waistband options, two different lengths and two different cuts. 
Cardigans are well suited for both school and for everyday casual use (see also "How To Make A Cardigan"), so they are a good choice when it comes to creating a pattern that could be used as part of a school uniform but will also get plenty of other use. 
This pattern is designed for slightly older children, with sizes suited to girls aged from around ten to fourteen and available in chest sizes thirty, thirty-two and thirty-four. 
Skorts are a fun and practical way to combine the smartness of skirts with the comfortable nature of shorts (see also "How To Make Linen Bloomer Shorts"), and they could make for a perfect summer uniform addition in the warmer weather for those who don't feel as comfortable wearing only skirts. 
For a school uniform piece, sew the pattern with classic twill, or opt for a cute pattern to make it an everyday clothing piece. 
Oxford button-up shirts (see also "How To Refashion A Button-Up Shirt") are usually what schools that have a strict school uniform code will require (though obviously this will differ from school to school), therefore if your child attends a school with a specific uniform, this is a pattern that you are sure to get plenty of use out of . 
The great thing about this pattern is that it can also be dressed down to make a casual shirt, simply by sewing it using different prints, such as plaid. 
Another cardigan sewing pattern, this choice is better suited for those with younger children thanks to offering smaller sizes as well as larger ones, with the pattern ranging from chest sizes twenty-two up to thirty-two. 
This knitted pattern is also well suited for everyday use as well as for school, thanks to the general design of the knitwear that can used for smart and casual occasions. 
A super cute pattern that can easily be made as either a shirt or a dress that would suit school attire, the Maria pattern is highly versatile, able to be used with pants, skirts, shorts, leggings (see also "Leggings For Girls 3 And Up"), pinafores or underneath a cardigan to name a few choices. 
A light or mediumwright woven fabric is recommended for this pattern, such as quilting cotton, chambray, gauze, linen or poplin.
There are also a wide range of sizes available for this pattern, ranging from ages three all the way up to fourteen. 
Final Thoughts 
So there you have a couple of different patterns that are well suited for kids as parts of their school uniform (depending on the rules that their school follows in regard to dress codes). 
Using sewing patterns for school uniforms can be a cost-effective and customizable solution for parents.
However, it is important to choose a pattern that is appropriate for the child's age and one that you know will fit well. 
As well as that, don't forget to use high-quality, durable fabric suitable for uniform wear.
It is also a good idea to follow the pattern instructions carefully and make any necessary modifications to ensure the best fit. 
Overall, sewing school uniforms can be a fun and rewarding project that results in a well-fitted, unique garment for your child to wear for both school and for everyday life!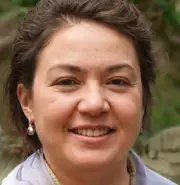 Latest posts by Liz Miller
(see all)