Wearing a formal dress for a special occasion, such as a wedding, ball, or graduation, will help you to feel stylish and confident.
However, buying a formal dress can be rather expensive. Not to mention, it can be challenging to find a dress that perfectly fits your body shape and suits your tastes.
As a result, it can be worth making a formal dress yourself. This can not only help you to save money, but it allows you to make a dress that is perfectly suited to you.
Not to mention, this is a fantastic opportunity to show off your amazing sewing skills.
If you are interested in making a formal dress, here are some sensational sewing patterns that you can try:
This off-the-shoulder dress pattern is incredibly sophisticated. When combined with the sweetheart neckline, this dress has a stunning silhouette. Full-length, the dress is ideal for formal occasions. 
Thanks to its more complex design, this dress pattern is a little more complicated than the other dresses on this list. Yet.
It's worth following this pattern to make a jaw-dropping dress that is bound to impress anyone who sees it. 
This beautiful dress pattern is perfect for weddings and proms. Plus, the pattern is suitable for a range of different sizes. 
If you are searching for a little more simplistic dress, this v-neck pattern is phenomenal for you. The v-neck dress is elegant yet sophisticated, making it ideal for formal occasions. 
Some of the best features of this dress pattern include the pockets that are roll-up sleeves, cleverly placed side in-seam, and a horizontal tuck under the bust.
The dress has a loose fit, meaning that this dress is incredibly comfortable. Additionally, it means that the dress is quite easy to make, even if you are not a particularly experienced sewer. 
You can download this sewing pattern in the form of a PDF, making it super simple to complete the instructions. 
If you want to create an elegant silhouette and show off your gorgeous legs, this slit dress sewing pattern is amazing for you (Looking for more dress patterns? Read here).
This dress will be dazzling at formal events, though it is particularly well suited to proms. Alternatively, the dress is sure to impress when attending a cocktail party.
This pattern will help you to make a cross between a fairy dress and a maxi dress with a pronounced leg slit.
This design is incredibly versatile, allowing you to pair this dress with lots of different accessories that will enhance your appearance. 
If you adore cowl dresses, this sewing pattern is amazing for you. The pattern has a characteristically loosely draped neckline. 
One of the benefits of following this fantastic pattern is that you can make the dress in three different lengths. Namely, it is available in midi, mini, and maxi lengths.
Consequently, you can opt for the length that works best for you. Not to mention, you can pick the ideal length depending on the season, as mini dresses will be sensational for the summer.
This cowl dress is ideal for lightweight materials, including crepe, satin, and charmeuse.
These lightweight materials will be cooling and comfortable during the warmer months. The sewing pattern is designed for beginner or intermediate-level sewers.
This elegant sewing pattern will help you to make a gorgeous backless slip dress (How long does it take to sew a dress? Find out here).
This cute dress is great for prom, though it will also be extraordinary for other formal occasions. This backless design will be brilliant for warm weather, especially in the summer.
The pattern is available in a range of different sizes, allowing you to easily customize it for your body. The dress itself is rather simplistic but is nonetheless a distinguished look. 
The instructions for this pattern are incredibly detailed, allowing you to easily make the dress of your dreams.
There are thoroughly illustrated instructions that will help even beginner sewers to finish this pattern.
The halter neck dress is an incredibly popular silhouette. This dress style is designed to direct the eyes upward, thus having a balancing effect.
If you want to sew an alluring dress for a formal occasion, this halter gown sewing pattern is perfect.
Key features of the dress include the aforementioned halter neckline and a deep leg slit that allows you to highlight your stunning legs.  
This dress is extraordinary for formal events in the summer.
The pattern will work best for 4-way stretch materials, such as rayon or lycra. Feel free to experiment with different fabrics and colors to see what works best for you. 
It's worth noting that this pattern is described as requiring intermediate sewing skills. Therefore, if you are an inexperienced sewer, you may find it difficult to create this stunning dress. 
For people who appreciate vintage clothing, this 1940s-style dress pattern will allow you to make a gorgeous garment. 
This graceful pattern has an outstanding overskirt that is draped at the back. The pattern also has a bouffant style, meaning that this skirt is quite puffy and voluminous. 
Meanwhile, the fitted bodice is fitted with a halter neckline that helps you to look super curvaceous.
The back of the dress is closed with scallops, which creates a detailed look. Meanwhile, the two-piece skirt is flared with a beautifully cascading overskirt. 
One of the advantages of this formal dress pattern is that there are detailed instructions, including recommended fabrics. These fabrics include satin, linen, lace, and brocade. 
Milkmaid dresses have a reputation for being a little more relaxed style.
Yet, this fantastic dress pattern is great for formal occasions. This dress is defined by its puffed sleeves, shorter length, and boxy neckline.
This dress is ideal if you appreciate bold patterns. This dress will complement a range of different patterns, allowing you to opt for something unique.
Furthermore, this dress is extremely versatile, as it can be worn for both formal and more relaxed events. 
This dress pattern is made for people with medium experience in sewing. If you have at least some sewing experience, this dress pattern should be doable.
Another fantastic feature of this pattern is that you can make the dress in a range of different sizes. 
If you don't mind choosing a formal dress with a little bit more of a bolder pattern, this asymmetrical garment is ideal for you.
The skirt has an asymmetrical design, which creates a dramatic look for your formal event. It is also pleated to create a more elegant look.
It's worth noting that this dress pattern is for the skirt section of the dress alone.
Therefore, you may need to use a different pattern to make the top section of this dress. This dress can be made from an assortment of different fabrics, such as satin or crepe. 
Do you love sweetheart necklines? If so, you're going to fall in love with this dazzling dress. This sewing pattern is fitted with a stunning strapless sweetheart neckline. 
This beautiful bodice is then attached to a long skirt. Attached at the waist, this skirt is gathered, resulting in a voluminous look.
This dress has been given plenty of volume thanks to the addition of dress ruffles for accentuation. 
Another fantastic feature of this decadent dress pattern is that it features both lining and interlining. Additionally, you can add boning for extra structure and support.
The full-length dress is something of a ball gown, meaning that it is fabulous for formal events. In particular, you will look stunning when wearing this dress to a luxurious ball. 
Last but not least, this amazing pattern will allow you to make a magnificent mermaid dress.
This style of dress is known for its dramatic silhouette, which is characterized by its fitted chest and the flared skirt that mimics the tail of a mermaid.
Alongside the mermaid tail, some of the most noteworthy features of this dress pattern include the invisible zip and a cut-out at the bust. 
The dress itself features a 4-yard mermaid tail, which makes the dress even more striking. It has been fitted with godets, adding volume to the garment for an even more breathtaking silhouette. 
The dress pattern is made for a range of different experience levels.
Therefore, you can still make this dress no matter if you are a beginner or someone with a little more experience. Just make sure that you use a stretchy material when following this pattern.
Final Thoughts
Making your formal dress is an incredible idea if you are fed up with spending loads of money on dresses that don't properly fit you.
Though it can be rather time-consuming to make a dress yourself, it can nonetheless be worthwhile if you have the skill.
With these helpful dress patterns, you can make the perfect outfit for a formal occasion.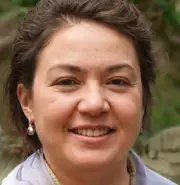 Latest posts by Liz Miller
(see all)