There is nothing worse than having the best idea for your party and no store selling the items you want. You can get past all the drama of online shopping and instead make your own dream dress.
The 19 best ball gown sewing patterns are below, so you can scroll until your heart's content!
Although we all want an amazing dress on important occasions, there is always a nag in the back of your mind saying "But you don't wear it again".
For moments like that, you need a multi-purpose outfit. Take this amazing design by Vintage Sewing Pattern Company.
They have created a 4 piece outfit that allows you to create a stunning ball gown look for the main event, and then slip off to a fancy dinner party in a skirt and jacket.
The outfit comes with a skirt pattern, top pattern, jacket, and all together seamless ball gown.
This outfit has it all!
Strike a pose and vogue with this Vogue Patterns design. The mermaid tale finish on both dresses creates a sophisticated silhouette.
The dress is fitted through the bust and hip, while the lined body and unlined sleeve create dramatic shapes.
If you purchase this pattern you'll be receiving two dress designs that will make your friends' jaws drop (Looking for more dress patterns? Read here)! The only thing you'll need to worry about is finding the right fabrics!
If you were hoping for a more traditional dress, this close-fitting bodice design is perfect for you. It has a back design that extends to the forward shoulder, with a hook and eyes on the yoke but no zipper.
You'll be creating Cinderella aesthetic vibes as you walk around the ballroom for all to admire.
Heading back to the 60s, this dress seems elegant and simple but requires a lot of sewing knowledge to accomplish. We would call it an intermediate skill level at best.
The skirt uses a cross-over release, while from the waist to the back you can expect dart pleats. The bodice includes a sleeveless joint and a wide low neckline.
The collarless front creates a draped shawl to go over your shoulders.
Hoping for something a little simpler? This collection of 5 dresses by Vogue Pattern is just the wardrobe you need. They range from narrow pencil dresses to Summery flared skirts.
This outfit collocation is great for a Summer or Spring party, but it edges towards casual instead of formal.
Although these outfits are gorgeous, you may prefer these as your after-party designs instead of the main event wardrobe.
This collection of 3 dresses has a range of floor lengths and two knee-length dresses.
The floor length is the most appropriate for a ball gown, but the other two dresses are fantastic options for less formal parties.
Either way, all three create a flowing and loose aesthetic which wraps around the waist to create a casual hourglass figure.
This beautiful calf-length dress creates a modern version of a medieval dress. Think of the hippy aesthetics of running through the fields but in more elegant attire.
Again, this outfit may not suit every formal event, but if you're going to a summer formal, or want to stand out as a flower fairy and woodland princess, then this is the dress for you!
The 40s era was a time of daring new designs while still dressing modestly. This over-the-shoulder shawl collar dress will make you look sophisticated and cute while tapping into your elegant side.
The iconic shawl collar drapes into a low v neckline which doesn't cut into your modesty. The flared skirt cuts into four sections to help create the pleated look.
The pattern itself has 3 styles, ¾ sleeves, short sleeves, and no sleeves. In our opinion, the best option is no sleeves.
Again, we are going off-piece with this casual look. Created by Vogue, these dress patterns are actually rompers with wide-leg designs to make them seem like dresses.
The halter neckline adds a sophisticated casualness to the dramatic look, making it perfect for a formal summer occasion.
The pattern comes in 3 leg sizes which means you can make multiple outfits for less formal events.
This timeless one-piece creates a princess line silhouette that flares out in a classic ball gown style.
The deep scoop neckline covered the front and back, while the flared skirt gathered at the center back to hold in the waist. This is covered with both a trim and a big bow which fits naturally in place.
As part of the Simplicity Pattern collection, this floor-length dress has bodice and skirt overlays that move with each other while also seeming like a full piece.
The pattern comes with 4 options, but the first (or A) is the best design for a ball gown. The other options would be perfect for less formal but still classy parties.
The model for this outfit is wearing a white version of this dress, but we suggest opting for something less matrimonial.
The drawn designs use purples, pastel pinks, and reds, all of which offer an either a cute or a daring persona to these beautiful dresses.
If you choose this one, you'll be given 5 dress designs all with slight variations to the model's outfit.
This fitted lined dress has a beautiful round neckline which adds a gentle aesthetic that we haven't seen yet.
Around the neck, you'll see a beaded trim. You will be told how to make this beaded trim, so don't try to find a fabric with this detail already attached.
We would say that this outfit is intermediary, as the pleated skirt and smooth back is hard to accomplish.
This stunning dress will bring you straight back to the ruffle designs of Cuba. This design is considered quick and easy, as the beautiful drapes don't need a lot of skill to create.
Instead, you'll be relying on well-placed cuts and stitchings to hold your fabric in place. If everything goes as planned, the fabric will cascade gracefully down the back to create a beautiful ripple.
This 1950s-style ball gown has a fitted, strapless bodice and a flared full skirt to create a beautiful silhouette.
The ribbon laying around the bodice front is an option added to the pattern design, but if you don't want the extra details you don't need to include them.
We think both options are fantastic, but it does change the tone of the dress.
If your search isn't for you, but for your young child instead, then pick this beautiful dress.
Jaycotts sells them in age groups of 2-5 years or 6-8 years, but depending on the size of your kid we suggest following the measurements first and foremost.
The white color doesn't need to be followed either, as these dresses would look even better in pink, blues, and yellows!
This dreamy dress uses the feathering technique alongside thinner fabric materials to create a wispy ethereal look.
The model is wearing a pink version which looks stunning, but any pastel color would suit this dreamy state.
Make sure your hair is styled in a similar loose and carefree manner to continue the floaty aesthetic.
This fitted dress is best for smaller busted women. The sweetheart neckline is finished with a narrow facing and empire waist body to create low definitions which work well on slim bodies.
Our last ball gown for you today is a replica of the iconic Marilyn Monroe style. You'll have a halter neck with a finishing stole.
The halter moves into an evening dress of full or medium length and a gored skirt attached to a fitted bodice.
Nothing screams elegance and old-fashioned glamor like this dress. However, the skill level needed to create this dress is advanced. Expect to make mistakes even if you are confident in all the techniques.
Final Thoughts
Each of these dresses are beautiful and unique. Before you buy or attempt any of the designs don't just consider your event, you should also consider how your body will fit in these dress styles.
Just because the dress can be made bigger or smaller, doesn't mean the change in dimensions will look great.
Ideally, you should know how to work with your body before taking on a challenge like this. Remember, making multiple dresses to find the right balance will help you create the perfect outfit on the day.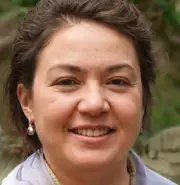 Latest posts by Liz Miller
(see all)