Looking for a unique way to carry your essentials with style and pizazz? Then look no further than bag sewing patterns!
From cute and quirky looks to sleek and sophisticated designs, bag sewing patterns offer a host of great ideas and tips for sewing your own unique bag if you're a fashion-forward individual who wants to stand out.
After all, just follow the cuts and stitches provided in the sewing pattern and you'll have a one-of-a-kind masterpiece that will turn heads wherever you go.
Don't forget: sewing your own bags is also an easy way to be more sustainable!
So round up your favorite fabrics, pull out your sewing machine, and let's get stitching with these 13 best bag sewing patterns to try out for yourself today.
Kitchen towels have never been this fashionable. That's right – this plaid crossbody bag sewing pattern uses a kitchen towel as part of the fall-inspired design, making it sustainable and easy to make.
And you don't even have to use a kitchen towel; any other thick towel will do and you're free to choose the design!
Other than a kitchen towel, you'll need a crossbody strap, thick elastic or a piece of faux leather, and, of course, your trusty sewing machine. This bag sewing pattern is simple, overall, but sure to earn you a few compliments.
Need a new duffle bag? Duffle bags are the ultimate travel companion. They're roomy, stylish, and perfect for a range of purposes – from going traveling to carrying on your daily commute. And this cargo duffle sewing pattern won't disappoint.
This DIY duffle bag boasts two front pockets, two carry handles, and a spacious zipped-up interior that will hold all your essentials without problems. The design is also super cute, perfect if you like soft looks and bright colors.
Tote bags are never not fashionable. They're versatile, multifunctional, and a surefire fashion statement, no matter whether you're heading to the beach or running errands.
So if you like tote bags, this tiny tote bag sewing pattern is something you probably didn't know you needed.
The best thing about this bag sewing pattern is that it can be made using fabric scraps. As a result, you can choose the design – from the bag's main fabric to the straps and pockets.
This sewing pattern also has inside pockets, unlike most tote bags, perfect for keeping your keys and cards.
Simple, stylish, and functional – that's what we like about drawstring bags. They're great for taking to the beach or gym, holding all the essentials without the fuss of zippers, buttons, buckles, clasps – you get the picture!
And with the simple design of drawstring bags, why not sew one yourself? This drawstring bag sewing pattern uses any old scrap fabric of your choice, so it can be patterned or plain, depending on your style.
Just make sure to sew on the corner accents, as these will really make your drawstring bag stand out from the rest.
Looking to sew a bag that's truly unique? Then a bento bag is worth considering. Bento bags are cute and compact, popular in Japan as a way to carry small items like keys, purses, and snacks. They're also super fashionable!
This origami DIY bento bag sewing pattern is easy to make, since you'll only need two pieces of fabric. The rest involves sewing and folding the fabric – much like origami. So it's also a fun project with an end result that'll delight you.
Nothing says free spirited and bohemian like a quilted hobo bag. They're like round tote bags that can be worn on the arm as well as the shoulder, ideal for running errands or taking on picnic trips.
Hobo bags are unique – that's for sure. But they're even more unique when you sew them yourself!
This hobo bag sewing pattern is simple to sew together and the best thing is that it's also reversible.
Just choose the quilted fabric you want to use for the exterior and interior and you'll have a reversible hobo bag that you'll want to take everywhere you go.
Partial to vintage looks? Then this mabel vintage handbag sewing pattern is worth checking out.
It's inspired by 1940s box purses, using quilting cotton fabric and your choice of either a magnetic snap or turn lock – so it doesn't get more vintage than this.
Once sewn together, the handbag will be around 9 inches wide, 5 inches tall, and 3.5 inches deep.
It's perfect for holding everything you usually keep in your handbag, as a result, with the bonus of helping you look effortlessly vintage.
Sustainable and fashionable? This reusable grocery bag pattern is your excuse to turn up at your local supermarket in style.
It's sturdier than those brown paper bags and, of course, more fashionable than any other reusable grocery bag you probably have at home. Plus, having an extra one will always come in handy!
Using the same design as a standard reusable grocery bag, this one is pretty easy to make.
You'll just need cotton fabric or canvas for the main body of the bag and handles, then matching thread to sew it all together.
Messenger bags are the perfect accessory for any urban fashionista. They're compact, adjustable, and functional, with a distinct look that's stylish but subtle.
This lilac mini messenger bag sewing pattern is a perfect example of this, boasting a large flap and twist lock closure.
All the materials and instructions are provided and they're simple to follow too. You can choose the exterior fabric of your choice, including the bag's flap if you want to give your messenger bag some extra character!
Ever wished you had a bag that was perfectly sized to carry your tablet or e-reader?
Then here's the sewing pattern for you. This tablet carrier bag sewing pattern offers two variations: one with a zipper and one without. So it's totally up to you whether you want more peace of mind or extra convenience.
As this is a smaller bag design with a single strap and side pocket, it's easy enough to sew together even if you're a beginner.
This sewing pattern lists three different fabrics (for the body, pocket, and strap), but you are, of course, free to design it however you like!
Your makeup collection is individual to you, so why not have a makeup bag that represents that?
This DIY round drawstring makeup bag sewing pattern offers an end result that's more spacious than a makeup pouch and a lot more stylish.
On top of that, it can be fully opened and spread out flat to display all your makeup!
All in all, this bag involves two round pieces of fabric with a drawstring running around the edge.
It's simple to make, as a result, which includes the optional handle and bag flap – ideal for keeping your makeup safely closed.
This sewing pattern puts a simple spin on a standard tote bag, using a piece of rope as the handle. Because of that, it offers the perfect beach look.
It's also much easier to finish, since you won't have to worry about cutting and sewing fabric to make the handles.
What we like about this tote bag sewing pattern is that it uses two pieces of fabric – one each for the top portion and bottom portion.
This gives the tote bag added style, as well as more creativity with how you can make it. You can go for something colorful for the summer, or opt for a more subtle toned-down look – it's totally up to you!
Forget buying a laptop bag; make your own! It's an easy way to stand out when you pull your laptop out at your local coffee shop.
On top of that, it's much cheaper and the perfect excuse to get creative with how you safely store your laptop.
This laptop bag sewing pattern is essentially a large zipper pouch with a strap, so you'll find it a breeze to sew together.
You'll just need two pieces of fabric, a fusible fleece interfacing for the interior, and a zipper. Once done, you'll have a unique laptop bag that you'll be proud to carry your laptop in!
Conclusion
And there you have it: the 13 best bag sewing patterns to try out for yourself today. Our list of bag sewing patterns includes everything from tote bags and drawstring bags to makeup bags and laptop bags, so there's plenty here for you to choose from.
So what are you waiting for? Pick out a few stylish fabrics and get started on one of the above bag sewing patterns today!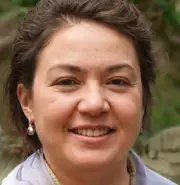 Latest posts by Liz Miller
(see all)