Are you looking to make your own stylish dress? Whether you are wanting something simple or elaborate, there are a variety of dress sewing patterns available to suit your needs.
From maxi dresses to cocktail dresses and everything in between, these patterns will help you create the perfect garment for any occasion.
In this article, we'll discuss some of the best dress sewing patterns that are sure to become wardrobe staples.
This pattern is the perfect way to make a simple, modern garment with minimal effort.
This dress pattern was designed with the everyday woman in mind and creates a look that is simultaneously sophisticated and effortless. 
It can easily be dressed up with a scarf, statement jewelry, or even an elegant wrap to create an easy-to-wear outfit you are sure to love. 
Plus, the possibilities are practically endless when it comes to customizing the dress: with its simple silhouette and fuss-free design, it's just begging to be hacked!
This budget-friendly and customizable creation is perfect for those who thrive on DIY sewing projects. 
This shirt dress has become an instant classic for sewing enthusiasts and fashionistas alike.
This laid-back yet polished garment is minimalist and elegant, featuring a classic silhouette with two options to choose from: the "bum ruffle" version or the straight-side seam version. 
The Alder comprises lightweight fabric and is finished off with cuffed sleeves, a simple placket opening, variations of shirt hem lengths, and clever pockets. 
It's a fabulously versatile garment that can be dressed up for occasions like work or cocktail events, or worn both casually and comfortably when it comes to everyday styling.
What we always love most about this dress is how versatile it can be in terms of styling. 
Whether you have plans for an outdoor brunch with friends or running errands at the local farmers market, you can style this one garment in numerous ways depending on your mood or preferences. 
The front-wrap halter dress is the perfect addition to any wardrobe. This stylish, new pattern includes instructions for sewing two lengths of a chic halter dress – classic or midi (How long does it take to sew a dress? Find out here). 
With this pattern, you can easily create an elegant garment with a range of options in sizes ranging from 4 to 24.
This pattern features an alluring wrap design that drapes across the chest and ties at the waist for ultimate comfort and coverage. 
It also boasts bust darts on each side of the dress for a tailored fit as well as optional slits at each side seam if desired.
The neckline can be finished with either binding or facings, while hemmed armholes and waist ties provide extra stylistic detail. 
This dress pattern is a great choice for would-be dressmakers. This pattern offers new trendy styles that will surely make any beginner stand out with confidence. 
The simplicity of the dresses featured in this pattern provides endless opportunities to put your own flair and touches to them. 
Create beautiful summer sundresses, evening gowns, or even formal dresses with S9780. With features such as low cutbacks, halter tops, and pleated waistlines, this pattern has what you need to make your wardrobe fashionable and timeless.
Not only do these stylish designs offer a modern look, but they are also easy to assemble! 
All sizes from 6-14 are included in this package, so anyone can make a timeless dress without difficulty or complexity. 
Get creative and create an array of colors and patterns using different fabrics to bring your unique design together! 
This dress can be made in two lengths with bodice variations. This pattern makes it easy to create stunning pieces of fashion for any special occasion, or for a casual everyday look. 
The N6491 comes with instructions to make various styles and comes with different length options perfect for many occasions. 
With this pattern, you can easily create dresses in two lengths, short or long, and the bodice variations will provide great results regardless of what style you choose. 
The materials needed to construct these dresses are also very basic, and the sewing instructions will guide you through every step.
Not only are the instructions easy to follow, but they are also precise, ensuring that your dress perfectly fits your shape and proportions.
Also included are detailed diagrams regarding measurements and notations, making it simple to map out each stage in garment assembling, as well as tips on ways to add extra detailing.
The S9745 pattern from McCall's is a misses' slip dress that comes in three different lengths.
This classic and simple lace dress can be tailored to reach the length you desire, whether that be tea length, above or below the knee. 
The bodice features an empire waistline with spaghetti straps for an elegant look.
Additionally, this version has an unlined front V-neckline with a back zipper closure, allowing great variation and fit on all body types.
This pattern gives anyone the opportunity to create their own custom slip dress for formal events or everyday wear. 
With this versatile pattern, sewing enthusiasts will be able to make dresses of all lengths, which also allows for fabric customization based on how much they are looking to use. 
This dress in two lengths is a cutting-edge style that offers women the perfect combination of versatility, comfort, and modern flair. 
This gorgeous wardrobe staple features classic lines and a flattering fit that can be dressed up or down for any occasion. 
Available in both knee-length and midi variations, this timeless look features adjustable straps and gentle pleat detail along the waistline for an added dimension that looks stunning on any body shape. 
The fabric construction is specially selected to provide an airy feel while maintaining all-day sensibility.
Whether you choose to accessorize with some statement jewelry or layer your favorite cardigan, the V1934 promises to bring out the beautiful fashionista in you!
This New Look sewing pattern is perfect for creating beautiful dresses that can be adjusted to either a longer or shorter length.
It's a great option for those looking to make their own one-of-a-kind dress without having to buy multiple ready-made pieces. 
The pattern also comes with detailed instructions and diagrams, making it easier to understand the various steps required in the creative process. 
With this pattern, you'll have all the tools necessary to create gorgeous dresses tailored specifically to your individual taste.
The best part about this New Look sewing pattern is how affordable it is – only $3.99! Even someone on a budget can afford to work on making a stunning garment of their own design. 
This knit dress is a well-designed and stylish ensemble that's perfect for any occasion.
It features a beautiful boat neck that can be dressed up or down depending on the wearer's style, as well as a drop-low waist with pleats that flatter all body types. 
Additionally, the pattern includes two different sleeve options – long and short – allowing you to customize your outfit even further. 
The recommended fabrics are lightweight knits, including rayon jersey and silk blends, so you can create a figure-hugging dress perfect for both casual and formal occasions.
Not only does this pattern offer stylish designs ideal for everyday wear, but it is also easy to follow. 
With instructions laid out clearly in full-color illustrations and straightforward step-by-step instructions, anyone from the most novice of machinists to experienced tailors can find success with this versatile pattern. 
This dress is a new and stylish take on traditional office wear.
This piece of clothing is unique in that it takes the classic tailored aesthetic of the blazer and combines it with the modern look of the dress for an eye-catching ensemble. 
The cut features a figure-flattering v-neck design along with wide lapels, for an extra dose of sophistication. 
The material is lightweight but durable, making it easy to take care of while out and about. 
The back features button detailing, adding to its chic charm. The length of this dress goes just below or above knee-length, depending on individual body type – making it the perfect item for any woman looking to make an impression in their career résumé.
Final Thoughts
The best dress sewing patterns offer a great way to create one-of-a-kind, stylish dresses explicitly tailored to your individual tastes. 
From the New Look sewing pattern's affordable option to the Misses' Knit Dresses from McCall's Patterns and Vogue Patterns' Misses' Blazer Dress, there is something for everyone when it comes to creating an exceptional look. 
With the help of these patterns, you can easily create beautiful and unique garments that will surely turn heads.
Frequently Asked Questions
What Is The Best Fabric To Use When Making A Dress?
The best fabric for making a dress depends on the type of dress you are creating and the look that you are going for. 
Generally, lightweight fabrics like cotton, linen, silk blends, and rayon jersey are great choices. For more formal occasions, heavier fabrics such as wool or velvet can be used.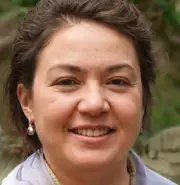 Latest posts by Liz Miller
(see all)