If you are a sewing enthusiast, you'll already know that half of the battle is finding the right machine that will suit your needs. This is why we have gathered a few of the best sewing machines on the market, that you can use for all of your chain stitching desires!
What Is Chain Stitching?
A chain stitch is a sewing and embroidery technique where you will place a series of stitches that are looped, which results in a chain-like pattern on the fabric. A chain stitch is done when one continuous thread is looped back in on itself, so there is no bobbin thread.
Chain stitching therefore has a sort of roping effect. This type of stitch tends to be more durable and stretchier than others, which is why it is often used on the seams of trousers and jeans.
As denim is a common fabric used for jeans, jackets, shorts (see also "How To Make Linen Bloomer Shorts"), skirts, you name it- you will likely need to be able to create a chain stitch in many of your crafts. As a result, you'll need a sewing machine that is suitable for chain stitching.
Here are some of the finest around that you can use.
Best Sewing Machines For Chain Stitching
After much research, we have settled on the top three best sewing machines for chain stitching. Our number one option is the Juki MCS-1500 Sewing Machine.
As a professional sewer, you'll want only the best. We recommend the Juki MCS-1500 Cover & Chain Stitch machine. This machine promises to take your sewing to the next level, allowing you to create a professional finish.
You can also use either the cover stitch for various applications, or the chain stitch function, which forms on the wrong side of the fabric, making it durable and strong when stretched out, perfect for denim or stretchy fabrics.
This machine is quiet when in operation, yet highly accurate and simple to use. You can create flawless seams, hems, necklines and more in just a matter of seconds. With an easy to thread looper, adjustable presser foot, and sturdy construction, this is a great investment.
It also has three separate needles, with color coded threading, and is ideal for both chain stitches and cover stitches.
Pros
Can be used for chain stitches or cover stitches
Designed for hems, seams, and necklines
Works on a variety of fabrics
Strong construction
Simple to use
1350 stitches per minute
Cons
Our second choice is the Janome CoverPro 900CPX CoverStitch Machine. While it is a coverstitch machine, it comes with a range of convenient features to give you extra use and capabilities.
In addition, it offers a 2 needle, three thread cover stitch, and a 1 needle two thread chain stitch. This machine is made with a sturdy frame, can offer 1,000 stitches per minute, and includes a seam tightening system.
The 2 needle cover stitch function works well for a range of fabrics, including stretchy ones, making it perfect for hems and necklines.
This machine is definitely high performance, with wide and narrow cover stitches, easy to use threading, able to sew stitches in less time, but with extra accuracy.
With a stitch length of 1 to 4 mm, along with a stitch width of 5mm, this is an excellent machine for anyone wanting to work on their chain stitches.
It also comes with three spools of white serger thread pre-threaded on the machine ready for use. What we like about this one is that it has a printed quick reference chart to help you choose stitches and settings before you begin with ease.
Janome is also a reliable and well known producer of sewing machines, giving you peace of mind in terms of quality, performance, and ease of operation.
Pros
Choose from the 1 or 2 needle for cover or chain stitches
Foot pressure adjustment included
Free arm with extra large bed space for tight areas
Up to 1,000 stitches per minute
Seam tightening system
Easy to use
Cons
Can be inconsistent at times
Finally, we have the Juki Mo-735 Serger. While this is a coverstitch sewing machine, you can switch it to chain stitch mode in a flash.
It also has automatic looper threading, and color coded threading to make using this machine a breeze. One of the many features of this Serger is that it can cut, sew and finish in one simple operation.
This machine is perfect for chain stitches, overlock stitches, you name it! It also works well on light to heavy weight materials, making it extremely versatile. In addition, its presser foot makes it even simpler to work with fabrics, as it makes it much easier to feed through.
Pros
Options for chain stitch and cover stitch
Multi function presser foot
Sturdy design
2 and 3 needle bottom coverstitch
Chain looper threading
Cons
More aimed at professionals, as it is most expensive on this list
Things To Consider When Purchasing A Sewing Machine For Chain Stitching
When it comes to purchasing a sewing machine, some of them can have a hefty price tag (see also "Our 5 Favorite Self-Threading Sewing Machines"). So, you'll need one that has a variety of features and specifications, so that you can get the most out of your money, and your machine.
Therefore, there are a few things that you should look out for when purchasing.
Some sewing machines are either more focused on chain stitching or cover stitching, but you can find some that have options for both- this will give you the most versatility in your work. Opt for a machine with multiple needles so that you can create a range of stitches.
You should also consider the fabrics you will be working with, how well they will feed, and how quickly the machine threads and stitches. This is particularly important if you are working on commercial projects, as you will need to complete them on time and fast!
You will also want to look for a machine that is well made, durable, and constructed by a reliable company such as Janome, Brother, or Juki. The big branded names will also offer warranties to give you peace of mind.
Final Thoughts
To summarize, choosing a sewing machine is not an easy decision. You need to think about what type of stitches you want to make, which materials you will work with, and how many stitches per minute you want to be able to create.
If you want to focus on chain stitches, then our top recommendation is the Juki MCS-1500. It is designed with cover and chain stitching in mind, and will get the task done in no time.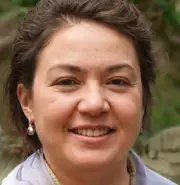 Latest posts by Liz Miller
(see all)