Linen bloomers are a great addition to your child's summer wardrobe. However, one of the best things about bloomers is the fact that they are really easy to make yourself.
Whether you have some linen material, a duvet case, or an old Tshirt, bloomer shorts can be cut and sewn up really fast. All you need is a little know-how and you will be good to go.
In this quick tutorial we show you how you can make your own linen bloom shorters for your baby or toddler. 
Is Linen A Good Material To Use For Baby's Clothing?
Linen is a great material to use for child's clothing. The reason for this is because it is a durable fabric, and younger children need this kind of material when it comes to their clothing.
It has strong flax natural fibers within its construction. It can also become softer and softer over time, despite it being out into the washer repeatedly. 
Are There Advantages And Disadvantages To Using Linen As Baby's Clothing?
There are both disadvantages and advantages to using linen as the fabric for baby's clothing. Firstly, as we stated above, it is very durable. This means that it is hardwearing and matches your child's needs. 
Secondly, another point we stated above, despite it being washed over and over again, the material will actually become softer.
However, linen can shrink easily if proper care has not been taken. You will want to make sure that you do not wash the linen bloomers in hot water because they can shrink. Once they shrink, you cannot then de-shrink them.
Another thing to note is that linen has a tendency to crease very easily. However, you can iron linen, so this shouldn't be a problem. 
Is Linen A Good Material To Sew With?
Linen is a great material to sew with because it will not stretch or slip as you are sewing with it. This makes it much easier to work with as you are less likely to make mistakes when sewing or cutting it.
However, linen does tend to fray when cut, so you will want to take note of this when using this kind of material. 
How To Choose Linen Weight For Clothing?
It is quite easy to choose the correct type of linen depending on what you are using it for. A light linen, one that is weighted from 100 to 125 gsm is perfect for sheer garments.
A typical mid-weight is 150 gsm which is often used for items such as pants, skirts and shirts. This is a great weight for children's bloomers too, as it isn't too heavy and will be durable enough to last a long time.
Heavier weights such as 200 gsm are best used for thicker pants and skirts, but also for bags and homewares such as curtains.
If you are planning to reuse old clothing to make the baby's bloomers, always make sure you take the fabric from an item that suits what you are making. For example, you wouldn't cut up an old pair of linen curtains to make bloomers (see also "How To Sew Curtain").
Instead, find something like an old linen tee or shirt. This way you know that the linen isn't sheer or too heavy, and will be the perfect weight to use. 
Size Chart For Child's Linen Bloomers
Here are two size charts to work from: the size chart of a baby and the size chart of the finished bloomers. 
Baby Size Chart
3 months | 6 months | 9 months | 12 months | 18 months
Height | 25 inches | 28 inches | 30 inches | 31.5 inches | 33.5 inches
Hips | 17.25 inches | 18.5 inches | 19 inches | 19.5 inches | 20. 5 inches
Finished Bloomers Size Chart
3 months | 6 months | 9 months | 12 months | 18 months
Hips | 19.5 inches | 20.5 inches | 21.5 inches | 22.5 inches | 23.5 inches
Cuff and Waist | Changes depending on length of elastic
Shorts length | 7.5 inches | 8 inches | 8.25 inches | 8.75 inches | 9 inches
Step-By-Step Guide: How To Make Linen Bloomers
What You Need
Linen fabric (an old tee will do)
Three quarter inch elastic to use for waist – this may change depending on size of bloomers
One quarter inch elastic for hem – this may change depending on size of bloomers
Sewing Machine and thread
Step 1
Firstly, cut the bloomers back and front out of the chosen linen material as per instructions of the bloomers pattern. If you are using a tee, line the bottom of the pattern with the hemline.
Step 2
Cut a strip of elastic. You will need 8 inches (3 months), 9 inches (6 months) and 10 inches (12 months). Using a safety pin, insert it through the hem. Pull it through until you find the end of the elastic lines nicely with the end side of the fabric.
Step 3
Tack the end with a straight stitch. Pull the rest of the elastic through the back hem and then tack the end with another straight stitch. 
Step 4
Pin and sew both the curved left and right sides. You can use a straight or zig zag stitch. 
Step 5
Pinch one side of the fabric together to make an inseam. Sew it using the same stitch as above. Do the same on the other side of the fabric. 
Step 6
Cut elastic to hip size on the chart (adding half a measurement for overlapping), and sew it together to make a loop. Measure the loop to four parts and pin to the inside top of bloomers. Sew on the topside using a zig zag stitch.
Step 7
Fold the elastic over one time and sew 3 quarters away from the edge using a zig zag stitch. The project is complete!
Final Thoughts
It is really easy to make bloomers out of linen material. The great thing about bloomers is that you can use an old tee. Check out the rest of the website for more helpful sewing projects!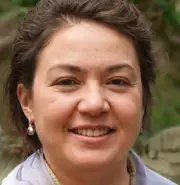 Latest posts by Liz Miller
(see all)