Infinity scarves are fun and colorful. These garments are designed in the shape of a circle which means they don't have an end.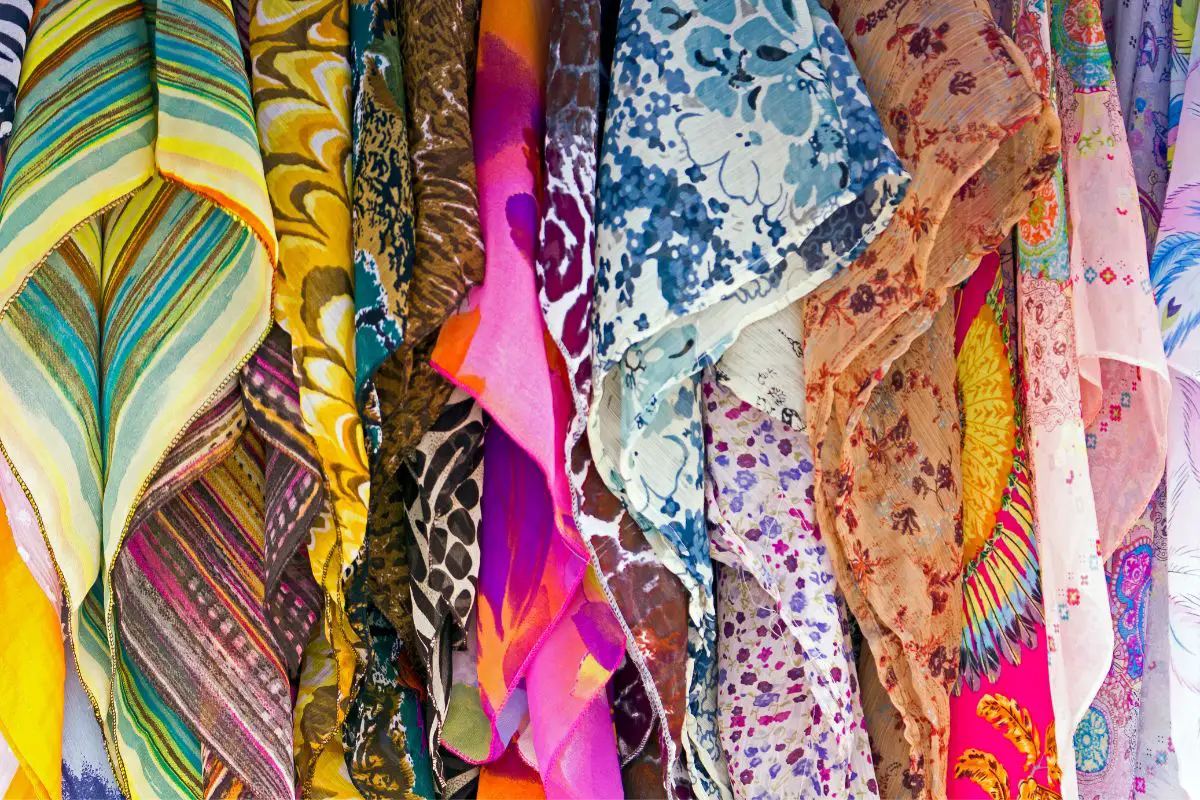 An infinity scarf is so versatile. You can use it as a snood or neck warmer in the winter, and as a decorative turtleneck collar in summer.
In this easy follow-along guide, we show you how to make a Boho infinity scarf in a few simple steps.
How To Sew A Boho Infinity Scarf
While an infinity scarf looks very complicated on the outside, it's surprisingly easy to make. One of the best ways to create your own Boho infinity scarf is by sewing.
Here is a step-by-step guide on how to make a Boho infinity scarf at home (see also "Foldable Market Bag: Step-By-Step Guide").
Step 1: Choose The Fabric For Your Boho Infinity Scarf 
One of the most important parts of a Boho infinity scarf is the fabric. You can choose any type of fabric and fabric weight you like, although we found that cotton or jersey fabric works best.
It sits comfortably on the skin and cotton is even breathable, so it feels comfortable during the warm summer months.
As this is not just a normal infinity scarf but it also has a Boho design, make sure to choose a material that has plenty of different colors or appliques.
As this is a beginner tutorial for sewing an adult infinity scarf, you can make your first infinity scarf with a single-color fabric and adapt the guide with your next scarf projects.
Step 2: Prepare Your Materials
Once you have chosen your scarf fabric, you need to gather all your materials. You will need at least 1.5m of fabric and a suitable needle.
You can choose a ballpoint, stretch, Jersey or universal needle for this project, depending on your chosen fabric and its weight.
As you need to work with slightly stretchy fabric, we recommend using a zig-zag stitch with a length and width of 1.
Alternatively, just select the standard stretch stitch on your sewing machine.
Step 2: Cut The Fabric
First, you will need to cut a rectangle from your fabric. The piece should be 60cm wide and 140cm long.
Step 3: Sew A Tube Shape
Next, gently fold the large rectangle in half. The right sides should be together. Now, pin the long edges and sew them together into a long tube shape.
Step 4: Turn The Tube Right Side Out Half Way
Once you have sewn your tube scarf, you will need to put your arm through the fabric tube. Make sure that the seam sits on top of your arm looking up.
Then slowly start pulling the tube end through but stop when the short ends come together. One end should be inside the other now.
Step 5: Sew The Ends Together
Now, you will need to put the seams of the short ends on top of each other and then pin them together. They should be right sides together.
Next, you need to sew these short ends. Allow a small opening of 10cm for turning the scarf inside out once finished.
Step 6: Turn Your Scarf Inside Out
Once you have sewn the ends together, excluding the little gap, you can now pull your scarf fabric through until you have a large loop.
Step 7: Final Touches
Lastly, you will need to sew the small opening closed. It's best to do this by hand as you get a neater finish.
Step 8: Customizing Your Boho Infinity Scarf
There are so many different customization options for your Boho scarf. 
Your sewn infinity scarf is now ready to use but to give it a more Bohemian feel, it's great to add your personal touch.
Sew Your Infinity Scarf In Two Colors
A two-color scarf looks so much more fun and you can easily adapt our guide to create a scarf with two or more colors. Simply cut 20 rectangles, each 33cm wide and 140cm long.
Sew With Different Color Threads
Colorful threads also give your Boho scarf an individual look. It's a good idea to choose a contrasting thread that stands out from your fabric.
Change The Dimensions Of Your Scarf
One great benefit of the guide above is that you can vary the length according to your needs. If you want to make a child's scarf, then just make the rectangle slightly shorter.
Alternatively, you can also reduce or increase the width of your scarf. If you make your infinity scarf wider, then you can create a thicker scarf.
How Long Does It Take To Make A Boho Infinity Scarf?
It takes only 10 minutes to sew a Boho infinity scarf. This being said, you can also knit and crochet an infinity scarf which takes much longer.
What Fabric Can You Use To Make An Infinity Scarf?
You can use any type of fabric for sewing your infinity scarf, from cotton, wool, cashmere and linen to silk and satin.
If you want a warm infinity scarf for winter, then use thicker fabrics, such as wool and cotton. They will keep you warm and cozy.
On the other hand, an infinity scarf for summer is best made from light fabric, such as silk, cashmere or satin. These materials aren't too warm on a hot summer day.
Other Ways To Make A Boho Infinity Scarf
Sewing a Boho infinity scarf is just one way to make your own beautiful infinity scarf accessories.
Two of the most popular methods to create a Boho infinity scarf are crochet and knitting. You can use whatever color and type of yarn you like.
One big advantage of knitting and crocheting your infinity scarf is that you have a lot more control over the pattern and design of your scarf.
Final Thoughts
It doesn't take very long to make your own Boho infinity scarf. Within a few minutes, you can sew a pretty scarf that is colorful, practical and easy to put on.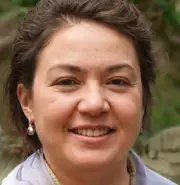 Latest posts by Liz Miller
(see all)