We've all been guilty of leaving trash build up in our cars over time. Of course, some of us are worse than others.
Ever tried to get into a friend's car but can't get through the piles of empty coffee cups and fast food packaging? Yeh, this is when a car trash bag is needed.
Even if you're not a messy car owner, having a trash bag in your vehicle is a great way of putting food packaging, straws, or paper wrappings away for the time being, rather than leaving them in the foot well for the remainder of your journey.
The great news is that you do not have to go out and buy an expensive car trash bag. Instead, you can go down the DIY route and make one yourself!
Making a DIY trash bag is surprisingly simple, even if you're a novice sewer.
All you need to do is set aside a bit of time and basic sewing knowledge and in a short amount of time, you can have a stylish fabric car trash bag to keep your vehicle clutter free for good.
Also, making one yourself means you can design it in whatever way you like. You get to choose the color and patterns, or just go simple with a plain piece of fabric. It's entirely up to you!
You can purchase the fabric and supplies online, such as www.fabric.com and www.amazon.com or at a local craft store, but we will go into all the supplies needed below. 
Fancy making your very own DIY fabric car trash bag? Well, you're in the right place!
Today, we are going to guide you through the process of making a car trash bag and don't worry, it is surprisingly simple!
The pattern we will be focusing on today only requires novice sewing skills and its size is ideal for smaller vehicles. It is also washable so you don't have to throw it out as soon as it gets too dirty.
Let's get started and design a car trash bag for you today! 
Why Use A Car Trash Bag?
It goes without saying, but using a car trash bag is a great way of keeping your vehicle clean and tidy.
Even if your car is usually spotless, a car trash bag can come in handy when on long journeys as you can dispose of any food packaging or drink cartons when you have finished, rather than leave them scattered across the seats to clear up later on.
The four main benefits of using a car trash bag are:
They keep the car interior clean and organized.
They keep trash contained to prevent littering and maintain car hygiene.
They reduce odors from waste.
They provide a convenient and accessible place to dispose of waste while on the go.
Why Make A DIY Fabric Car Trash Bag?
As well as the benefits pointed out above, making your own fabric car trash bag is more affordable than buying one outright in the store or online.
Fabric car trash bags are popular because they offer a range of benefits, including:
Durability – Well-made, quality fabric trash bags can last for a long time.
Style – Fabric car trash bags come in a variety of colors and designs so you can easily match them with your car's interior.
Reusability – Fabric trash bags can be emptied, washed, and reused without much fuss. In turn, this reduces waste, especially when compared to disposable bags.
Eco-friendly – Car trash bags tend to be a more sustainable option compared to disposable bags.
Customization – You can make fabric bags in a variety of sizes to fit specific needs. For larger vehicles or larger families, you can make a larger trash bag. If it's just you on the road in a small car, a smaller trash bag will suffice. 
Is It Easy To Make A DIY Fabric Car Trash Bag?
Generally speaking, making a fabric car trash bag is relatively easy. However, this depends on your sewing skills and the patterns you wish to use.
Just a quick search online and you will discover that there are many patterns available.
But, luckily, when you have the correct step-by-step instructions at your disposal, you should be able to complete the task pretty easily.
All in all, if you have basic sewing skills, a sewing machine, and are able to follow a simple pattern, then it will be pretty straightforward to create your very own fabric car trash bag. 
How To Make A DIY Fabric Car Trash Bag – Instructions 
What You Will Need
Before you start your sewing project, you will need to gather some supplies.
To make a fabric car trash bag, you will need:
Two pieces of lining fabric (measuring 10 inches x 10 inches)
Two pieces of outer fabric (measuring 1o inches by 10 inches)
Two pieces of interfacing (medium weight like Pellon 808 – measuring 10 inches x 10 inches)
A single piece of fabric for the strap (measuring 3 inches x 15 inches) 
Typical sewing supplies (sewing machine, fabric)
Step-By-Step Instructions 
Step One
To begin, you will need to fuse the interfacing to the outer fabric's wrong sides. Not sure how to use fusible interfacing?
It's pretty simple! Interfacing is a material added between two layers of fabric to provide stability and structure.
It is typically made from non-woven fibers and is used in a variety of sewing projects, including garment construction, bags, and home decor.
Interfacing can be either fusible (adhesive on one side) or sew-in, and is used to reinforce or stiffen specific areas of a project, such as collars, cuffs, or bag handles.
The type of interfacing used will depend on the weight and type of fabric, as well as the desired end result.
On one side, there is glue. This is the side where you lay the wrong side of the fabric to and then press using a hot iron.
Here, the interfacing fuses the fabric together. Therefore, when it comes to sewing it, the fabric and interfacing can be treated as one piece. 
Interfacing has a key purpose. This is to build the trash bag's main structure and make it strong.
And, this simple process only needs to fuse to the wrong side of the exterior fabric, so there is no need to interface the lining. 
Once the interfacing has been fused, simply place the right sides of the outer fabric together. Now, sew around the three sides with a ½-inch seam allowance. 
Next, you need to box the base of the bag. All you need to do is match the bottom of the bag's seam to the side seam and pin that corresponds with it.
From the tip, measure down two inches and then sew a line across all the layers. When the bag's right sides are turned, the side and bottom seams should meet one another.
Once done, repeat this on the opposite side of your bag. 
Now, turn the right side out to form a small bag with a flat base. 
Step Two
Once your fabric takes the shape of a bag, you need to place the right sides of the lining fabric together. Then, sew around the three sides.
However, make sure you leave at least a 3-inch gap at the base so you can turn it. 
Next, box the bottoms of the fabric in the same manner as you did for the outer bag. Doing this will create another small bag but with a hole at its base. 
Step Three
Time to move onto the strap of the bag. The strap should go around the gear lever of your vehicle.
To make this, fold the fabric measuring 3 inches x 15 inches in half, length ways and press down on it.
Open the piece and fold the edges toward the center of the fabric and then fold this in half once again. Secure the strap by stitching along the two edges of the strap.
This should result in a one-inch wide strap that can be attached to your car trash bag. 
Top stitching may not be something you're familiar with. If not, it's simply sewing the strap together but from the right side of the fabric.
But, because these stitches will be visible, you must take care to ensure they are not unsightly. 
Step Four
To attach the strap to your trash bag, simply fold the strap in half. Then, pin the short raw edges to the right side raw edges on one side of the bag.
Hold the layers of fabric together (basting), making sure the loop is facing downwards toward the bag's right side. 
Step Five
Now, it's time to turn the right sides of the bag out. Do this by pulling the outer bag through the small opening you made in the fabric's lining (step two).
At this point, the outer bag should be visible and the lining bag should be attached to the strap which is hanging on its outside. 
Step Six 
The final step is here! Grab the lining and push it inside the outer bag. Now, press down on this. At this point, the strap should be on the bag's exterior.
Secure this by top stitching around the bag's top and sew the hole that is in the lining. 
That's it! You have now made your very own DIY car trash bag! All you need to do now is strap this over your car's gear lever.
Just ensure the bag is on the passenger's side so it doesn't obstruct you as you drive. If you prefer, you can also put a plastic bag inside your new trash bag to keep the fabric clean.
If not, it will get dirty and you will need to clean it every so often. 
Instructions Summed Up 
To sum up how to make a DIY fabric car trash bag, here are the main points:
Cut out your fabrics.
Fuse the interfacing to the outer pieces of fabric (follow the manufacturer's guidelines).
Place the outer fabric's right sides together. Stitch along their sides and bases using a ½-inch seam allowance.
Place the bottom seam to the side seam to box both corners and measure down two inches. Then, stitch. 
Make the lining in the same manner. But, this time, leave a small opening for turning.
Make the strap by folding the fabric's long edges into the center and press. Fold it lengthwise in half and press once again. 
Top stitch along either side.
Fold the strap in half and place the raw (unfinished or uncut) edges on to the top of the right sides of the outer bag. 
Stitch with a ⅛-inch seam allowance.
Place the outer bag into the lining bag, ensuring the right sides are together.
Stitch the lining all the way around with a ½-inch seam allowance.
Turn the right sides of the bag out through the lining's opening you made earlier.
Close this opening by stitching it together.
Push the lining into the outer bag and press once again.
Secure the lining by stitching it all the way round.
Note: The above steps are a basic guide and can be adjusted based on the size and design you desire for your car trash bag (see also "Foldable Market Bag: Step-By-Step Guide").
Tips On How To Keep Your Car Tidy
As well as making a DIY car trash bag, you should keep on top of the litter in your car.
To keep your car clutter free (clean car, clean mind), we have included some top tips below to help out.
Some are pretty obvious, but you'd be surprised how one little change can make a big difference in the cleanliness of your vehicle.
Use a trash bag – As this is a guide on making a trash bag, this is our number one tip! Keep a small trash bag in the car and dispose of any waste promptly.
Store items in containers – As well as a trash bag, you can use small containers or bins to store items such as tissues, snacks, or coins to prevent clutter.
Keep surfaces clean – Wipe down the dashboard, center console, and other surfaces regularly to prevent dirt buildup.
Vacuum regularly – Vacuum the floor mats and carpets to remove dirt and debris. You'd be surprised how dirty your car's flooring gets every week! 
Organize the trunk – Use organizers or bins to keep items in the trunk neatly stored. If you have a furry friend who travels with you, a pet-friendly cage will keep them from spreading their fur everywhere in the car, too.
Limit items in the car – Only keep essentials in the car and avoid bringing in unnecessary items. This is a great way of decluttering and having a neater space.
Don't eat in the car – Eating in the car can create crumbs and spills, so try to avoid it. When traveling long distances, try to stop somewhere for food. 
Avoid clutter – Don't let piles of paper, mail, or other items accumulate in the car. This includes receipts.
Remove items promptly – Take items out of the car as soon as you get home to prevent clutter. We know this is hard when you're tired after a long trip, but it will save you from doing it when you're in a rush the next time you need to drive somewhere. 
By following these tips, you can help keep your car organized and tidy, making it a more enjoyable and pleasant space for you and your passengers to be in.
Make A Car Trash Bag Without Sewing
If you don't like the idea of sewing or don't believe your sewing skills are good enough to tackle this project, you can try making a DIY car trash bag without sewing. 
Let's take a look at how to create a car trash bag with just a few pieces of fabric and some trusty fabric glue.
First, you will need to gather materials. You will require a large piece of fabric (preferably one with a pattern you like and waterproof), fabric glue, and a piece of string or ribbon.
Next, you will need to cut the fabric to the desired size of the trash bag. But, make sure you leave enough excess fabric to make a fold over the top to form the rim.
Take that excess fabric and fold it over the edge of the bag. This will create the rim. Secure this in place using fabric glue. 
Cut a piece of ribbon or string and glue this to the back of the trash bag, creating a loop so you can hang the bag from the headrest.
Now, the bag is ready to be placed in your car! Hang it on the headrest using the loop and place all of your trash inside. Voilà! You now have a clean, tidy car, and it was all done without any sewing whatsoever! 
Whilst this method is simple and requires no sewing, the bag may not be as durable as those made with sewing.
Fabric glue is strong but over time, it may break down, especially if the bag is used frequently.
With that in mind, we always recommend making a DIY trash bag with a sewing kit for long-lasting, reliable use (see also "Christmas Stocking Kits And DIY Stockings"). 
In Summary
Some of us spend most of our time in our vehicles.
Therefore, you want to treat it like it's your home. Hopefully you don't leave trash all over the floor in your home, so why would you do the same in your car?
All you have to do is make a simple DIY car trash bag and your vehicle can remain pristine at all times.
As you can see above, the method of making a fabric car trash bag is pretty straightforward. Best of all, you don't need many supplies and it's cheap to make.
What you do need is a little time and basic sewing skills. In no time at all, you will have a brand new, stylish car trash bag so your vehicle remains organized for a more comfortable driving experience.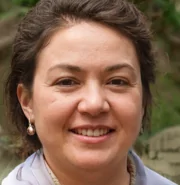 Latest posts by Liz Miller
(see all)