When you are making your own garments and other textile projects, one of the most important steps in the creative process is pressing the garment or item.
While this is not strictly a necessary step, it will significantly improve the overall appearance of your project and can give a much more professional look to the piece. In this article, we will look at how to make your own DIY pressing glove. 
What Are Pressing Tools Used For?
There are plenty of different pressing tools available to purchase on the market, all of which are designed for a specific purpose. No matter which pressing tool you use, they are all designed to ultimately achieve the same goal, create beautifully pressed seams and garments. 
Each pressing tool has its own specific use, from creating rounded or curved shapes to crisp and clean points. The pressing glove is one of the most unique and useful of all the pressing tools that are currently available.
Not only is a pressing glove, sometimes known as a pressing mitt, great for pressing hard-to-reach places on garments, but it is also great for pressing items on the go or in a rush.
This is a pressing tool that is popular backstage at fashion shows and stage productions to make sure that outfits and costumes are looking their best before hitting the stage.  
How To Make A Pressing Glove
Despite the usefulness of a pressing glove or mitten, it can be difficult to find businesses that sell the product online or in stores. Because of this, it can be easier to simply make your own mitten.
This can be the best way to ensure that the glove fits your hand properly to minimize the risk of burns. Below, we will look at how to make your own pressing glove.
There are very few patterns available online for a pressing mitt, however, this incredibly detailed video tutorial for an oven mitt can be modified to a pressing mitt by removing the thumb. 
Materials
There are a few materials that you will need to make your glove, thankfully, most of the materials can be taken from scraps of fabric that you already have available.  If not, you can purchase cheap offcuts and scraps from your local fabric store. 
To make a safe pressing mitten, you will need scraps of heat-resistant fabric, scraps of cotton fabric, and scraps of wool and a lining material for comfort.
These scraps don't need to be particularly pretty, however, they do need to be large enough to create a mitten that will fit over your whole hand.
Try to avoid using smaller scraps of heat-resistant fabric to create the inside portion of your glove as these can separate which can affect the usefulness of the glove. 
Tools
You will also need some basic tools to make your pressing glove. Because this is such a simple project, all you will need is a needle and thread or your sewing machine, whichever you prefer to use.
You will also need some fabric scissors to cut your scraps to size.  A fabric marker or chalk can also be useful for this project, however, it isn't necessary. 
Step One: Cut Out The Material For The Glove
The first step in making your own pressing glove is to cut out the layers of material that you will need for it. When cutting the material for the glove, you need to make sure that the pieces are large enough to fit your entire hand with enough space for a strong hem.
The easiest way to ensure that all the pieces are the right size is to create a paper template that can be cut around.  The mitt should be in a rough semi-circle shape. 
Step Two: Assemble The Material
Once you have cut out all the layers that you need, it is time to begin assembling your glove.  Because both sides of the glove have different material, you will need to layer twice.  
You should begin by laying your outer layer of cotton on your work surface. Remember to place the fabric wrong side up. On top of the cotton, you should place your heat resistant fabric.
Some people choose to add two layers for extra protection and a more padded surface.  On top of the heat resistant layer, you should add your lining material. 
For the other half of the glove, begin by laying your wool layer wrong side up on your surface.  On top of this, you will need another layer of heat resistant fabric, then a layer of lining material.  
Step Three: Pin And Sew
Once you have layered both halves of your glove, it is time to secure them with pins along the hem line.  This will help to keep everything in place while you sew.  Once you have pinned the two halves of your glove, it is time to begin sewing. 
How you sew the fabric is up to you. Some people prefer to sew by hand, however, it is quicker and easier to use a sewing machine. The color of the thread doesn't matter but it looks nicer and more professional to use a thread that matches the outer fabric that you have used.
Sew along all edges on both halves.  You can choose to use binding on the bottom edge if you want but it isn't necessary. 
Step Four: Sew The Two Halves Together
Now it is time to begin assembling your pressing glove. Lay the two halves on top of each other, ensuring that the cotton and wool outer layers are facing each other and the lining is on the outside. 
Make sure the edges are lined up properly and pin around the curved portion of the glove leaving the flat edge open. 
Sew around the curved edge, leaving a quarter inch border allowance. Once you have sewn all the way around, leaving the bottom open, trim as much bulk from the hem as possible.
Then, simply turn the pressing glove the right way out and you are ready to begin pressing hard to reach areas. 
Final Thoughts
Having a pressing mitt or glove can be a great way to get to hard to reach areas on your garments and other textile projects. Making your own pressing mitt ensures that it will fit your hand properly and can be a fun little project to complete.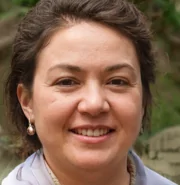 Latest posts by Liz Miller
(see all)