The blouse is a classic piece of womenswear. It can be both formal and casual, feminine and smart, and adapted for use throughout the year. You can throw on a blouse before running errands, or when heading out for an elegant dinner! The blouse is also a great pattern for new dressmakers looking to stretch their skills.
The blouse looks simple, but to create that classic shaping you need to know how to fit a garment. You also need a good understanding of fabric. The blouse works best in light fabrics, which can be tough to work with! In this guide, we've rounded up some of our favorite blouse patterns.
Blouse Sewing Patterns For Beginners
A blouse might seem a little intimidating if you're new to sewing, but these options are great for anyone learning their way around a pattern. Look for patterns that aren't overly fitted, so you can focus on the basics, rather than stressing about the measurements!
Frances Oversized Blouse is an excellent blouse pattern for a beginner. The loose fit looks good and the forgiving shape means you don't have to be spot-on with your measurements. The simple shaping ensures it will look good over a pair of jeans, while the streamlined finish will be elegant with a pencil skirt.
The Meadowood Blouse is all about casual comfort. If you don't have much experience with patterns, this blouse encourages you to stretch your skills without pushing you too far out of your comfort zone. The finished blouse will look super cute paired with shorts or jeans for running errands on a warm day!
Summer Blouse Sewing Patterns
When the warm weather hits you need clothes that feel comfortable while looking good. The sleeveless blouse is ideal summer occasionwear. Just dressed up enough to pass for formalwear, but comfortable enough for even a trip to the beach, break out the floaty fabrics for these summer blouse patterns.
You'll keep your cool no matter what with this Spring Cami, a fun pattern that's perfect for summer events. The button-up style paired with the quiet v-neck keeps this top delightfully chic and allows you to experiment with different fabrics. Hidden darts help give the blouse shape, while also testing your sewing skills!
The Susie Blouse is an incredibly versatile top. The loose bodice is given a flattering shape with the addition of bust darts, while the v-neck and flat collar add delightful decoration to the simple design. There are no complex fastenings, so even beginners can give this design a go! The Susie Blouse is available as a short-, ¾ length-, and long-sleeve pattern.
Get ready for warm summer evenings in the Josephine Blouse, a feminine blouse that's fantastic for day to night. The Josephine top features a seam up the front with a slit at the neckline, decorated with subtle pleating and darts that are delightfully incorporated into the design.
Winter Blouse Sewing Patterns
When the cold weather hits, these long-sleeve blouse patterns can keep you looking smart. The long-sleeve blouse can be a little trickier, so be careful when measuring and cutting your patterns.
The ¾ length style of the Mathilde Blouse is fantastic for seasonal dressing when the last few days of fall are lingering but winter isn't far behind. Featuring a button-up back, gently puffed sleeves, and vertical gathering, this blouse can be dressed up or down, and made in a range of fabrics.
Looking for a sewing project that will begin to stretch your skills? This V-Neck Blouse is not only beautiful and elegant, but it has just enough detail to encourage intermediate dressmakers. We love the emphasis on the v-neck and matching cuffs.
Retro Blouse Sewing Patterns
Blouses are a timeless wardrobe staple, and these vintage-inspired designs celebrate the elegant styles of days gone by.
The Rosie Wrap Blouse is a flattering vintage-inspired blouse with a slightly complex pattern that's best for intermediate sewers. The open sleeves and wrap style will complement all body shapes, while the tie hem adds some flair.
Tucked into a pencil skirt, the Anderson Blouse will make you look like you've stepped straight out of the 1940s. The wrap-over style and loose draping are incredibly flattering, with gathering at the shoulders creating shape without darts.
The Patina Blouse perfectly captures how you can take a retro style and make it into your own, contemporary look. The oversized collar should look incredibly old-fashioned, especially combined with the full sleeves, but it just works. Make with a mid-weight fabric and style with jeans for a modern look.
Final Thoughts
The blouse isn't the easiest pattern for a new dressmaker. Buttonholes and darts are pretty much standard, although loose and flowing blouses offer a good starting point. But once you've mastered the basic blouse, you can begin to experiment with shape and style. We hope these patterns have inspired you to create something beautiful!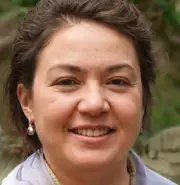 Latest posts by Liz Miller
(see all)