Why buy stuffed toys and decorations for Halloween when you can simply make your own?
If you already have some sewing skills, then you can create your own plushies with the help of some sewing patterns. If you're anything like us, then you love the spooky season and decorating your home for Halloween.
It's so much fun, with pumpkins everywhere, spiders in their webs, and witches and bats a-plenty. This year, you can decorate your home with homemade bats that won't break the bank!
We've gathered some of the best bat sewing patterns for all ranges of expertise level, so that you can find one that you'll love to make.
Spooky Bat Sewing Patterns
Here are some of our favorite bat sewing patterns that we've tried over the years.
If you're fairly new to the art of sewing, then you will want to try a beginner sewing pattern. This beginner bat sewing pattern is perfect for you!
This pattern is from BeeZee Art, who offer a range of sewing products and patterns. This cute bat plushie is easy to create with this sewing pattern. With simple shapes, you can create this for yourself in no time.
With this pattern, you get a digital download, including suggested cutting layouts, sewing tips, the pattern itself, instructions, and a step by step tutorial and full color photographs that you can use as a guide.
If you want to hang bats from your walls, then this cute sewing pattern will work well for you.
You can use a range of materials, so that the pattern itself is whatever you want it to be, or you can alter it so it matches your home decor style. This bat wall hanging pattern is made by EFI Little Things, and it is a digital download.
It comes with the pattern and a tutorial, so you can make the bat to your liking. With 52 pages of step by step instructions, along with pictures to guide you, a beginner could get this project done in no time.
If you want a simplistic bat pattern, then this one's for you. You can choose Halloween inspired fabrics, and create these sweet bats in any of the three sizes. They're cuddly, easy to hang up, or fly around in your home. This project is aimed towards beginner sewists, so anyone could make this!
With this pattern, you can learn how to sew along curves, trim curves and corners, topstitch, and stuff the body to make it much more plump and cuddly. With a 15 page PDF pattern and step by step photos and instructions, this pattern is really useful, and the results are great.
If you want to make a plushie for someone, then you have to try this bat sewing pattern. It's one of the most lovable plushies we have ever seen! Again, from BeeZee Art, this pattern helps you create an adorable stuffed bad animal with large ears and a sweet face.
This digital download will include the pattern itself, instructions, cutting layouts, sewing tips, and a step by step tutorial to help you complete the project. There is also a video tutorial you can make use of to make it simpler to finish!
If you want to create something a little spookier rather than cute, then we suggest this bat stuffed animal pattern.
With button eyes, a big nose, and large, sprawling wings, this bat sewing project is perfect for a Halloween decoration! This bat is considered intermediate, and can be tricky for some, but once completed it looks great.
This pattern is a digital download, with instructions and step by step tutorials. It will require you to do some hand sewing, top stitching, ladder stitching and more, so be prepared!
If you want a smaller project, then try this fluffy bat pattern. It creates a small stuffed animal that is oh-so fluffy and even cuter to look at. With this digital download, you will receive the sewing pattern, and step by step instructions, creating a plush that is 4 inches tall, and 9 inches long from wing to wing.
Want to give the perfect baby shower gift? This stunning baby bat plushie is the perfect option. It is also a digital download, so you can get started right away. You don't need to be highly skilled, as the PDF is easy to follow, and you can print out the pattern pieces onto A4 paper to make it simpler.
Summary
Making a bat plushie has never been easier with these handy and useful bat sewing patterns. With this guide, there is something for everyone to enjoy making and receiving!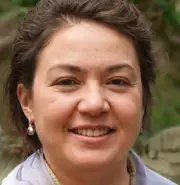 Latest posts by Liz Miller
(see all)