Sewing is not only a great way to pass the time, but it is also a great way to express yourself creatively! Sewing is great for making your own clothing, bags, or otherwise decorating the world around you.
One of the best things about sewing is that it is very easy to share ideas with others that engage in the activity, and to find exciting patterns and designs that you can make by following a few steps.
The only problem is, because of the sheer number of patterns across the web, it can be overwhelming to choose just one.
So, allow us to narrow down the list a little for you, as we show you 14 of the very best bikini sewing patterns you can try today!
We figured, what better way to kick off this list than with a total favorite?
This pattern helps you to create a bikini with plenty of inner space to allow for extra comfort and support while still being very subtle and allowing for a beautiful silhouette no matter your figure!
The best thing about this pattern is that it helps you to create a bikini that is incredibly easy to slip on and off and will stay firmly in place once you don it.
This bikini style helps to create plenty of support for your upper body and even includes a shelf bra within it, helping to create even more support.
This pattern contains so many design varieties that you can truly create the perfect bra for anyone.
No matter which of the varieties you choose, though, you will be met with a beautifully elegant bikini or swimsuit that easily adds flair to your look and provides ultimate comfort to have you feeling amazing.
This pattern also works with all kinds of material designs so that you can create the right look for yourself!
This bikini top creates a perfect subtle look that is incredibly beautiful and sexy. The top simply wraps comfortably around the body, providing support and comfort while also looking incredibly subtle.
This particular design can be worn in either a strapless or strapped mode which allows for further customization.
If you want a bikini top that is incredibly low-key and won't draw too much attention to itself, then this is the one for you!
Not only does the backless design give this bikini top a slight sexiness, but the shape of the central bra section on the front allows a good view into the bust without being too revealing, and while still providing lots of support!
You will totally be the highlight of the beach when you wear this immense bikini to the beach (see also "Posh Beach Robe Tutorial"). It has such a shiny and vibrant look that is almost reminiscent of a mermaid.
This gives it an almost otherworldly and fantastical look that will quickly make it one of your favorite bikinis in your collection!
The knotted section at the front of the bust also gives the bikini a slight rustic charm!
We love the upper half of this swimsuit that features a draping section that hangs down from the upper body, making it so befitting of the 'Waterfall' name!
We totally adore the asymmetrical look of this top that gives it a very edgy, vibrant, and modern look that makes it a perfect top to wear to a pool party or when you simply want to feel like a celebrity.
Despite being asymmetrical, this bikini top still provides loads of support and is comfortable to wear for hours at a time!
A two-piece bikini is a perfect design to go for if you are looking for something classic that is focused on comfort above all else.
This is one of the most comfortable and supportive bikini designs on this list, and we totally love the way it looks when it is worn!
It is incredibly flattering and hugs nicely to the body providing some amount of sexiness, while still being incredibly comfortable and breathable.
This is one of our favorite swimsuit bikinis on this list because it has such an adorable retro style to it.
The striped look helps to create a sense of structure and order that makes you look totally amazing when you wear it.
The inclusion of the red band wrapped around the waist helps to exaggerate hourglass and pear-shaped figures, making you feel even more beautiful than ever!
The bottom half of this bikini pattern has a slightly larger design that contrasts with the slightly smaller size of the top half, to create a more adorable and beautiful look!
The best thing about this design is that it looks totally handmade, and has a rustic charm to it. It wraps around the body in a really interesting way while still providing the most support possible.
This one-piece swimsuit bikini manages to strike the perfect balance between being revealing and sexy and subtle and modest.
The upper half allows a strong view of the bust, while the lower half provides all-around coverage.
The back of the bikini is very subtle which helps to add to the natural and sexy appeal of the overall design. Wearing this to the beach amongst friends and family is a total joy!
We love the simple use of multiple materials to bring this bikini to life. The design helps to create a color contrast that really draws the eye and also exaggerates the figure, making it appear more slender!
The top also features a shelf for added support!
To Wrap Up
There we have it! Those are 14 of the very best bikini sewing patterns that you can try out for yourself today!
Frequently Asked Questions
Is Sewing A Bikini Hard?
While sewing your own bikini may look daunting, it can actually be done quite easily!
How Much Fabric Do I Need To Make A Bikini?
In order to make a bikini, you will want to aim to have between 0.5 and 0.75 yards of material!
What Kind Of Elastic To Use For Swimsuits?
The best kind of elastic to use to make a swimsuit is rubber elastic, as it is resistant to the conditions of water, which keeps the quality strong.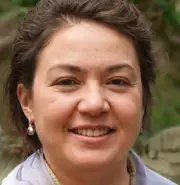 Latest posts by Liz Miller
(see all)