Whether you're a beginner just starting out or a professional looking to revamp your collection, sewing requires a lot of tools and notions. Without the basic sewing supplies, you won't get very far.
In fact, in most instances, the tools you choose are just as, if not more important than the fabric you choose to work with.
The fact you've stumbled upon this post would suggest you're on the lookout for essential sewing tools. 
If that is the case, you've come to the right place. In this post, you'll find a comprehensive list of 20 useful sewing tools and notions you can't do without.
You can use this list to help you build your own sewing collection.
Without further ado, let's take a look at our list!
1. Fabric Shears
Easily one of the most important tools you need is a reliable pair of fabric shears. Without a reliable pair of fabric shears, you won't be able to cut fabric cleanly and effectively.
2. Sewing Scissors
Owning a high-quality pair of sewing scissors is important too. A pair of high-quality sewing scissors will make it easier for you to cut materials and ensure your hands stay comfortable.
3. Tape Measure
Anyone that sews has to own a tape measure. You simply can't get by without one. A tape measure is essentially a flexible ruler that can be used to easily take a wide range of body measurements. 
4. Sewing Machine
Adding a sewing machine to your collection of sewing tools and notions is a great idea if you want to complete bigger projects quickly.
Offering speed and accuracy, sewing machines are also a good option for beginners.
5. Sewing Machine Needles
If you add a sewing machine to your collection, you're also going to want to add some machine needles to your collection too.
Sewing machine needles come in many different shapes and sizes. 
Keeping some spare in case one needle breaks is a great idea.
6. Pins And A Pincushion
Having a range of different pins and a pincushion is a good idea for when you have a variety of different projects on the go.
Glass pin heads are perfect as they won't melt when you iron over them.
7. Rotary Cutter And Cutting Mat
You can use a rotary cutter and cutting mat to precisely cut fabrics with ease.
For those that don't know, a rotary cutter is a circular metal blade that rotates thanks to a wheel. You use the cutter's plastic arm to press down on the fabric you want to cut.
8. Tailor's Chalk
A tailor's chalk is a convenient tool that will help you create temporary marks on a piece of fabric. This mark acts as a guide for darts, trace cloth patterns, and seams.
9. Tailor's Ham
The next tool you should add to your collection is a tailor's ham. A tailor's ham is a pillow-like tool that can be used when pressing seams.
It acts as a neat platform that holds the fabric easier for you.
10. Threads
This one probably seems super obvious but you have to include a range of different threads in your sewing collection. As you probably already know, threads are essential to sewing. 
We like to build a thread collection that consists of different types of thread and colors.
11. Clear Ruler
As well as a measuring tape, you also need a clear ruler. A clear ruler that is thick and heavy can be used to not only measure the length of fabrics but also to help you cut straight lines.
12. Seam Ripper
Seam rippers are designed to help you pick out any undesirable stitches from your project. As you can probably imagine a tool like this comes in quite handy when you make a mistake.
13. Tracing Wheel 
A tracing wheel can be used to transfer markings from your sewing pattern onto the fabric you're working with. It can also be used to make slotted perforations.
14. Sewing Clips
A great way to leave an incomplete project is with sewing clips in it. This ensures you can leave your project where it is and come back to it with everything in the same place.
15. Thimbles
When it comes to keeping the ends of your fingers protected from needles, the trusty thimble has you covered. Thimbles can also be used to push needles through multiple layers of fabric.
16. Ironing Board And Iron
There's a good chance you already own an ironing board and an iron. If not, you should consider adding them to your collection.
Both of these tools are useful when it comes to pressing fabrics and seams.
17. Needle Threader
If you find it hard to thread a needle, a needle threader could come in handy. A needle threader tool will do the hard part for you, pulling the thread through the needle.
18. Sewing Marking Pen
A vital piece of equipment you need if you sew on a regular basis is a sewing marker pen. This type of pen makes it easy for you to mark fabrics by creasing rather than marking them with ink.
19. Sandboard
The penultimate tool on this list is a sandboard. Sandboards can be used to keep materials in place whilst quilting.
You can use the sandpaper side to hold fabrics in place and the white side to trace and draw.
20. Seam Guide
The final tool we have for you is a seam guide. Seam guides help you sew angles faster and more accurately. You'll be able to produce the perfect seam every time.
Final Thoughts
There you have it, 20 useful sewing tools and notions everyone needs. As you can see from our list, there are plenty of important tools you need to keep in your sewing collection.
Whilst not all the tools on our list are crucial, they still play a part in making your sewing experience more enjoyable and easier.
Now you have this list at your disposal, we recommend you start building your sewing collection.
If you can, fill your collection with all the tools and notions from this list.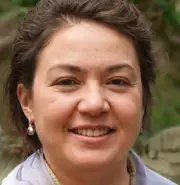 Latest posts by Liz Miller
(see all)