One of the best things about sewing is that not only is it a great way to create useful products like bags and clothing, but also a great way to make all manner of gifts for others, or even just for yourself! 
One of the best things to make, with the right sewing pattern, is a plushie animal. And one of the most adorable plushie animals you can make is an elephant! 
Want to know some of the best sewing patterns you can follow to make a perfect elephant (see also "14 Best Patterns For Sewing A Bikini")?
Then make sure to read on down below because today we are going to show some of the very best! 
We just could not resist this adorable little guy!
With his large head and beady eyes, he was easily one of the biggest favorites to be included on this list, and we know that he would go down as an absolute treat as a gift for a loved one or even as a decoration to include in your home.
The circus design of this elephant is also reminiscent of the iconic Dumbo character, making it also a perfect pattern to make a gift for a Disney fan in your life!
If you want to create a stuffed elephant plush that has a classic and iconic look then this could be the perfect pattern for you.
This adorably floppy ragdoll elephant plushie is perfect for younger children as it can easily be held by small hands and will make a perfect cuddly companion to last for years! 
We loved the small beady eyes on the head of the elephant that helped to make the elephant look incredibly innocent and harmless. It's totally adorable. 
This surprisingly simple pattern results in easily one of the best elephant plush toys that is perfect both for gifting to children or simply for decorating a room.
The elephant plushie is designed to take on a seated position, which makes him look very relaxed and friendly. 
You can easily adapt the pattern to make use of whatever materials you wish, to create all kinds of different patterns for the elephant to make it look just right for a specific person or a specific space in the home!
If you want to create the perfect little charming gift for an animal or elephant lover that you know, then this could be the pattern you are looking for.
This pattern will help you to make the most adorable and charming little elephant keyring that is small and compact but full of small details like the beady eyes, the fabric ears, and the small string tail! 
Got some spare and unused socks lying around that you just don't know what to do with?
Well, before you throw them away in the trash, why not use them to create one of the most deceptively simple plush elephants? 
This pattern shows you how you can use old socks of just about any pattern to create easily one of the most adorable plush toys on this list. 
We loved the adorable little face of these elephants, but also just how frugal the pattern was!
We couldn't believe that this sewing pattern was totally free to download!
The adorable end result looked simply amazing, and we loved the way that the eyes of the plushy looked, they communicated a sense of innocence that made them totally irresistible to cuddle! 
The stout bodies of these elephants also helped to add to the cuteness factor, as they look incredibly innocent and cute.
The design of the bodies also helped to make these plushies great for displaying in the home, as they can easily stand on their small legs!
If you want a plush elephant pattern that is also easy to make and results in a simple and adorable plush, then this is the one for you!
It results in a small and compact little plushy that has a very simple shape but is never lacking in character! It's just so adorable!
To Wrap Up
There we have it! These are easily the very best elephant sewing patterns (see also "Summery Sundress Sewing Patterns") that you can find across the web and they each result in a very unique variation on the theme! 
Frequently Asked Questions
What Is the Easiest Sewing Pattern Brand?
One of the brands best known for producing easy sewing patterns is Tilly and the Buttons!
Are Mc Call's Patterns Easy to Follow?
Definitely! McCall's sewing patterns are designed to be easy for beginners to follow (see also "Fun Dinosaur Sewing Patterns")!
Do Patterns Make You Look Bigger or Smaller?
This can depend on the pattern. Some patterns can appear very slimming, while others can sometimes make you appear slightly larger!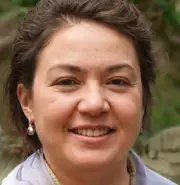 Latest posts by Liz Miller
(see all)