Sewing is not only a fantastic way to make yourself clothing that you love and that compliments you, but it is also a great way to make gifts for others!
If you're a tunic lover, you've certainly come to the right place!
Tunics are fantastic to wear when you're too cold to wear a dress, but you still want to wear something chic and feminine! 
In this article, you will find a collection of different tunic sewing patterns, ranging from fitted to boho style! 
Whatever style suits you, you will certainly find something on this list that you love! Let's dive into some of the best timeless tunic sewing patterns for you to work on today.
Tunic Dresses 
The Wanderer Tunic is gorgeous. It has a wonderful v-neck front and a rounded back. Along with this, the tunic has an optional keyhole button on top of a flowy shirt-tail hem.
This tunic suggests banded sleeves which are adorable, but there are many other sleeve options for you to ensure that your tunic is suitable all year round! 
This sewing pattern is available in sizes XS-XXXL.
This is a beautiful boho kimono dress! It is comfortable and great for accommodating pregnancy or weight gain.
This pattern suggests a few different dress lengths, ranging from short to maxi length. For this pattern, fun and exciting prints work best, so definitely give them a go! 
This tunic dress is great. It has a center-front button, which sets the dress aside from some of the others on the list.
This dress works best with a bright fabric, and it was designed around a citrus tree fabric.
The finish of this dress is great, and the pattern is available in a range of different sizes.
This is a flowing, hip-length tunic. It is designed with a scooped and gathered neckline and flowing flutter sleeves, making it perfect for the summer! 
This pattern is suitable for sizes between XS and XL, and the pattern also has bust options. This makes the tunic very adjustable so that it fits lots of different body shapes.
Tunic Tops 
This gorgeous tunic top is perfect for your summer wardrobe! It works very well as a beach cover-up (see also "Posh Beach Robe Tutorial"), or as a light and flowy summer top.
This hop has many great features including a yoke with button closure, some gathered center front paneling, and a paneled back.
The sleeves on this pattern are three-quarters in length, perfect for covering up in the sun. 
This sewing pattern is available in sizes XXS-XL. 
This gorgeous pattern is very stylish. While the front of this top looks pretty simple, the back has great detail, allowing some skin to peek through! 
This top is perfect for the days when you need to throw something on and go.
You'll want to make this top in lots of different colors because it is such a simple and easy design that will look fabulous! 
This sewing pattern is great for those who are looking for a tunic top that is long enough to wear with leggings (see also "14 Best Patterns For Sewing A Bikini"). Pair this top with a cardigan and a pair of boots (see also "How To Make A Cardigan"), and you're good to go!
This top is great because it is simple to make, and you can focus on the fabric instead of spending too much time on the technical details!
With this pattern, you'll have your friends wanting some of the action! 
This flutter top is perfect for beginners who have never sewed anything complicated before (see also "Best Sewing Books For Beginners"). It is very loose fitting, with flowy and summery flutter sleeves.
Choose a bright fabric to pair with this pattern and you'll be in for a winner! 
The sleeveless and comfortable shape of this dress is refreshing and it is exactly what you need during the hot weather.
The button on this tunic adds some edge to the pattern, and sets it aside from some of the other patterns on this list! 
This tunic works either as a dress or a top. It is great for all seasons because of the silhouette style. 
This design is very easy to recreate, and it contains a side zipper which ensures that you will get a comfortable and flattering fit with this dress! 
You can even get adventurous with this design and make a hand-embroidered version that will impress your friends! 
Final Thoughts 
After having a look through this list of timeless tunic patterns, you should give some a try today!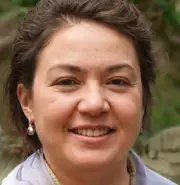 Latest posts by Liz Miller
(see all)