One of the best things you can sew is an adorable stuffed animal, making your own cozy companion to cuddle with in bed.
There are loads of different animals you could choose from, but you'd be hard pressed to find a more suitable sewing candidate than a plush cat!
In our fun guide below, we've got a list of the best stuffed cat sewing patterns out there.
Whether you want a cartoon cat with creative patterns, or you want something for a more realistic feline, we've got you covered!
Our first pick is this sewing pattern for an adorable collection of cats designed in a folk art style. There are four different types of cat in here: a tuxedo, calico, Tabby, and solid colored cat. 
Each of these varieties really stands apart from each other, making each cat plush fresh!
For example, the mix of jet black and pure white with the tuxedo cat, is very different to the paler calico cat – with its vibrant range of colors!
While the previous sewing pattern gave you cats that were more suited to be ornaments than stuffed animals, this next pattern will give you a fantastic stuffed cat that's adorable, playful, and supremely cuddly.
The kitty is in a lying position, with her rear sticking up in the air, and she looks like she's either stretching or pouncing at a target! Even better, you can have her with two different designs all over her skin, both being beautiful floral patterns.
Our next pick is the sewing pattern for a completely adorable cat family, with cute smiles and even cuter outfits.
You get a bundle of two digital sewing patterns here, which tell you how to make a large cat and a mini cat.
Naturally, the large cats can be the parents of the family, while the mini cats can be the feline children.
It's an easy to follow sewing pattern that's perfect for beginners, and each of the cats stands up in a very sweet manner (see also "Beginner's Guide To Sewing Doll Clothes"). 
With this next sewing pattern, you'll be able to make your very own cartoon-like, cute soft plush cat.
A perfect gift for young children, or a great stuffed animal for you to cuddle all to yourself, the results of this sewing pattern can be enjoyed again and again!
Each kittie is 17.5 inches tall, and measures 16.5 inches wide when their arms are outspread.
As you can see, these are no tiny cats! Which just means there's more to cuddle.
The kittie has an adorable face that's made to look like she's sleeping very peacefully, with closed eyes, a sweet nose, and very subtle rosy cheeks.
They're an image of feline bliss, and the sewing patterns are easy to follow (see also "Fun Dinosaur Sewing Patterns")!
Every cat sewing pattern that we've looked at so far has been cartoonish in some way, with adorable designs that look like cats – but also don't.
This next sewing pattern, however, changes that! With this, you can sew your very own realistic-looking feline friend. 
The feline is modeled after a Himilayan cat, with a mixture of white, cream, and black fur.
It's a "movement" kitten, which means that you can pose it in extremely detailed ways, thanks to 6 joints and an independent neck.
The cat measures 12 inches and is relatively easy to sew, though it does need some finessing and needle work for some parts.
We're following up with another sewing pattern for an extremely realistic cat.
The detail and realism with these plush stuffed animals is astonishing – just look into their eyes and tell me you're not fooled that these are real cats!
The sewing pattern is in the design of a Maine Coon cat, but you can have them in a range of colors (see also "Summery Sundress Sewing Patterns").
The final feline is around 19 inches in height, making it perfect for cuddling and playing with.
We're finishing our list with these adorably, extremely cuddly and soft kitty plushies, which you can make with this fantastic sewing pattern (see also "Best Christmas Tree Skirt Sewing Patterns"). 
The kitties have a firmly cartoonish design to them, with large round heads and big smiles.
You can make them in a variety of designs and colors too, whether you want an all-black cat with gold eyes or something like a white cat with golden stripes.
The large heads sit on two soft oblong pieces, which are supposed to be the legs. 
Final Thoughts
Whether you want adorable cartoon plush cats or something more realistic and detailed, these sewing patterns will help you make the stuffed animals of your dreams!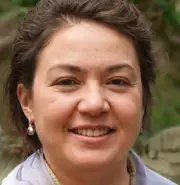 Latest posts by Liz Miller
(see all)