Whether you are new to sewing or have been sewing your own garments for years, you may be in the market for an upgrade.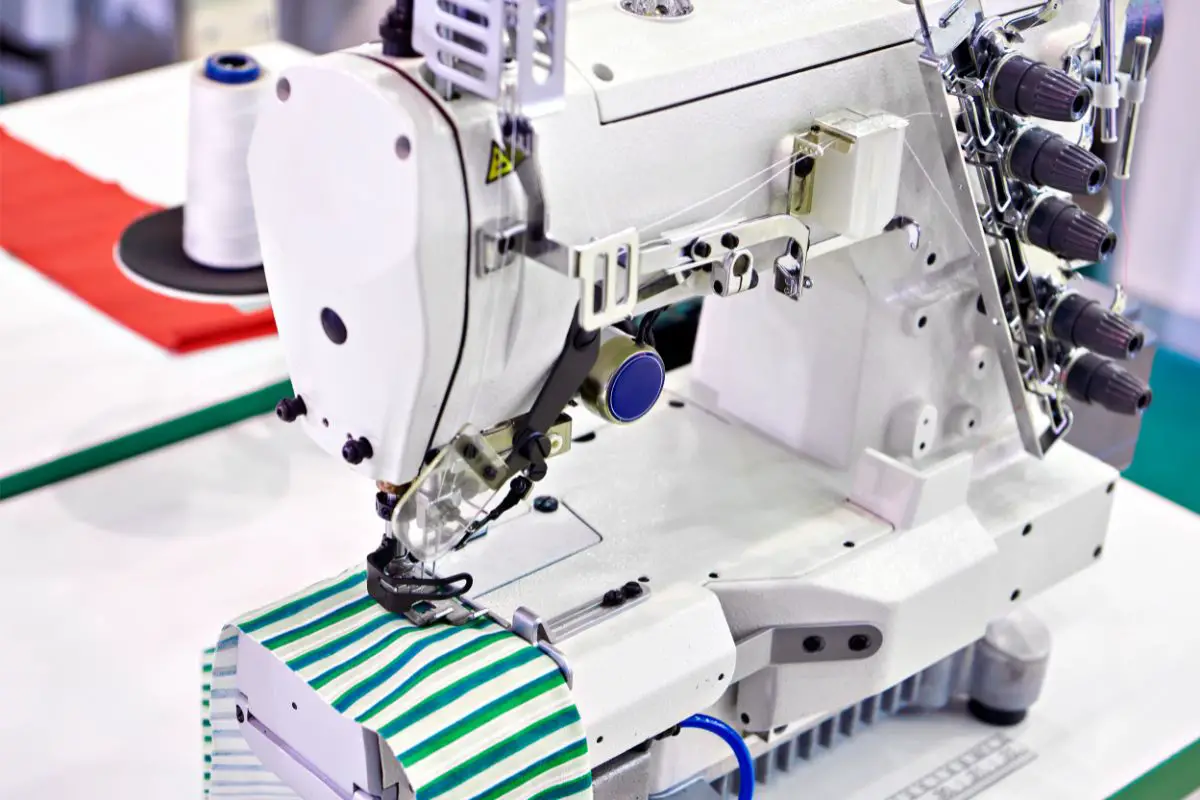 But before you go out and purchase an overpriced machine that does less than half of what you need, it is important to know what you need from your machine. 
The use of cover stitch machines is becoming in popularity among home sewers, but they need a significant financial commitment, therefore there are many factors to take into account before making the purchase.
In this article, we cover everything you need to know about cover stitch sewing machines to ensure you select the perfect one for you. 
Coverstitch Sewing Machines Explained 
A cover stitch machine is a particular kind of sewing machine that gives knit materials and athletic items a polished appearance.
T-shirts, leggings (see also "Leggings For Girls 3 And Up"), and elastic bindings frequently include this safe and stretchy stitch .
You can also use it to add topstitching to athletic clothing (try it on a pair of leggings in a contrasting color!).
Moreover, you can add elastic to projects for athletics or swimwear by using a binding attachment.
If you frequently sew with stretchy materials, it's a wise buy, especially if you see popped threads on hems created by your standard sewing machine.
This issue is resolved by the cover stitch machines' elastic stitches.
How Does A Coverstitch Machine Work? 
A cover stitch machine produces a chain stitch instead of the lockstitch that home sewing machines produce, which effectively interlocks the upper and bobbin threads with each stitch. 
By changing the machine's needle count, the chain is altered.
The resulting stitch is strong but incredibly supple, making it possible to hem slinky knits, and athletic clothing, and even add elastic to items without worrying about stitches coming undone.
Types of Coverstitch Machines 
When looking for your perfect cover stitch machine, you will begin to notice that there are quite a few types. This can make it confusing to decipher.
We have made it easy by explaining what each one does! 
Combo Machines 
This machine adapts to work as a serger in addition to having all the features of a two- or three-needle machine (depending on the model you choose).
These machines typically have five or six spool pins but can only handle up to four threads at once.
Two Needle
This type of machine includes a chain stitch and a double cover stitch. It can use up to three threads at a time and makes for an excellent time. 
Three Needle 
This is similar to a two-needle machine however, it can also perform a triple cover stitch and use up to four threads at the one time. 
Top Coverstitch
A high-end sewing device that can use up to five threads at once to sew the Chain, Double, Triple, and Top-Coverstitch stitches.
Types of Stitches That A Coverstitch Can Make
Coverstitch machines generally make a range of 3 stitches and they are all created using a lower looper thread. This also involved different upper threads. 
The three types of stitches are: 
Chain Stitch: This stitch just requires one needle. For objects that require a strong seam with some "give," the chain stitch is helpful. For instance, adding waistbands to stretchy pants or adding binding to the shoulders of a knit t-shirt (see also "How To Make Panties From Old T-Shirts"). Although it is a versatile stitch, make sure to tie off your threads safely because they can unravel easily. 
Triple Coverstitch: While using all three needles, this stitch is quite similar to the double cover stitch. It is less elastic than the double option because it produces a firmer stitch. It is frequently used for reinforced topstitching in swimwear or athletics.
The bottom of this stitch can be used to mimic the appearance of the top cover stitch if your machine lacks a 5-thread or top cover stitch.
Double Coverstitch: This stitch's primary use, hemming, is made clear by the term "Coverhem" that it occasionally goes by. This stitch is typically used to finish the sleeve and hem edges of knit t-shirts that are sold in stores.
Two needle threads are used for this stitch. Changing the needle location alters the stitch's width.
Because you may use it to grasp the knit fabric's raw edge and it doesn't limit even the stretchiest of materials, it is ideal for hemming.
You can create either a thin or wide stitch by shifting the needle locations.
The narrow cover stitch is most frequently used to connect fabric binding or fold-over elastics when it is attached to a binding attachment.
Things To Consider 
Now that we know the basics of what a cover stitch machine is and what it can do, we can finally discuss what factors are important when purchasing a cover stitch machine. 
Gadgets 
If you purchase a cover stitch machine, there aren't really that many extras or devices you need to add on, unlike sewing machines, which tend to draw presser foot like moths to a flame.
Your home undoubtedly already has the simplest and least expensive equipment for your cover stitch machine: a stack of Post-it notes! 
To use the block as a guide to keep your stitching consistently spaced from the folded edge, remove the backing and stick the entire block to the bed of your cover stitch machine.
To get an even hem all the way around, simply stitch with the folded edge facing the stack of notes.
However, one gadget that will have you clicking 'Add to cart' straight away are binder attachments. These are used to effectively bind the cut edge of your fabric while cover stitching at the same time! 
Budget 
It can be tempting to explore lower-priced solutions because high-quality sewing machines are pricey. However, they can be difficult to use and typically have lower stitch quality. 
It is better to get a high-quality used cover stitch machine if your budget is limited.
There are more affordable cover stitch machines on the market that will give you the result you are looking for without breaking the bank.
It just requires a little more research than buying a high-end brand. 
Features 
The features are one of the most important aspects of the machine you select. Each type of cover stitch machine (mentioned above) comes with its own features.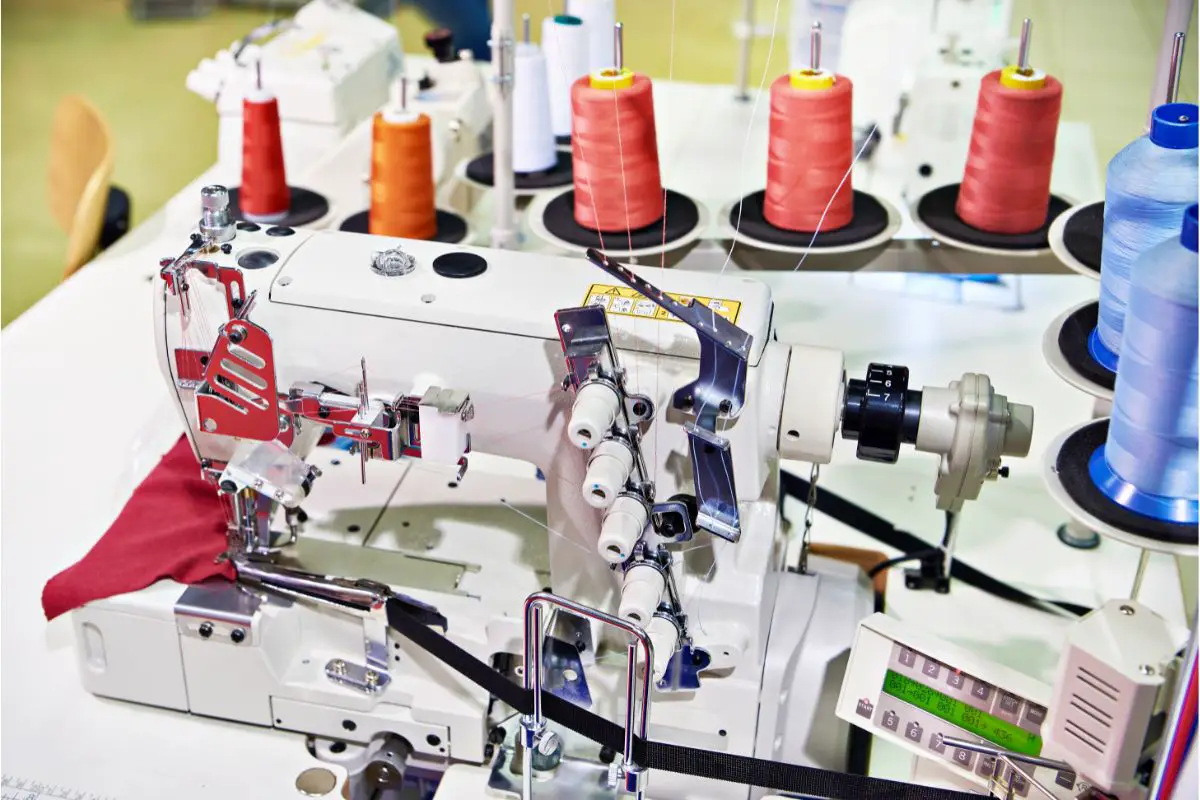 Make sure to consider which features you need from your cover stitch machine before purchasing. 
Some features you may want to consider are 
Number of threads: Most cover stitch machines have three threads and a looper, but if you only plan to sew hems twice, you could decide to buy a "three thread" type instead, which has two upper threads and a looper.
Tension: Some models of cover stitch machines have additional controls to help adjust the tension when stitching over thick seam intersections as you might find on sweatshirts or fleece garments. All cover stitch machines will have some mechanism to adjust the needle thread tensions, whether it's by a dial or lever.
Threading: In general, cover stitch machines require about the same amount of time and effort to thread as a standard sewing machine (despite the fact that there are more threads involved with sergers!). Yet, some versions incorporate automatic jet air threading, which could be quite helpful if you have a vision or fine motor control problems.
Presser Foot Pressure: Together with a differential feed, this enables the presser foot to be moved closer or farther away from the machine bed, which can be extremely helpful for straightening out wavy hems. Everything can be hemmed successfully, from thick sweatshirts to thin, drapey jerseys.
Free Arm: The most crucial component to look for in a cover stitch machine, in this author's opinion, is a free arm because it makes hemming shirt sleeves and other small tubes a whole lot simpler (see also "Free Arm Sewing Machines Explained"). Choose a machine with a free arm unless you'll only be hemming flat objects.
Differential Feed:  Owners of sergers are likely already familiar with the differential feed feature, which modifies the feed dogs to prevent uneven stretching of elastic fabrics during stitching, which can also produce wavy hems.
Read Reviews 
One of the best ways to determine whether a machine is worth your hard-earned cash is to check out the reviews. 
No one is more honest that a previous consumer. Whether they have been scorned by a bad product or they absolutely love it, you can find out everything you need to know about a product. 
However, it is important to ensure that the reviews you are considering are authentic.
Double-check to make sure the reviews are not paid for as this can heavily influence the opinions someone may have on a product. 
Issues With Coverstitch Machines 
Like with any machine, there are sure to be some issues that arise. This does make it a bad machine but they are more likely than not to happen. 
Some common issues are: 
Tunneling: There may occasionally be a small mountain between the stitches because the fabric between the two (or three) rows of cover stitching (or twin needle stitching) rises. Tunneling is what it is known as, and it can typically be remedied by releasing the tension on the looper so that the cloth sits flat in the space between the stitches.
Wavy Hems: The presser foot may be stretching the fabric as it stitches if your fabric is slick, thick, or stacked, which can cause wavy hems. Consider releasing the presser foot tension, applying a thin interfacing tape to the hem's backside before sewing, or even basting the hem with the sewing machine. 
Reusing Thread: Take the standard thread spool and bobbin from your sewing machine to serve as your two top threads and use a neutral thread color in the looper if you don't have two matching spools or cones of thread for your cover stitch hems.
Frequently Asked Questions 
Can A Regular Sewing Machine Do A Coverstitch? 
Yes, if your sewing machine has a twin needle. However, if not you may struggle to get the finish you want. 
Do Coverstitch Machines Need Special Needles?
Yes. Most cover stitch machines require EXL705 Seger/Overlock needles. Using a regular ballpoint needle may hurt your machine and ruin your sewing. 
Wrapping Up 
Picking the right cover stitch machine can seem daunting at first. They can be expensive items but if you are wanting to up your sewing game, they may be necessary. 
We have covered everything you need to know about cover stitch machines and what to look for when you are considering that all-important purchase. 
From different types of cover stitch machines to common issues you may have, you can begin selecting the right cover stitch machine for you.
Complete all of your sewing projects with the confidence that they will be completed with a professional quality stitch. 
All you have to do is enjoy the process!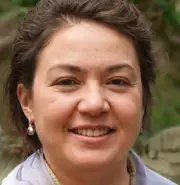 Latest posts by Liz Miller
(see all)